125th Anniversary Strategic Plan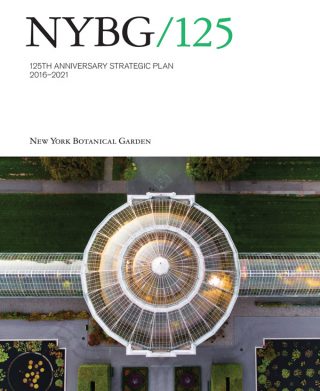 In December 2014, The New York Botanical Garden engaged in an in-depth strategic planning process designed to chart the course of action for its future. The current financial health and programmatic vibrancy of NYBG is based, in part, on the deployment of three earlier institution-wide, broad-based plans designed and implemented over the past 20 years. This strategic plan has put in place specific goals to assure institutional strength well beyond 2016, its 125th year.
The planning process was driven by two key groups. The first was the Strategic Planning Steering Committee of the Board of Trustees, led by Julie Sakellariadis, Vice Chairman for Planning, with oversight from Maureen Chilton, Chairman of the Board, and Lionel Goldfrank III, Chairman of the Executive Committee. The Steering Committee's areas of participation were: Business Activities, Capital Projects, Children's Education, Community Relations, Continuing Education, Endowment, Exhibitions, Fund for the Garden, Horticulture, Management and Institutional Needs, and Science.
The second was the Expanded Planning Group, chaired by Gregory Long, The William C. Steere Sr. President of the Garden, and JV Cossaboom, Director of the Garden. This group comprised a set of Garden managers and professionals from every level up to the President. These two groups worked together to identify the initiatives that are included in the plan. As in earlier planning exercises, this process began with staff at Level I, frontline managers and professionals at the operational level in every department, identifying and justifying to their peers the importance of the priorities they saw as crucial to the Garden's future success. Engagement at this broad level ensures that the best thinking in the organization, no matter where it lies, comes to the surface to inform the future. Moving up the table of organization, at Level II, program directors categorized and winnowed these priorities. By Level III, department heads had determined what was both necessary and feasible. Financial planning at Level IV further honed the priorities. Level V, presented here, is a summary of all priorities established for Board review by the President and the Director.
This document, published in June 2016, sets forth the resulting program, endowment, and capital plans for both Phase I (2016–2018) and Phase II (2019–2021), as well the financial requirements for Phase I as the template for the 125th Anniversary Fund.