Year-long composer and artist residences examine our connections to the natural world through music, soundscapes, and site-specific visual artworks and programs.
Composer-in-Residence: Angélica Negrón
Angélica Negrón is a Puerto Rican-born composer and multi-instrumentalist who writes music for accordions, robotic instruments, toys, and electronics as well as chamber ensembles and orchestras.
She has been commissioned by the Albany Symphony, Bang on a Can All-Stars, A Far Cry, MATA Festival, loadbang, The Playground Ensemble and the American Composers Orchestra, among others. Her music has been performed at the Kennedy Center, the Ecstatic Music Festival, EMPAC, and the 2016 New York Philharmonic Biennial, and her film scores have been heard numerous times at the Tribeca Film Festival. She has collaborated with artists such as Sō Percussion, The Knights, Face the Music and NOVUS NY, among others and is a founding member of the electronic indie band Balún.
At NYBG, Negrón will explore musical techniques through interactive performances that give voice to the natural world, culminating in a world-premiere composition showcasing the sounds of the Thain Family Forest.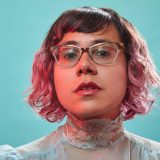 Artist-in-Residence: Michele Oka Doner
Michele Oka Doner is an internationally renowned American artist and author whose work is fueled by a lifelong study and appreciation of the natural world, from which she derives her formal vocabulary.
Her artistic production encompasses sculpture, prints, found objects, drawings, poetry and language, books, costumes, video and other media. She has created over 40 public and private permanent art installations, including "A Walk On The Beach," composed of more than 9,000 bronzes embedded in terrazzo with mother-of-pearl on the concourse of Miami International Airport. At one and one-quarter linear miles, it is one of the largest artworks in the world. Other recent works include SoulCatchers, approximately 400 shamanistic sculptures in the kiln room at the Nymphenburg Porcelain Manufactory, Munich, Germany; "How I Caught A Swallow in Mid-Air," at the Pérez Art Museum Miami; and "Feasting on Bark," Marlborough Gallery, New York.
At NYBG, Oka Doner's explorations of nature, science, and art will manifest in site-specific work and programs, allowing visitors to see myriad Garden vistas anew through her unique lens.