Whether you reach for the same recipes over and over, or love to try new things, NYBG wants to know about the plants, recipes, and food traditions that are important in your life. Below, share what food means to you: Did something at the exhibition surprise or stick with you? What "no-recipe" recipe has become a staple for you? What edible plant reminds you of home, and what is your go-to secret ingredient (if you're willing to share)?
Tell us on social with #AroundTheTable!
Fresh from the Garden Tastings
Wednesday, Saturday, & Sunday; 2 & 4 p.m.
At the Edible Academy
Get hands-on with healthy cooking using recipes featuring plants grown in the Edible Academy. Discover a new recipe each Wednesday, as well as dozens to peruse from past years.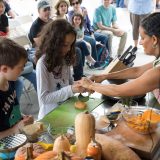 Explore Juneteenth Inspired Recipes
Gather your family in the kitchen with these recipes inspired by our Juneteenth Weekend Celebration! Enjoy these featured recipes from chefs Henry Obispo, Marion Williams of Wellness In The Schools, Millie Peartree, Pierre Serrao of Ghetto Gastro, Ora Kemp, Matthew Raiford, as well as Dr. Jessica B. Harris.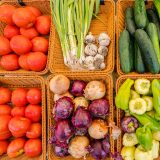 Share Your Recipes!
Have a favorite plant-focused dish you'd just love to share with others? Submit your recipe here for a chance to have it featured on our website during Around the Table!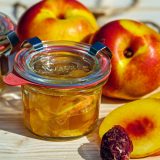 Watch Past Food Stories
Afro-Indigenous Histories of Food and Gardening in the Bronx
Afro-Indigenous Histories of Food & Gardening: Garifuna Plant Knowledge
Plant-Based Foods & the City: From Seed to Take-Out
Rooted in Culture and Nature: Jamaican Root Tonics in New York City
The Food Dialogues: Matthew Raiford in Conversation with Jessica B. Harris
The Food Dialogues: A Conversation with Von Diaz and Maricel Presilla
The Food Dialogues: A Conversation with Michael Twitty and JJ Johnson
The Food Dialogues: A Conversation with Carla Hall and Tonya Hopkins