Our 250 acres play host to a wide variety of migrating and resident bird populations, and taking time to observe them in their natural habitat is a relaxing and easy addition to any Garden visit. Learn more below with birding tips and resources, information on species found at NYBG, and stories about birds that have called our collections home for years.
How to Start Birding at NYBG
Get started by following these simple tips:
Maintain a safe distance from wild birds.
Stay on trails and paths to minimize habitat disturbance.
Do not touch or feed wildlife.
Some birds are easily startled by noise. Silence your phone and keep noise to a minimum for the best bird viewing.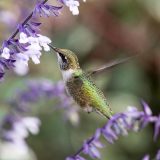 Read & Watch
Head to our Plant Talk blog for a selection of stories about the birds that call the Garden home, from red-tailed hawks to ducklings.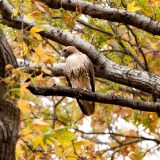 In the Woods
Look for these species that make their homes in the Thain Family Forest, Chilton Azalea Garden, Benenson Ornamental Conifers, Ross Conifer Arboretum, and other tree collections.
In the Grassland
Find these birds most often in the tall grasses of the Native Plant Garden, Home Gardening Center, and other open areas.
In the Wetland
Water-loving birds flock to the areas around the Bronx River, Twin Lakes, Mitsubishi Wild Wetland Trail, and Native Plant Garden.
Birding Resources
Improve your birding skills with tips, guides, and in-depth information from some of our favorite resources.