We are delighted to share fun, age-appropriate activities and updates from our garden with our past participants of the Children's Gardening page. Over the next few weeks, we will continue to send our favorite recipes, crafts, explorations, and gardening projects. Grow with us!
Sprouts | Age 3–5
Investigate a Sprouting Seed
I can sleep for hundreds of years,
And awaken suddenly with a sip of water while tucked under a warm blanket.
I may be as small as dust or as large as a football.
I give nourishment when eaten and when not eaten.
I might float in the water or the sky.
Though unassuming and easily overlooked, I can house an entire tree!
What am I? A seed!
Seeds are incredible! They contain the potential for a new life in a small package.  Even the smallest of seeds contain a baby plant and enough food to grow out of shallow earth and towards the sun! Let's take a closer look at a seed by sprouting one and then dissecting it! As you do this activity, record what you notice, what you still wonder about what is happening, and what it reminds you of. 
What you will need:
A

large

, dry seed. Beans work best (e.g. lima, fava, black-eyed pea – if you have access to a variety, you can sprout several to compare.)

A clear, reusable plastic or silicon bag.

A damp sponge or paper towel.

Optional: A magnifying lens or zoom camera lens.
To sprout and investigate your seeds…
Pre-soak your seed(s) overnight in a bowl of room temperature water.  This will help to "wake them up" from dormancy. Why do you think water helps the seed to sprout? The next day, gently press your seeds onto a dampened sponge strip or paper towel and place them (seeds and paper towel) in the center of your reusable plastic/silicone bag. Seal the bag and hang or tape to a sunny window.
Your seeds should sprout in 1–3 days. Once they begin to sprout, carefully remove your seedling(s) from the bag.  Take notice of the emerging plant parts. Do they look like roots, stems, leaves or something else?  How has seed changed?
Carefully rub the sprouted seed between your thumb and forefinger to loosen the outside layer. This is called the seed coat. In a bean seed, the seed coat is thin and often translucent.  For a cucumber or squash seed, it will be a hard shell. Why do you think the seed coat is important?  Once the seed coat has been peeled off, observe it up close or under a magnifying lens. If you don't have a hand lens, you can zoom in with a camera and take a picture.
Under the seed coat you'll find the cotyledon, or "seed leaves." Most fruits and vegetables that we eat are considered dicots because their seeds contain two cotyledon leaves. In dicots, the cotyledons contain food storage to help the germinating seedlings grow out of the soil and towards the sun. This food storage is called endosperm.  In monocots, such as corn, the endosperm is separate from the single cotyledon leaf. What does a plant need to make energy? So, why do you think the buried seed needs stored energy?
Next, locate the parts of the germinating embryo. If your cotyledon has not split open yet, you may have to gently pull them apart. The embryonic root is called the radicle. The shoot holding the cotyledon, or seed leaves, is called the plumule.  The radicle is the first plant part to grow out of the seed. It helps to anchor the seedling in soil and drink water. Then the plumule will break out of the seed coat, carrying the cotyledon upward.  If you have one at home, look for these parts with a magnifying lens or take a zoomed-in photo.
How far along is your germinating seed?  Has the plumule emerged yet? If so, which shape did it make? The shoot of a seedling curls out as it grows, forming a hypocotyl arch.*  The hypocotyl arch gives the shoot strength and stability as it pushes through the soil, just like the curved arch of a bridge or rounded doorway.  Now that you have completed your seed dissection, trace or draw what you saw and label the parts with the help of a parent!
If your radicle, plumule, and cotyledon are still intact and connected, you can even transplant your seedling into some soil. Otherwise, try giving your other seeds more time to grow, and once the cotyledon leaves are open and turning green, transplant your seedling into a pot or garden bed.
*Optional Penny Test Extension: You can start your seed in moist soil and test out the strength of the hypocotyl arch by placing a penny over the planted seed.  Wonder out loud about the seedling's strength and hypothesize if it will be able to push past the penny!
Resources:
Books:
A Seed is Sleepy

by Dianna Hutts Aston and Sylvia Long

What's This?

by Caroline Mockford
Educational Videos:
Printables: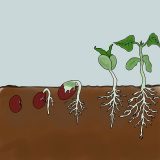 Crafters | Age 6–8
Sunny Honey Sunflower Seed Butter
Shared by the Edible Academy's Dig, Plant, Grow program 
Yield: 2 cups 
Ingredients 
4 cups sunflower kernels roasted & unsalted

2 Tablespoons honey, such as US Grade A Mountain Forest Honey Light Amber

2–4 Tablespoons canola oil

1 teaspoon freshly grated ginger 

½ teaspoon kosher sea salt
Instructions 
In a food processor, pulse sunflower seeds until fine, with a flour-like texture. When the mixture begins to clump together, slowly add 2 tablespoons of oil, keeping the motor running the whole time. Scrape sides, and blend for several minutes until drippy and spreadable. Add two more tablespoons of oil if still dry. Add honey and ginger and run the processor again. Salt to taste. To store, jar and refrigerate for up to three or four weeks.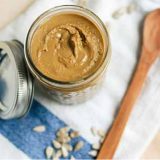 Crafters | Age 9–12
Make Your Own Windsock
The weather in New York can be quite variable. But while the weather changes day to day, the climate of New York State is fairly stable throughout the seasons. In fact, you can feel the change from the winter to spring season as the prevailing wind starts to change direction. Generally, the wind in New York comes from the west.  But in the winter, the wind shifts and blows from the northwest. In the spring, the wind shifts again and comes up from the southwest. It feels warmer and can sometimes carry up well-developed storm systems. In the summer season, the New York climate is dominated by warm winds from the south – and sometimes hurricane weather, with heavy rain and strong winds! In the fall, cold air from the north blows back down across New York. 
Windsocks are used to tell wind speed and the direction of the wind speed. Wind direction is the opposite of the direction in which the windsock is pointing. Wind directions are named for the compass point they come from. For example, if your windsock is pointing due north, the wind is a "Southerly wind." Wind speed is easy to read: if your windsock is drooping, the wind speed is low. If your windsock is horizontal, the wind speed is high. 
Windsocks in America are often made of nylon, colored orange and white, and used at airports or other places where understanding the wind speed and direction is important for safety. But windsocks are used in other places around the world for ornamental reasons, too. For example, in Japan, May 5th is celebrated as Children's Day – (Kodomo no Hi, 子供の日). All across the country, from April to early May, people fly Koinobori – 鯉のぼり- or "carp streamers," to wish children a good future. These windsocks are made of paper or cloth, and decorated to look like koi fish, an animal associated with strength, good luck and abundance. 
Once you make your own windsock, you can use it to anticipate what the weather might be like that day. For example, if your windsock is pointing north, you can expect that there is a southerly wind blowing – a nice warm wind! If it is pointing south, you can expect a northerly wind and a more chilly day. 
To make your own windsock
Many windsocks are made from nylon, a fabric made from plastics. You can make your own earth-friendly windsock from recycled cardboard – towel or toilet paper rolls, and ribbons or yarn.
To make a recycled windsock, you will need:
A paper towel or toilet paper roll

A holepunch

Scissors

Craft paper or newspaper

Glue

12 feet of ribbon or yarn, cut into six 2' lengths

1 x 16" – 20" piece of strong cord, to hang your windsock
If you are using a paper towel roll, cut it in half to make two windsocks.
Cut the paper to the height of the roll. (If you are using plain paper, first decorate it with crayon, colored pencil, or stickers!) Using glue, affix the paper to the roll. With the hole punch, punch five holes, equally spaced, around one perimeter of the roll. Then, on the opposite perimeter, punch two holes, equally spaced from one another.
Pull five strands of yarn or ribbon through each of the five holes. Tie each off in the middle of the ribbon/yarn with a knot close to the roll, leaving two 1' strands hanging down on each side. (You can also cut the strands to alternating lengths.) To hang up your windsock, take 1 piece of yard/ribbon and thread it through the top two holes, tying off a knot at the top to create a small loop – this loop will make it easier to hang up. 
Now – hang up your windsock, and watch to see what direction the ribbons blow!
Resources:
Learn more about New York State's climate and weather
Learn more about how airports use windsocks
Learn more about Japanese Koinobori and Children's Day on May 5th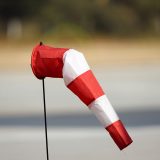 WEEK 2: OUR GARDEN COMMUNITY
How to Build a Worm Bin
Worms are nature's recyclers. They  break down organic matter – such as food scraps, leaves, and animal waste – into smaller pieces.  With the help of other decomposers (other insects, as well as fungi and bacteria), they turn the food chain into a food cycle, making new soil. Anything that grows from the Earth can be turned back into earth: instead of throwing away kitchen scraps, lawn clippings and raked leaves, you can help complete the cycle by composting at home.  One of the cleanest, simplest, and least smelly ways to do this is with vermiculture – building a worm bin!

What you will need:

A shallow, wide plastic container 

Durable plastics such as #'s ♴,♷,♹ (2, 5 and 7) are best.

Opaque containers are best, but if you use a clear one, just keep it in a dark space.

Shredded, soaked brown paper or newspaper 

You need enough to cover the bottom of your container(s) with 2-3 inches.

Bleached office paper should be used sparingly or not at all. Bleach kills good bacteria! 

A scoop of soil

Food scraps (banana peel, discarded lettuce greens, carrot tops, crushed egg shells)

Note: Too much fruit can cause moisture buildup or attract fruit flies.

Spray bottle for water.

Drill with ⅛" drill bit (Adults should operate).

Red wiggler worms

Optional upgrade (see instructions at the end of this document):

Screening material (like window screen or other metal meshing)

Waterproof glue

A second bin that stacks with the first (allowing 1-2" gap at bottom when stacked)

A cooler spout (for worm tea drainage) & corresponding sized drill bit

To build a simple worm bin…

Worms breathe air just like us.  Start by putting air holes along the top strip of your container's sides. Have an adult help by drilling ⅛-inch holes. Four on each side should do.* Shred and soak your paper scraps in water. Once thoroughly soaked, gently squeeze out excess water. Layer them 2-3" deep at the bottom of your container.  Pour in a scoop of soil and mix it into the paper scraps.  Add your worms.  Depending on the size of your bin, you can add between 10 – 1,000 worms to your bin! The worms will begin to make the paper and soil their home, and can also eat both.  

Feeding your worms…

You can feed your worms kitchen scraps (you can save in the freezer) once a week by simply opening the lid and placing some at the top.  Be sure to cover with more moistened paper scraps each time you feed them. Compost works best at a 60-40 mix. 60% of this mix should be carbon-heavy, "brown" organic material and 40% should be nitrogen-heavy, "green" material (includes fruit peels/cores).  Worms cannot eat meat or dairy, however! See this list of acceptable food scraps for worms.

Maintaining your worm bin…

 If your worm bin looks dry, dampen with your spray bottle or add moistened paper strips.  If it looks too wet and clumpy, mix in dry paper scraps and reduce the amount of water-heavy food scraps (like fruits).

By moving around the compost, worms can create air pockets throughout.  This is good for aerobic bacteria and fungi as well and will keep your worm bin from getting stinky.  Still, every few weeks you should make sure there is enough oxygen by gently mixing the contents of your worm bin with a garden trowel. If too much brown liquid (we call it "worm tea") collects at the bottom, carefully scoop or pour it out.  You can dilute worm tea and use it to fertilize house or garden plants! 

To collect and use your worm compost…

Over time, the worms will make more and more nutrient-rich castings (worm poop). This is a great plant-fertilizer. To collect, prepare your worm bin 1-2 weeks in advance by pushing all the old material to one side of your bin.  Then add fresh moistened paper and some of their favorite food scraps to the other side (melon rinds, banana peels, tomatoes).  The worms will leave the more "finished" compost and migrate to the side with the fresh paper and food scraps.  After a week or two, you can scoop out the side with finished compost without taking all of your worms with it!  Be sure to even out the remaining paper and food scraps along the bottom of your bin and top off with new paper.  The collected worm compost can be incorporated into the soil in your garden or home planters as fertilizer.

How to upgrade your worm bin:

When building your bin, use two of the same style containers that will create a 2-3 inch gap at the bottom of the lower bin when stacked.  Have an adult drill 4 ⅛- inch holes around each side of both containers (along the top 1-2 inch) as well as the bottom-floor of one (upper container).  These bottom holes are so the worms can travel back and forth between bins.  Then, drill a larger hole (¾ -inch to 1-inch) on each side of the lower container. Cut out mesh strips to cover each of these larger holes and attach on the inside by gluing with waterproof glue.  Let the glue dry.  Now, drill a drainage hole that matches the fitting of your cooler spout along the very bottom edge of the lower container.  Fit with the cooler spout.  Use waterproof glue where the spout touches the container to create a tighter seal and let dry.  Fill both levels (upper and lower) with shredded paper as instructed above.  Finally, place the worm bin on a shelf with the spout hanging off. Use this spout to drain the worm bin periodically and collect worm tea.  

Resources:

Ordering worms: Uncle Jim's Worm Farm

Worms Eat My Garbage! By Mary Applehof 

Timelapse video: Around the Worm Bin in 80 Days
Sprouts | Age 3–5
Go on a Scavenger Hunt
Each season has its own changes. In the spring, many plants are emerging, animals are busy making new families, and the daylight hours grow longer and longer. In the summer, the days are hot and sometimes stormy, and many of our garden's young plants and animals grow up and prepare homes of their own. As the daylight hours grow shorter, the fall season approaches. Some animals migrate, some plants begin to spread their seeds, and some gardeners start to put on warmer layers as the temperatures drop. As the garden or green space community near you grows, let's go on a search for the specific plants, animals and the things they need to thrive!
At the New York Botanical Garden's Edible Academy, insects like the Cabbage White butterfly (Pieris rapae) and the Painted Lady butterfly (Vanessa cardui) are a great sign that spring has begun. By summer, you should see Eastern Swallowtail, Eastern Tiger Swallowtail, Mourning Cloak, and the Monarch butterfly join them. You can explore the soil near your home – particularly near woody plant material – to spot an earthworm, pillbug or an ant, helping with decomposition. Look and listen for American Robins, Mourning Doves, Pigeons, and Red Tailed Hawks – many of whom might have been born just this year!
To make your own signs of the season scavenger hunt, you can write about or draw what you notice in your neighborhood. Look out your window! Do your trees have leaves – flowers – have they started to form fruits and seeds? Do you hear a bird singing in the very early morning? Have you seen wasps, lightning bugs, or spiders spinning new webs? Are dandelions flowering or making their seed puffs? Add them to your own scavenger hunt list – and go out and explore!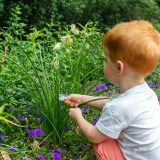 Crafters | Age 6–8
Adventures of a Worm 'Zine
A 'zine is like a self-published magazine. It can tell a story, or be a newsletter; be drawn or written – it is all up to you. Anyone can make a 'zine, and your 'zine can be about anything you want it to be! We've included sample instructions below, but your 'zine can look any way you'd like – big, small, lots or few pages, and colorful or black and white. 
To make a simple booklet 'zine, you will need 1 piece of 8.5" x 11" paper and a pair of scissors.
Fold your sheet of paper in half. Fold it again into quarters, and then one more time so that it is folded into eighths. Open your paper so that it is folded in half. Cut halfway across the middle from the fold. When you open your paper it should have a slit in the middle. Fold your paper lengthwise (along the crease that has the slit). Hold the paper at either end, then push the ends in toward each other. The sections should fold into each other to form an eight-page booklet. 
Now, investigate: 
If you've built your worm bin, observe your worms. What are they doing? What do they seem to like to eat? Have they started a family? Where in your worm bin do they like to hang out?

If you can go outside and observe worms – particularly after a rainy day! – what is their behavior like?
With all of this information – it's time to make your 'zine! Your 'zine can be informational or fictional (like There's a Hair in My Dirt!). Many 'zines use collages of letters and images, include both writing and drawing, and are photocopied to share with other people – your own personal magazine empire! 
Resources:
The First Rule of Punk by Ceclia C. Pérez
Diary of  Worm by Doreen Cronin
There is a Hair in My Dirt! by Gary Larson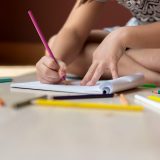 Crafters | Age 9–12
Make Fresh Herb Tea
Yield: 4 cups
Ingredients
4 cups water 

1 bunch (30 leaves/2 cups) mixed herbs (any sweet herb, including mint, lemon balm, pineapple sage, lavender, chamomile, borage and more) 

2 Tablespoons honey
Instructions
Bring water to a rolling boil. Remove from heat. Add herbs. Let steep for 3–5 minutes, depending on desired strength. Remove herbs, and stir in sweetener, if desired.
Serve hot or cold.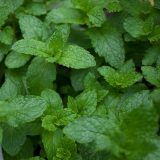 WEEK 3: S.T.E.A.M. IN THE GARDEN
Phototropic Beans
Have you ever wondered how plants "know" where to grow?  How do they always seem to manage to put roots down into the soil (or other substrate) and point their stem towards the sun? Even at the international space station without gravity as a guide, astronauts found that seeds grown on nutrient-rich gel in a petri dish still oriented themselves the same way as plants do on Earth!  So, what cues do plants use?

It turns out, there are many!  In science, we call those cues "stimuli" because they stimulate organisms to respond to their environmental conditions.  When living things respond to a stimulus by "turning" in a particular direction, the response is a tropism.  You may have noticed these examples of different tropisms before:

Hydrotropism – roots seeking out water.

Geotropism – roots growing down, away from the seed and into the soil. (also known as gravitropism).

Phototropism – plant stems and leaves growing towards light.

Observe phototropism in action:

Part 1: Bending Beans

2-4 Large dry beans (Peas and corn seed works as well).

Resealable plastic or silicone bag.
Moistened paper towel or sponge.

Part 2: Phototropism Obstacle Course

Small pot and potting soil for sprouted bean(s)

Tall cardboard box
Scissors and tape

When scientists perform experiments, they follow a set of steps that ensure better accuracy for their results. Known as the scientific method, it begins with a simple, well defined question. We are interested in studying phototropism, so we can ask questions such as: "will bean seedlings orient themselves toward the sun in the absence of soil or other substrates?" Or we might ask: "does the orientation of a light affect bean seedling growth?"  Next, we would draw on our previous knowledge and observations, as well as additional research on the subject to come up with a hypothesis. A hypothesis should be our best assertion of how we think the phenomenon will play out – so it should be a narrow statement that we can test.  We might hypothesize that the bean plants are able to respond to light and orient their stem and leaves towards the light source, even without soil. To test this hypothesis, we run an experiment with limited variables.  First, we need to set it up!

Soak your dry beans overnight in water.  Place them on a moistened paper towel or strip of a clean sponge (no soap) and insert into the resealable plastic or silicone bag.  Hang or tape them in a sunny window. (If you did the Week 1 Sprouted Bean Dissection activity, you will start this experiment the same way.) Once your beans (or whatever seed you are using) begin to sprout, take note of the orientation of the emerging radicle (first root) and plumule (first shoot). Continue to observe the growth of your bean seedlings and record what you notice.  

After about two days of growth, carefully rotate the resealable bag clockwise between 90 degrees (1/4 turn).  Be sure to add water and/or air to the bag if the beans are too dry or too moist. Record observations for the next two days.  Repeat these steps as many times as you desire for the course of the experiment. How are the beanstalks growing?  Do the stems change direction depending on the direction of the light source (such as the sun)?  Looking over your experiment results, what is your conclusion? Was your hypothesis supported or refuted by the results?

When something turns toward the light, we call it positive phototropism.  Plants have a hormone in their cells called auxin that helps to stimulate cell reproduction and elongation in the stems.  Because plants do not have muscles to move toward the light, when they bend toward the light, it is actually an act of rapid growth!  Auxin builds up on the shady side of a stem or petiole to have it grow more quickly than the more illuminated side, so the plant can begin to bend toward the light.  Amazing, right?

Phototropism Obstacle Course Experiment

We can do another experiment to see just how effective this plant response is, even in very low light. You can continue to follow the scientific method for this experiment as well. See additional resources below for more about the steps of the scientific method. Refer to the diagram for help with the procedure.


Start by potting up one or more of your sprouted bean seeds and watering it in thoroughly.  Seal the bottom of a tall cardboard box, cutting a small slot or hole into it so just a little sunlight can get in.  Cut off the flaps to the other, open top. Next, make a door by cutting down one side of your cardboard box. Then, use a strip of tape to close it. The flaps can be used to make obstacles for the plant to grow around on the inside of the box. Place them by taping them to alternate sides and levels of the inside of the box.  Alternatively, you can make horizontal cuts across the sides of the box and wedge the flaps in.  Note: the obstacles should be placed above where the plant pot will sit once the box is inverted.

Finally, place your plant either outdoors or in a sunny window and carefully cover with the inverted cardboard box, with just the small hole letting light come through the top. After 2-5 days, open the door on the side of the box to see how your plant grew! Did it make it around the obstacles? What are your observations and conclusions?

Additional Resources:

Video: The Steps of the Scientific Method for Kids 

Video: Positive Phototropism | Demonstration

VIdeo: Biology Lesson Idea: Plants, Tropisms, and Hormones

Article: Plants Grow Fine Without Gravity
Sprouts | Age 3–5
Make Prints and Patterns with Salad Vegetables
Shapes and patterns appear in nature all the time: the spiral of seeds on a sunflower, the symmetrical spots on a ladybug's back, the foam that makes up a spittlebug's egg sac, waves lapping the shore, and the cracks in an oak tree's bark – once you start looking, patterns are everywhere! 
We can also make patterns. If you want to plant a garden with red and yellow tulips, you reach into a bag of tulip bulbs, pull them out without looking, and plant them wherever you want. That is random. If you were going to plant them in one of these patterns, can you guess which color of tulip comes next?
Red tulip

   

Yellow tulip

   

Red tulip

   

Yellow tulip

   

Red tulip…

Red tulip

   

Red tulip

   

Yellow tulip

   

Red tulip

   

Red tulip…

Yellow tulip

   

Yellow tulip

   

Red tulip

   

Red tulip

   

Yellow tulip…
In all of these patterns, a yellow tulip would be the next color to plant. Look around the green spaces near you. Can you find a pattern?
Patterns in nature have inspired many, many cultures and artists. A few of them are listed below, under "resources." If you are looking for inspiration, take a look!
Make your own pattern:
Materials:
A sharp knife

Toothpicks

A fork, if desired

Paper (heavy weight, if available) or cloth (such as a piece of canvas or a recycled t-shirt, pillowcase)

Ink (for paper) or fabric ink (for cloth)
Produce of your choice:
potatoes

bunch celery

radishes, carrots or parsnips

bell pepper

lemon, orange, grapefruit, lime

apple, pear
Instructions:
(Adults) Using a sharp knife, cut the potatoes in half. Cut the bottom of the celery bunch off; reserve the bottom of the bunch (where all the stems meet). Of the stems, select the strongest and thickest, and cut a few down to 4" – 5" inches long. Whether using radish, carrots or parsnips, cut to expose a circle, in pieces long enough to grip (e.g. 4" – 5" long pieces of carrots or parsnips; shorter for the radishes). For citrus fruit, cut in half perpendicular to the segments (the slice should reveal a "wagon-wheel" pattern); for apples and pears, cut from stem to blossom-end (to reveal a cross-section). After cutting, let the produce sit and dry out a bit, or stamp them (without ink) on a paper towel a few times before using, to remove excess water. These cut vegetables should now be grip-able stamps!
If desired, using a toothpick or fork (Sprouts) or a sharp knife (adults), cut shapes along the circumference or scratch designs onto the exposed circle to create variation among the circular impressions the vegetables will make.
To stamp your pattern, press the produce onto the ink pads evenly, and apply to paper or cloth. Between impressions, let the ink dry on the stamp before using the next stamp pad – or wipe with a wet cloth between uses. 
Resources:
Stamp Stencil Paint: Making Extraordinary Patterned Projects by Hand (Anna Joyce)
Growing Patterns: Fibonacci Numbers in Nature (Sarah Campbell)
Many, many, many artists employ patterns in their art. Here are only a few, working in both paint, print and textile media: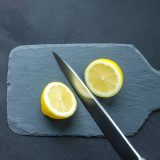 Crafters | Age 6–8
Herb Focaccia
This recipe requires an oven: please help your Crafter prepare it!
Yield: One 9"x9" loaf

Ingredients
• 1 package active dry yeast
• ½ teaspoon sugar
• 1 ½ cups warm water
• ¾ teaspoon coarse salt
• ½ teaspoon freshly ground black pepper
• 5 tablespoons olive oil (total)
• 3 to 4 cups all-purpose flour (total)
• Fresh or dried assorted herbs (sage, thyme, basil, chives, rosemary, etc.)
• Optional (any or all): bell peppers, capers, garlic, sliced tomatoes, red onion, edible flowers, etc.
Instructions
Combine the yeast and sugar in a small bowl. Stir in one-third cup of warm water and set aside in a warm place for about five minutes, until the mixture begins to look frothy. Add the remaining water, half the salt, the pepper and three tablespoons of the oil to the bowl. Stir in two cups of the four. Add another one-half cup of the four, or as much as is necessary to form a soft dough that can be gathered together. Transfer the dough to a well-floured work surface and knead about eight minutes, adding four as necessary to keep the dough from sticking. Use a half tablespoon of the remaining oil to oil a bowl. Place dough in a bowl, turn it to oil all sides, cover it lightly and set aside to rise until it has doubled, about one hour.
Preheat the oven to 500ºF.
Oil a 9"x9" baking dish with some of the remaining oil. Roll or stretch the dough to ft in the baking dish. Prick it all over, then brush it with the remaining oil and sprinkle it with the remaining salt.
Decorate the top with your selected cut herbs, fruits, and vegetables. You can create patterns or a scene. Bake 20 to 25 minutes, until the focaccia is browned on the bottom and lightly browned on top. Cut into squares and serve warm or cooled to room temperature.
S.T.E.M. in Cooking
Yeast is a microscopic fungus that can be kept dormant in the refrigerator until "awakened" in warm water and sugar. As the yeast absorbs the water and sugar, it begins a biochemical reaction called fermentation. The yeast produces heat and carbon dioxide gas as a byproduct of fermentation which makes the dough rise!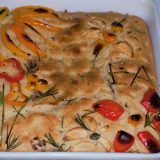 Crafters | Age 9–12
Fibonacci Flowers
Patterns appear everywhere in nature: the spiral of a snail's shell, the swirl of a sunflower's seeds or a pinecone's cone scales and seeds, the spread of leaves that make up a tree's canopy. Around eight hundred years ago, a mathematician named Leonardo di Pisa – most people called him Fibonacci – observed that you could apply a mathematical sequence to many of these patterns. He used rabbits to explain his thinking:
"A certain man put a pair of rabbits in a place surrounded by a wall. How many pairs of rabbits can be produced from that pair in a year if it is supposed that each month each pair begets a new pair from which the second month on becomes productive?" (Liber abbaci, p. 283 – 284)
If you don't have rabbits handy, the easiest way to think about the Fibonacci numbers is by creating the pattern through simple addition. The first two numbers are 0 and 1. Since 0 + 1 = 1, then the third number in the Fibonacci sequence is 1. Add 1 + 1 together. Now your sequence is 0, 1, 1, 2. The last two numbers in the sequence are 1 and 2, so add them up. 1 + 2 = 3, and so now our sequence reads 0, 1, 1, 2, 3. Adding 2 + 3 = 5, so our next number is 5; adding 3 and 5 together makes 8…and on we go! 
Here is what the sequence looks like for the first ten digits: 0, 1, 1, 2, 3, 5, 8, 13, 21, 34
Can you figure out what the next number would be? 
But so far, this is just numbers. One way to see how they make a pattern is to use graph paper and a pencil to draw the sequence. 
Start with your first pair of positive numbers, 1 and 1:

The next number in your sequence is 1 + 1, or 2:

Now, add up the squares on the right side – yellow plus blue. Adding 1 + 2 is three, so we'll add a 3 x 3 square:

Count up the squares on the bottom edge – the two blue squares and the three green squares. 2 + 3 = 5, so we add a 5 x 5 set of squares: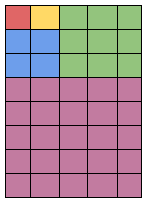 The next number in the Fibonacci sequence is eight. Can you see the eight – three green and five purple squares – on the perimeter of our shape? So the next colorful boxes we add will be an 8 x 8 square, to the right of our quadrant above.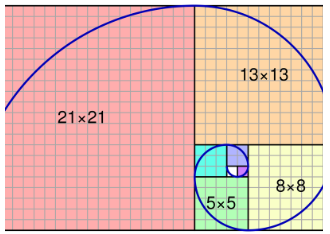 How does this appear in nature? One way is as a spiral. Something pretty amazing happens when we draw a line touching the opposite corners of each set of squares: a spiral emerges.
Another way these numbers appear in nature are in the petals of flowers. Many flowers grow with a number of petals that fall within the Fibonnaci sequence. Explore your neighborhood, or pick or buy a bouquet of flowers. Carefully count the petals. How many petals do they have? 
Is it a Fibonacci number? Chances are – yes!
Resources
Growing Patterns in Nature (Sarah Campbell)
Blockhead: the Life of Fibonacci (Joseph D'Agnese)
The Rabbit Problem (Emily Gravitt)
Swirl by Swirl (Joyce Sidman)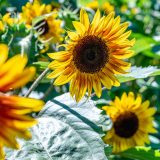 T-Shirt Harvest Bag
Materials

1 t-shirt (upcycled: use an older shirt of your own!)

1 pair of scissors

1 rubber band or 1 x 10" length of strong string/cord

Instructions

First, decorate your shirt as you please using washable markers, ink pads and stamps, paints, or with embroidery. 

Cut off the sleeves.

Invert the shirt (turn it inside out) so that your design is on the inside. Tie the bottom of the shirt off, as shown, using a rubber band or strong sting. Turn the shirt right-side out again, so that the tied-off part is hidden.

Bring your bag with you wherever you go!
Sprouts | Age 3–5
Honey Mustard Dressing
Ingredients
2 tablespoons fresh lemon juice 

1 tablespoon white wine vinegar or apple cider vinegar

6 tablespoons extra virgin olive oil

1 teaspoon Dijon mustard, or to taste 

Salt and pepper, to taste

1 teaspoon honey, or to taste
Instructions
Whisk together the lemon juice, vinegar, and olive oil. Add the mustard, salt, and pepper, and whisk to combine. Add the honey, whisking again before serving.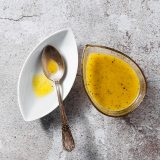 Crafters | Age 6–8
Plant Parts Salad
Ingredients
1 cup roots, thinly sliced into coins (carrots, radish, turnip)

½ cup stems (pea shoots, bean sprouts, chopped asparagus; kohlrabi, peeled and diced)

1 bunch leaves (lettuce, chard, kale, mesclun mix)

½ cup flowers, to garnish (pansies, calendula; chive, onion or mustard flowers)

1 cup strawberries, cut into halves or 1 apple, sliced

½ cup seeds (pea pods, chopped; sunflower or pumpkin seeds)
Instructions
Wash and prepare all ingredients as listed (chopping, thinly slicing, etc.). Toss together the roots, stems, leaves; add fruits and seeds and toss again, gently. Garnish with flowers.
Serve with a basic olive oil and vinegar dressing, with salt and pepper to taste, or with Honey Mustard Dressing.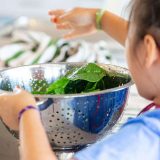 Crafters | Age 9–12
Spring Roll Veggie Wraps
Ingredients
1 packet thin rice noodles

6 leaves of chard

¼ head of red cabbage

1 large carrot

1 cucumber

1 bell pepper

1 chili pepper (such as a Thai chili)

1 – 2 inches of fresh ginger

4 – 5 Tablespoons rice vinegar

2 Tablespoons water

½ teaspoon sugar

1 pinch salt
Instructions
Cook the rice noodles as directed on the package. Rinse under cold water and set aside.
Wash the chard leaves and use a paring knife to cut out the petiole (the bit that looks like a stem) as high up as it takes to remove the tough parts (likely 2" up the leaf). 
In a large, wide pan, bring 2 – 3" of water to a boil. Using tongs, place the leaves of chard in the boiling water one by one, letting simmer for 20 seconds or so until softened. Remove the leaf, rinse with cold water, and dry with paper towels; set aside. Repeat for all leaves.
Using a sharp knife, cut the carrots, cucumbers, bell pepper, and cabbage into matchsticks. Remove cucumber seeds first. You can use a mandoline for the cabbage. 
To prepare the rolls, lay out each chard leaf. Neatly place rice and vegetables onto one third of the leaf, vertically, leaving enough room at the top, bottom, and ⅔ of the remaining leaf to wrap the roll. Fold down the top, fold up the bottom, and – beginning with the side with the ingredients laid out – roll the wrap up tightly. 
To prepare the dressing, peel and finely chop the ginger. Mix with the vinegar, water, salt, sugar, and ginger. For a less-spicy dressing, cut a slit in the chili and add it to the dressing; let marinate for a few hours to overnight. For a more spicy dressing, finely chop the chili and add, to taste. 
Serve the rolls with the dressing, for dipping, alongside.