22nd Annual Landscape Design Portfolios Lecture Series: Walter Hood
October 29
6:30 p.m. EDT | Register Online
As founder and creative director of Hood Design Studio in Oakland, California, Walter Hood makes urban spaces that resonate with and enrich the lives of current residents while also honoring communal histories. As an artist and a landscape architect, he has transformed traffic islands, vacant lots, and freeway underpasses into spaces that challenge the legacy of neglect of urban neighborhoods. Recently, Hood has undertaken ambitious commemorative landscapes that reflect his interest in the role of sculpture in public space. For Charleston's International African American Museum, now under construction on the site at which nearly 40 percent of enslaved Africans arrived in this country, Hood has designed a memorial garden filled with native grasses, featuring a tidal pool whose waters will recede at regular intervals to reveal an engraved pattern of life-sized figures, aligned as though confined within the hold of a slave ship.
Widely published, and known internationally as a lecturer, Hood is a professor of landscape architecture at UC Berkeley.
Walter Hood is the creative director and founder of Hood Design Studio in Oakland, CA. Hood lectures on professional and theoretical projects nationally and internationally. He is a recipient of the 2017 Academy of Arts and Letters Architecture Award, 2019 Knight Public Spaces Fellowship, 2019 MacArthur Fellowship, and 2019 Dorothy and Lillian Gish Prize.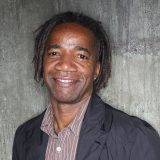 CART Interpretation will be provided at this event. For accommodation requests related to a disability, questions, comments, or more information about the accessibility of this event, please contact Lisa Whitmer at access@nybg.org or 718.817.8765.