African American Garden: Remembrance & Resilience
Welcome to the African American Garden at the Edible Academy. All gardens are special spots: a visit may be a leisurely stroll, a quest for information, or a search for memory. This garden was created to provide all three and more—to inspire thought, and to give you a brief look at the history of the African American experience in the United States through the lens of plants.
Discover the Plants
Explore the African American Garden and the species planted here with this interactive map.
We were brought here to do agricultural work as the Americas became the provider of many plant-based products that went to Europe. We worked in the cane fields and processed the sugar that sweetened the coffee, tea, and chocolate that were the rage. We grew and processed the tobacco that had been discovered in the Americas. The rice that made the wealth of the South Carolina colony was based on our agricultural know-how. We also grew the cotton that fed the European and American mills and cultivated and processed the indigo that dyed it.
Cotton (Gossypium barbadense 'Long Staple')
Cotton (Gossypium hirsutum 'Nankeen Natural Brown')
Cotton (Gossypium hirsutum 'Sea Island Brown')
Cotton (Gossypium hirsutum 'Mississippi Brown')
Indigo (Indigofera suffruticosa 'Ossabaw Island')
Rice (Oryza sativa 'Carolina Gold')
Sesame (Sesamum indicum 'Sea Island Benne')
Sugarcane (Saccharum officinarum 'Purple Ribbon')
1: Tobacco (Nicotiana tabacum 'Broad Leaf Orinoco')
2: Tobacco (Nicotiana tabacum 'Virginia Bright Leaf')
Soupy stews prepared from leafy greens were staples on our tables on the African continent. They remain some of the hallmarks of our food not only in the United States, but throughout the hemisphere. In the United States, pork, which was given in our rations was often used as a seasoner, but our greens were also prepared with other ingredients that were available like seafood and smoked meats. Some dishes even remained meatless. While many of the greens may not be African, their savory tastes recall the continent.
Mustard Greens (Brassica juncea 'Carolina Broadleaf')
Collards (Brassica oleracea 'Green Glaze')
Turnip (Brassica rapa 'Seven Top')
Mustard Greens (Brassica juncea 'Southern Giant Curled')
Kale (Brassica oleracea 'Premier')
Collards (Brassica oleracea 'Nancy Malone Wheat Purple')
Collards (Brassica oleracea 'Alabama Blue')
Kale (Brassica oleracea 'Lacinato Rainbow Mix')
Variegated Collards (Brassica oleracea)
Grains held many of our meals together. The West African rice that we had grown in southern Senegal, Sierra Leone, Guinea, and parts Liberia gave us rice-growing knowledge and our technology built the rice empires of the Carolina and Georgia Lowcountry. Corn from the Native Americans became a part of our daily rations and our diet in the form of cornmeal, hominy, and grits. Millet, which is native to the African continent is less popular, but sorghum which also originated there is a real part of many southern breakfasts in the form of syrup.
Rice (Oryza sativa 'Carolina Gold')
Coral Sorghum (Sorghum bicolor)
Millet (Eleusine coracana 'Dragon's Claw')
Pearl Millet (Cenchrus americanus)
Corn (Zea mays 'Sea Island White Flint')
Field pea (Vigna unguiculata 'Whippoorwill') & Field pea (Vigna unguiculata 'Fish Eye')
Our cooking maintained many of the hallmarks that distinguished it on the African continent. It remained savory and well-seasoned and used ingredients like the New World tomato that had been adopted early on the African continent. It brought okra to the palates and the plates of many southerners in form of okra soups and gumbos and southern stews. It brought eggplant, known as Guinea squash, adapted hot chilies, and used the New World sweet potato like the African yam.
Onion (Allium cepa 'New York Early')
Fish Pepper (Capsicum annuum)
Pepper (Capsicum annuum 'Buena mulata')
Yam (Solanum tuberosum)
Onion (Allium cepa 'Red Wethersfield')
Eggplant (Solanum melongena 'White Garden Egg')
Okra (Abelmoschus esculentus 'Sea Island Red')
Tomato (Solanum lycopersicum 'Moyamensing')
Garlic, music (Allium sativum var. ophioscorodon 'Music')
Tomato (Solanum lycopersicum 'Plate de Haiti')
Okra (Abelmoschus esculentus 'Alabama Red')
Shallot (Allium cepa var. aggregatum 'Figaro')
We wove baskets with grasses and vegetable materials. Some were used to hold things in our homes and for storage in the places we worked. Others were important for use in winnowing grains, processing tobacco, and in other areas. We also used plant fibers to create fishing nets and to weave fabric for clothing that we then dyed with colors made from still other plants.
Flax (Linum usitatissimum)
Indigo (Indigofera suffruticosa 'Ossabaw Island')
Cotton (Gossypium hirsutum 'Sea Island Brown')
Cotton (Gossypium hirsutum 'Arkansas Green Lint')
Sweetgrass (Anthoxanthum nitens)
Kenaf (Hibiscus cannabinus)
Cotton (Gossypium hirsutum 'Erlene's Green')
Cotton (Gossypium hirsutum 'Mississippi Brown')
True Indigo (Indigofera tinctoria)
Saw Palmetto (Serenoa repens)
We foraged for plants in the perimeters of our worlds testing, tasting, and adapting for use. In this manner, we expanded our horticultural horizons. The plants that we discovered added needed items and gave variety to our diets with wild berries and greens, allowed us to care for our health with potions, and even provided for a few moments of pleasure with teas and infusions and tobacco.
Black raspberry (Rubus occidentalis)
Blueberry (Vaccinium corymbosum 'Northland')
Butterfly milkweed (Asclepias tuberosa)
Chives (Allium schoenoprasum)
Cress, Creasy Greens (Barbarea verna)
Dandelion (Cichorium intybus 'Catalogna')
Dwarf Red Osier Dogwood (Cornus sericea 'Kelseyi')
Elderberry (Mentha × piperita)
Mint, Peppermint (Mentha sp.)
Plantain (Plantago major)
Rabbits tobacco, Sweet Everlasting (Pseudognaphalium obtusifolium)
Purslane (Portulaca oleracea)
Strawberry (Fragaria virginiana)
Sunchoke (Helianthus tuberosus)
Sweet flag root (Acor Acorus calamus var. americanus)
We have always known of the properties of plants to cure and harm, to heal and comfort. This knowledge also arrived with us and informed us about plants that were similar to those on the African continent. New knowledge both discovered and learned from Native Peoples offered new cures and new medicines. Working roots, conjuring, and more kept us connected to African traditional medicine and allowed us to use roots to heal, help, and yes, harm, in the new American place.
Aloe (Aloe vera)
Catnip (Nepeta cataria)
Collards, Green Glaze (Brassica oleracea)
Okra, Sea Island red (Abelmoschus esculentus)
Licorice root (Glycyrrhiza glabra)
Gourd, Birdhouse, Bradshaw's (Lagenaria siceraria)
Ginger, Peruvian yellow (Zingiber officinale)
Sage (Salvia officinalis)
Watermelon (Citrullus lanatus 'Georgia Rattlesnake')
Roselle (Hibiscus sabdariffa)
Things did not always remain as they had been. We have a remarkable history of adaptation and discovery. Some of the plants that had formed major parts of our African lives were simply unavailable in the northern parts of the American hemisphere. New World plants were discovered that could be used in similar ways to old ones that were remembered. We adapted. We transformed and although modified by time and distance, our ways of being and our relationships with the plants we knew and the ones we came to know survived and kept our plant-ways alive. As a protector of the garden, and to celebrate the ancestors, this bed is anchored by a traditional African American bottle tree.
Field Pea (Vigna unguiculata 'Sea Island Red')
Field Pea (Vigna unguiculata 'Whippoorwill')
Yam (Dioscorea rotundata 'African white')
Sweet Potato (Ipomoea batatas 'Beauregard')
Bambara Groundnut (Vigna subterranea)
Peanut (Arachis hypogaea 'Carolina Runner')
Efo shoko, Lagos spinach (Celosia argentea)
Efo Gboma, Eggplant leaf (Solanum macrocarpon)
Collards (Brassica oleracea 'Green Glaze')
Efo Gbure, Waterleaf (Talinum fruticosum)
Field Pea (Vigna unguiculata 'Iron and Clay')
Field Pea (Vigna unguiculata 'Fast Lady Northern')
The garden walk begins with plants such as cotton and sugar cane, rice and tobacco, which were the commodities driving the Trans-Atlantic Slave Trade that brought many Africans to these shores to work in the fields. The garden's story continues with plants such as okra, tomatoes, eggplants, peppers, and various types of greens that turned up in kitchen gardens and on tables throughout the American South and North. Plants that were used to create, like the seagrass woven into baskets, gourds that became containers, and indigo that dyed garments make an appearance, as do plants that were used to cure ailments from fever to toothaches. There are plants that were foraged in the wild and became domesticated standbys, and even some plants that were central to traditional rituals and religious rites. The garden walk ends with several African plants and some that substituted for them in the North American context, a reminder that the African American world of plants, like African life in the North American world, was one of adaptation and transformation.
While many of the plants in the African American Garden are African in origin, some, such as corn, tomatoes, and peanuts, are native to this hemisphere; others, such as collard greens, come from Europe. The diverse origins of the plants also speaks to the range of African American experiences in the United States.
The plants in the garden give a curated glimpse at the diverse world of African Americans and the geographical context that is the United States. The final bed that celebrates substitutions and replacements is anchored by a bottle tree. In the southern United States, especially in the Carolina and Georgia Lowcountry, bottle trees are fixtures in many African American gardens; they are designed to protect the garden and its surroundings.
A visit to the African American Garden is enhanced by a poetry walk around its perimeter curated by Dante Micheaux of the Cave Canem Foundation. The New York Times has called Cave Canem, "A major incubator for the current renaissance in Black poetry" and in contemplating the words of its poets, visitors can add another layer to their appreciation the garden.
On select days, visitors can avail themselves of red drinks at the hibiscus drink stand, enjoying various versions of a traditional celebratory African American beverage. And every day, visitors can sit, catch some shade, relax, and simply enjoy the garden at one of the tables and umbrellas designed by scenic designer, Lawrence E. Moten III.
Whether you come for a brief walkthrough or decide to spend an afternoon, welcome to the African American Garden. We are very glad you are here.
Poetry Walk
The African American Garden's poetry walk was curated by Dante Micheaux, poet and program director of Cave Canem, an arts organization created to cultivate the artistic and professional growth of African American poets.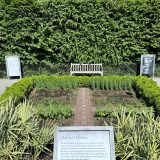 Project Team
Jessica B. Harris, Ph.D., is celebrated as America's leading scholar on the foods and foodways of the African Diaspora. Author of 12 critically acclaimed books, she has lectured on African American food and culture across the U.S. and abroad, and her work has appeared in numerous publications. Among her awards and accolades are an honorary doctorate from Johnson & Wales University and the DeMasters Award from the Association of Food Journalists. Dr. Harris was recently inducted into the James Beard Foundation's Hall of Fame and was named one of Time magazine's 100 Most Influential People of 2021. High on the Hog: How African American Cuisine Transformed America, the popular Netflix series inspired by her most-recent book, has been renewed for a second season.

Dante Micheaux is the author of Amorous Shepherd and Circus, which won the Four Quartets Prize from the Poetry Society of America and the T. S. Eliot Foundation. His poems and translations have appeared in African American Review; The American Poetry Review; Callaloo; Literary Imagination; Poem-a-Day; Poetry; PN Review; and Tongue—among other journals and anthologies. Micheaux's other honors include the 2020 Ambit Magazine Poetry Prize, and fellowships from Cave Canem Foundation and The New York Times Foundation. He is the Director of Programs for Cave Canem Foundation, a non-profit literary service organization committed to cultivating the artistic and professional growth of African American poets.

Lawrence E. Moten III is a New York City-based designer for plays, musicals, live events and installations. His design work, often new plays and world premieres, has been seen in New York City at Circle in the Square, with Page 73 Productions, 59E59 Theaters, Ensemble Studio Theatre, Cherry Lane Theatre, and Houses on The Moon as well as The New School and Marymount Manhattan College. Regionally his work has been seen at California Shakespeare Theater, American Conservatory Theater, The Old Globe, The Repertory Theatre of St. Louis, and many others. He has been the Resident Scenic Designer for the 2018, 2019, and 2020 National Playwrights Conference at The Eugene O'Neill Theatre Center. Moten was raised in Seattle, Wash., and San Antonio, Tex., and gained an appreciation for design, art, and music at a young age. He pursued his passion for design, earning his BFA in Theatrical Production Arts: Design from Ithaca College. He lives in Brooklyn and freelances across the country.
Special Thanks
Scott A. Barton, Ph.D.
Dante Micheaux
Glenn Roberts
Seeds:
Anson Mills
Experimental Farm Network
Green Planet Farm
Seed Savers Exchange
Bottle Tree:
Judith S. Kaye High School, Principal Andrew Brown
School of Cooperative Technical Education, Principal Corey Prober
Welding Teachers:
Amadou Barry and Greg Gauntlett
Students:
Raymond Bishop, Victor Borys, Isaiah Cruz, Abdoulaye Diallo, Mason Malave, Matthew Napolitano, Christopher Reyes
Garden graphics provided by the GrowVeg.com Garden Planner
Sarah Ross
Jovan Sage
Will Woys Weaver
Social Roots
Southern Exposure Seed Exchange
Sow True Seed
Truelove Seeds
Victory Seeds
The African American Garden is made possible with support from the Mellon Foundation.