Big Tree: A Conversation with Author Brian Selznick and
Dr. Jamie Boyer
Saturday, November 4, 2023
11 a.m. | Ross Hall
This family-friendly, hour-long conversation and book reading is an introduction to author Brian Selznick's children's book Big Tree. Lauded by The New York Times as "exquisitely illustrated … We need brave, big stories like this," Big Tree explores what it means to live on this planet. Selznick is joined by Dr. Jamie Boyer, Stavros Niarchos Foundation Vice President for Children's Education at NYBG, and their conversation will be followed by a book signing in Ross Gallery.
Admission is included with a Garden Grounds Pass and seating is on a first-come, first-served basis.
Brian Selznick is a #1 New York Times bestselling author and acclaimed illustrator whose books have sold millions of copies, garnered countless awards worldwide, and been translated into more than 35 languages. His novel, Big Tree (April 4, 2023 worldwide publication), which began as an original idea from film legend Steven Spielberg, is a trailblazing adventure with nearly 300 pages of illustrations.
Selznick broke open the novel form with his innovative and genre-defying thematic trilogy, beginning with the Caldecott Medal-winning and bestselling book The Invention of Hugo Cabret, adapted into Martin Scorsese's Academy Award-winning movie Hugo. He followed that with the #1 New York Times bestseller, Wonderstruck, adapted into the eponymous movie by celebrated filmmaker Todd Haynes, with a screenplay by Selznick, and the New York Times bestseller, The Marvels.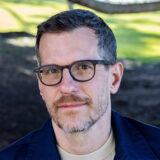 Jamie Boyer, Ph.D., is the Stavros Niarchos Foundation Vice President for Children's Education and Senior Director of Education at The New York Botanical Garden where he oversees all aspects of the Garden's student, teacher, teen, family, special needs, service learning, and veteran's programs, as well as the School of Professional Horticulture.
He also oversees the Garden's educational facilities including the Edible Academy, the Everett Children's Adventure Garden, and the GreenSchool inside the Haupt Conservatory. Jamie holds a M.Sc. in Paleobotany from Southern Illinois University, and a Ph.D. in Paleobotany from the State University of New York, Binghamton.