The New York Botanical Garden would like to thank the individuals, foundations, corporations, and government agencies who generously support Bronx Green-Up.
Barilla
Con Edison
The Jean and Louis Dreyfus Foundation
Dunkin' Joy in Childhood Foundation
Health/ROI
JPMorgan Chase & Co.
Sidney and Judith Kranes Charitable Trust
Lemberg Foundation, Inc.
TD Charitable Foundation
U.S. Botanic Garden and American Public Gardens Association
United States Department of Agriculture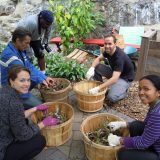 Partners
The Bronx Canasta
The Bronx Canasta is a partnership of groups serving the Bronx in a variety of capacities: The Mary Mitchell Family and Youth Center, Bronx Green-Up of The New York Botanical Garden, International Rescue Committee, Morris Campus Educational Farm, Friends of Brook Park, La Familia Verde Community Garden Coalition, and Small Axe Peppers. These organizations are all working closely together to create and implement innovative food and farming opportunities for Bronx residents.
Bronx Land Trust
The Bronx Land Trust, a nonprofit organization established by gardeners to support and sustain community gardening, manages 16 gardens in the Bronx. In addition to providing services to these gardens, Bronx Green-Up has partnered in major garden redesign projects for these gardens.
Butterfly Project NYC
Bronx Green-Up is a partner of the Butterfly Project, a grassroots, volunteer-led organization of people from around New York City with a common goal—to encourage and assist in the planting of native plants in gardens and other public areas in order to create and strengthen habitat for native pollinators.
Clif Bar—In Good Company
An alliance of values-driven businesses led by Clif Bar & Company, In Good Company partners with Bronx Green-Up on their weeklong employee retreats. Employees roll up their sleeves and volunteer in communities for a week at a time, hands-on. They tackle projects focused on food, housing, and environmental restoration. In 2014, In Good Company volunteers worked at Taqwa Community Farm to build a chicken coop and children's garden.
Farm School NYC
Farm School NYC offers urban agriculture training through a certificate program as well as a wide range of individual courses. Our courses are taught by experts in the field and focus on a wide range of topics from social justice issues to urban planting techniques and grassroots community organizing. Through engaging, place-based education, Farm School classes cultivate future leaders in NYC's food justice movement.
GreenThumb
GreenThumb, the community gardening program of the New York City Department of Parks and Recreation, provides materials, technical assistance, and educational workshops. Bronx Green-Up partners with GreenThumb in leading several workshops a year, while GreenThumb provides important material resources to registered community and school gardeners.
Grow to Learn NYC
The Citywide School Garden Initiative is a public-private partnership between the Mayor's Fund, GrowNYC, and several government agency partners. Grow to Learn focuses on the coordination, collaboration, and communication with government agencies, non-profits, private corporations, teachers, schools, parents, kids, and individuals who impact or want to support public school gardens.
International Rescue Committee
Bronx Green-Up has partnered with the International Rescue Committee (IRC) to build New Roots Community Farm. The IRC responds to the world's worst humanitarian crises and helps people to survive and rebuild their lives. At work in more than 40 countries and 22 U.S. cities to restore safety, dignity, and hope, the IRC leads the way from harm to home.
Osborne Association
The Osborne Association's Justice Community program offers eight weeks of environmental literacy, job readiness training, and career exploration opportunities for court-involved young adults between 18 and 24 years old who are residing in the Bronx. In addition to the various workshops provided, Justice Community participants engage in Community Benefit Projects in the Bronx area. Bronx Green-Up leads some of these Community Benefit Projects in partnership with community gardens.