CHIHULY Nights
Saturdays April 29–June 24;
Thursdays, July–August;
Thursdays–Saturdays, September–October
6:30–10:30 p.m.
On CHIHULY Nights, the exhibition is infused with a magical energy as the artworks are spectacularly illuminated amid NYBG's sweeping vistas and magnificent Conservatory. After sunset, the atmosphere is thrilling: experience the heightened drama and luminous quality of Dale Chihuly's colors and forms when lit under the evening sky. In the Visitor Center plaza, a rotating lineup of performing artists and musicians provides entertainment while you relax and enjoy shopping, food, and Avión Tequila cocktails available for purchase.
Non-Member Adult $35, Child (ages 2-12) $15 / Member $25, (ages 2-12) Child $10
GET YOUR TICKETS
Advance purchase recommended. Read on for tips to help you plan your visit.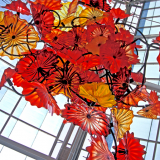 About the Exhibition & Artist
Learn more about the first Chihuly installation to come to New York in more than 10 years, complemented with installations created specifically for NYBG.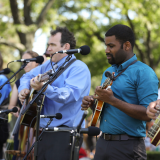 Performers
A rotating lineup of performing artists and musicians sets the stage for an entirely different CHIHULY experience.
April 29
Mandingo Ambassadors:  As a veteran of the great orchestras of the golden age of Guinean dance bands, Mamady Kouyate carried his heritage with him to New York where he has collaborated with members of the West African diaspora and Western musicians to continue the great tradition and sound of Guinean Afro-Jazz.
Alice Farley Dance Theater: New York based company creates intimate theatrical productions primarily focusing on dance extended through sculptural costuming, illusion, puppetry, stilts and circus skills.
May 6
Jarana Beat: Winner of the 2015 Mexican Music Award for Best Contemporary Folk Band, Jarana Beat has aimed to share the unknown sounds of Mexico.
Richard and Ashlee: Richard Hankes and Ashlee Montague are world record holding circus artists who specialize in acrobatic ballet, hand-to-hand and champagne bottle walking acts. They are currently perform for Cirque du Soleil's Broadway show Paramour as a featured pre-show act and have also been seen on America's Got Talent, Mozart in the Jungle and The Ride NYC.
May 20
Moonshine Falls: A band that bridges the gap between Traditional Bluegrass and the new Blue movement, Moonshine Falls create a harmonious sound that is steeped in tradition.
Almanac Dance Circus Theater: Called "The little dance theatre troupe that could" by Philadelphia's City Paper, the company pursues present performance at the edge of what is possible through playful honesty.
More performers to be announced.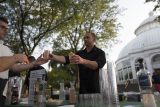 Festive Treats and Signature Drinks
Enjoy al fresco food, themed cocktails, and more for a perfect night out in every season.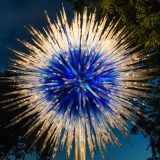 Tips for Your Visit
Make the most out of your CHIHULY Nights visit.
Special tickets must be purchased for CHIHULY Nights and are discounted for Members. Guest passes are not accepted. We strongly recommend reserving in advance, as sell out is likely.
CHIHULY Nights take place at night and darkness is required to fully enjoy the experience. Optimal viewing varies, but generally follows this monthly schedule: April: 8 p.m.; May, June, & July: 8:30 p.m.; August: 8 p.m.; September & October: 7 p.m. CHIHULY Nights take place from 6:30 to 10:30 p.m.; arrive at any time during this time range.
Plan for approximately two hours to experience CHIHULY Nights. Tram service does not operate at night. Wheelchairs are available on a first-come, first-served basis.
The Library Building is closed during CHIHULY Nights. Access to the Conservatory is granted on a space-available basis and there may be a wait on peak days.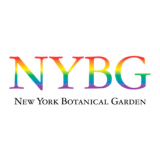 LGBT @ NYBG
NYBG is a member of NGLCCNY and proud to partner with them and the Loft for the LGBT @ NYBG series. LGBT @ NYBG is an initiative that hosts events throughout the year to celebrate the LGBT community. Stay tuned for upcoming events during CHIHULY.
Program Partners: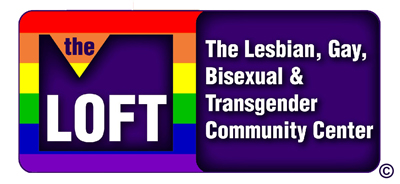 A Night at the Garden