Climate Week 2023
September 17–24, 2023
Various Times | NYBG & Online
At this time in human history, one of the primary roles of a botanical garden—to teach people about plants and their foundational importance to all life on Earth—has never been more crucial. Join NYBG during Climate Week NYC 2023 for a thought-provoking programs that forefront the importance of plants to help solve the climate and biodiversity crisis, including our annual Climate Week Symposium, this year centered on the theme of cultivating resilience.
Read on to learn about ongoing tours and programs that get you closer to nature, classes that teach you how to be a better observer of the environment around you, and simple ways that you can get involved in supporting both scientific research and the green spaces we cherish during this challenging time in Earth's history.
Climate Week 2023 Symposium
Thursday, September 21; 9:30 a.m.–12 p.m.
Ross Lecture Hall
As leaders from around the world convene in New York City for Climate Week, NYBG will host a symposium to examine ecological restoration: its history, current trends, and the crucial work that needs to continue on a global scale.
The keynote address, Wild by Design: Caring for Biodiversity in a Changing World, will be given by Dr. Laura J. Martin, followed by a panel discussion on The Promise of Ecosystem Restoration with distinguished scientists and practitioners.
Keynote Speaker:
Dr. Laura J. Martin., Ecologist, historian, author, and Professor of Environmental Studies, Williams College
The Promise of Ecosystem Restoration
Thomas E. Lovejoy, Ph.D., and Edward O. Wilson, Ph.D., Panel:
Todd Forrest, Vice President for Horticulture and Living Collections, NYBG
Eric Sanderson, Ph.D., Vice President for Urban Conservation Strategy, NYBG
Sarah Charlop-Powers, Executive Director and Co-Founder, Natural Areas Conservancy
Daniel Kinka, Ph.D., Senior Wildlife Restoration Manager, American Prairie
Panel Moderator:
Mauricio Diazgranados, Ph.D., Chief Science Officer and Dean of the International Plant Science Center, NYBG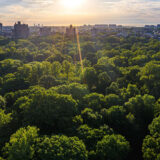 Fall Foliage Stand-Outs
Self-Guided Digital Tour on the Bloomberg App
In autumn, NYBG is filled with colorful leaves, from browns to oranges to burning reds. Discover the trees with the most brilliantly-colored foliage around the Garden, and learn why some trees produce more saturated fall color than others.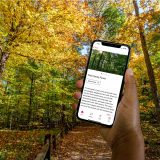 Learn How to Make Your Own Herbarium Specimen
Creating a herbarium specimen hasn't changed much in centuries!
Make one from your favorite houseplant, or venture outdoors to collect what you encounter on an expedition and compare what you find in NYBG's William and Lynda Steere Herbarium.
Herbarium specimens document the diversity of life through time and across geographic space, directly impacting conservation and biodiversity research. These specimens are used to describe and name new species, and devise conservation solutions for endangered species.
Engage with some of our past content
Climate Week 2022 Symposium: Why Climate Change Matters to You and What You Can Do About It
Climate Week 2022 Symposium: Forests: A Force for Change



5th Annual EcoFlora Conference: Celebrating Community Science in New York City
Urban Genetic Pools: Reservoirs of Adaptive Potential and the Seed Collectors Who are After It