WHAT IS AN ECOQUEST?
EcoQuests, part of the NYC EcoFlora Project, challenge New Yorkers to become citizen scientists and observe, study and help conserve the native plants and animals of the City, using iNaturalist, an easy-to-use mobile App.
HOW DO I GET STARTED?
Each month, NYBG EcoFlora will announce a new Challenge where we need your help to document the wild flora and fauna of New York City by taking and sharing photos via iNaturalist, an easy-to-use mobile App.
Download iNaturalist App, or register at iNaturalist.org
Take photos for the month's EcoQuest Challenge
Post your findings on iNaturalist so they can be added to the NYC EcoFlora Project.
Check the EcoQuest web page for updates and new challenges!
WHY PARTICIPATE?
There are no wrong observations. Each observation contributes vital information to reveal traits and processes largely unknown before due to a lack of data and coordination between data sets. Millions of individual data points add up to big data that will enable new insights and opportunities for research, conservation and engagement.
Since the first EcoQuest Challenge in August 2017, more than 1,300 observers have recorded more than 85,000 observations of more than 2,800 species of plants, animals, and fungi.
IMPORTANT REMINDER
Please do not disturb animal activity as you record your observations.
Sign up here to receive updated informaton about our EcoQuest Challenges.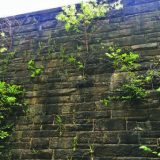 Climbing the Walls - July 2020
The Latin word for wall is murus, the origin of the word mural. Many plant species are able to grow on walls, particularly those adapted to lime, a common ingredient in concrete and mortar. Ferns, grasses, and even some trees are often found growing on walls. How many different species can you find climbing the walls where you live?
Help NYBG document the urban flora of New York City.
HOW DO I GET STARTED?
1. Download the iNaturalist app or register at iNaturalist.org.
2. Look for vertical man-made surfaces (concrete, stone, or brick) in your neighborhood, and photograph the plants you find growing on them. Each observation should feature an individual plant. If there are many plant species present, each one should be a separate observation.
3. Upload your observations to iNaturalist.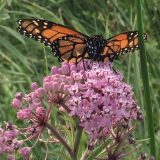 Make the Connection - June 2020
Since 2017 New Yorkers have documented more than 370,000 plants, fungi, and animals across all five boroughs of New York City and uploaded observations with photographs to iNaturalist. The program is designed to capture photos and information about individual specimens, but sometimes our photos catch insects visiting flowers or birds eating fruits.
Documenting these connections can reveal hidden life webs. These connections inform conservation efforts to protect native plants and animals.
HOW DO I GET STARTED?
1. Visit nybg.org/EcoQuest for more information about animal and plant interactions.
2. Download the iNaturalist app or register at iNaturalist.org.
3. In the program search for "Make the connection" or go to https://www.inaturalist.org/projects/make-the-connection.
4. Find observations with insects on flowers. Use the Observation field to record the connection. Type in "Interaction->Visited flower of". In the drop down field, type in "Plants- Kingdom Plantae". Click Add to save your work.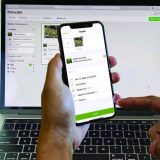 Nature in Focus - May 2020
Many of us have photo archives stored on various devices. As nature lovers, many of these pictures are probably of plants, fungi, and animals we observed here and there in New York City over the years. You can help document biodiversity past and present (and stay safe indoors) by uploading your archived photos to iNaturalist. Please tag them with date and location to ensure their scientific value.
Here's how you can help NYBG document plants, fungi, and animals in New York City.
1. Download the iNaturalist app or register at iNaturalist.org.
2. Upload your photos of wild plants, fungi, and animals (no pets or people). Using the desktop version of the program, click the green "Upload" button. On the mobile app, tap "Observe" and then the photo icon. Be sure to tag date and location. Multiple views of the same organism photographed at the same time should be combined into one observation.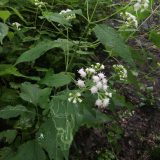 Look for Leaf Miners from Home - April 2020
Leaf Miners are insects that spend a portion of their life cycle inside a plant leaf. In their larval stages, these insects feed on the nutritious tissue between the upper and lower leaf surfaces. Their movements in search of fresh tissue are often visible through the leaf surface as distinct trails.
Help NYBG document occurrences of Leaf Miner insects on White Snakeroot plants in New York City by April 30.
1. Visit the LOOK FOR LEAF MINERS FROM HOME project page on iNaturalist. You will see thumbnail images of all 17,000 White Snakeroot observations, arranged in rows and columns.
2. Click on one of the thumbnails to call up that observation.
3. Look for evidence of Leaf Miner activity (distinct trails lighter in color than leaf surfaces) in each of the images for that observation. There may be many leaves that must be examined carefully.
4. Look for the Observation Field (lower right of screen) to see if already marked. If not, start typing or select "Leaf Miner" in the box. Enter "Yes" if you see distinct Leaf Miner trails, or "No" if you can clearly see the leaves but do not see any Leaf Miner trails. If you are not sure whether you see any Leaf Miner trails, or the images are too blurry, or there are no leaves visible, select "Unclear." Be sure to click "Add" to save your annotation.
5. Review these observations, observations for examples of positive or "Yes" evidence of Leaf Miners.
6. Review these observations, observations for "No" evidence of Leaf Miner.
7. Review this observation for "Unclear."
8. If the observation has already been marked with a Leaf Miner annotation, skip it and go to another.
More information:
Leaf Miner research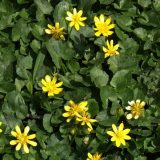 Find more Lesser Celendine - March 2020
Lesser Celandine (Ficaria verna) is an invasive plant from Europe and western Asia that is spreading rapidly throughout southeastern New York, including New York City. Unlike Dandelion (Taraxacum officinale), which it somewhat resembles, Lesser Celandine invades pristine natural areas and forms a monoculture that crowds out native species such as Violets (Viola spp.) and Carolina Spring-Beauty (Claytonia caroliniana).
Help NYBG document the abundance and distribution of Lesser Celandine by photographing as many plants as possible March 31. Photograph Lesser Celandine anywhere in New York City. For large populations, photograph plants every few feet to show extent of coverage. Post your findings to iNaturalist so they can be added to the NYC EcoFlora Project.
Additional resource:
Guide to Lesser Celandine of New York City.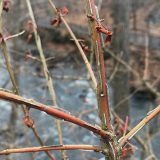 Can you find Euonymus? - February 2020
Species of Euonymus are small trees, shrubs, and woody vines in the Staff-Tree family (Celastraceae). Indigenous and introduced species in our range have sharply angled (and sometimes winged) stems; opposite leaves that are evergreen or deciduous; and brightly colored fruit. Burning Bush (Euonymus alatus) is an aggressive invader with conspicuously winged stems (see photo).
Help NYBG document as many Euonymus plants as possible by February 29. Photograph the plants anywhere in New York City, and be sure to get clear photos of the stem, leaves, and fruit clusters. Post your findings to iNaturalist so they can be added to the NYC EcoFlora Project.
Additional resource:
Guide to the Euonymus of New York City.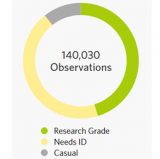 Make the Grade - January 2020
During 2019, New Yorkers made over 140,000 observations of plants and animals in all five boroughs of NYC. Practice your identification skills by reviewing the 61,000 observations from the past year that still Need ID. When two or more reviewers agree on a species name, the observation becomes Research Grade and gets uploaded to the Global Biodiversity Information Facility (GBIF) database of over 1 billion biodiversity records.
This month we are asking everyone to take a virtual Challenge by reviewing observations that need ID, confirming or adding IDs, and helping them MAKE THE GRADE.
Visit the NYC EcoFlora Project at iNaturalist for more information about how you can help every observation MAKE THE GRADE.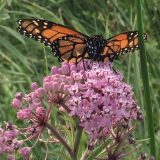 EcoQuest Challenge Archive
Continue to the New York City EcoFlora EcoQuest archive.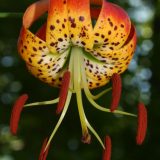 The New Manual of Vascular Plants
Interested in learning more about the region's biodiversity? Check out The New Manual of Vascular Plants of Northeastern United States and Adjacent Canada, a project by NYBG and indispensable resource that provides new tools to identify plants in North America.