WHAT IS AN ECOQUEST?
EcoQuests, part of the NYC EcoFlora Project, challenge New Yorkers to become citizen scientists and observe, study and help conserve the native plants and animals of the City, using iNaturalist, an easy-to-use mobile App.
HOW DO I GET STARTED?
Each month, NYBG EcoFlora will announce a new Challenge where we need your help to document the flora and fauna of New York City by taking and sharing photos via iNaturalist, an easy-to-use mobile App.
Download iNaturalist App, or register at iNaturalist.org
Take photos for the month's EcoQuest Challenge
Post your findings to the NYC EcoFlora Project on iNaturalist
Check the EcoQuest web page for updates and new challenges!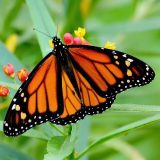 Monarch Butterflies and Milkweeds - August 2017
North America's iconic Monarch Butterflies are in decline—threatened by habitat loss, climate change, and pesticide use, as well as loss of Milkweed plants required for rearing their young. Almost half of New York City's 11 Milkweed species are thought to be extinct in the City. How many can you find?
Take photographs to document the distributions of Milkweeds and Monarch butterflies, and post your findings on the NYC EcoFlora Project at iNaturalist.
Additional resource: Download the Guide to the Milkweeds of New York City.
(Monarch photograph courtesy of TexasEagle (c), Photo 1477, some rights reserved, CC BY-NC.)