Weekend and Specialty Plant Sale
Friday, May 4, 2018 – Sunday, May 6, 2018
10 a.m. – 5 p.m.
Friday through Sunday, be sure to stop by the Specialty Plant Sale at NYBG Shop, take a break in the entry tent, and on Saturday, enjoy live painting throughout the Garden as part of the NYBG Third Annual Plein-Air Invitational.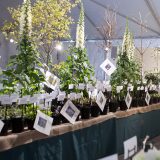 Specialty Plant Sale
Throughout the weekend, a newly expanded specialty plant sale at NYBG Shop features an array of apartment-friendly plants, trees, shrubs, vines, hard-to-find perennials, herbs, and annuals from some of horticulture's finest growers.
Succulents, air plants, and an assortment of apartment-friendly tropical foliage plants including philodendron, snake plants, zamiifolia, draecena, assorted ferns, and more.
Seven varieties of unusual maples, including 'Sango-kaku' and 'Red Filigree Lace' from Iseli, one of Oregon's top growers
Unusual hardy conifers not generally available, including Chameocyperis 'Curly Tops' and Pinus 'Louie'
Assorted shrubs, including black pussywillow and a variegated hibiscus from Madison, Connecticut
Hardy, colorful camellias, native magnolias, and ground orchids from Pleasant Run in New Jersey
Perennials from two notable nurseries in Connecticut: Plant Group supplied many of the plants for the Highline, some of which will be available; and Judges Farm will have a selection of interesting quart-sized plants, including woodland phlox, poppies, and primrose.
Hard to find native perennials from Hillside Nursery, including cypripediums and trillium
30 varieties of rose selected for fragrance and disease resistance—climbers, hybrid teas, floribundas, and miniatures
Three-gallon Itoh peonies, including 'Bartzella' and 'Cora Louise'.
A comprehensive line of organically grown herbs and unusual annuals from Orange County, New York
"Garden Geek," the branded selection of annuals from Peace Tree Farms in Pennsylvania
100 beautiful dinner plate dahlias—great gifts for Mother's Day
Exotic, hard-to-find tropical perennials and unusual annuals for containers and borders
Lightweight European outdoor patio pots and a wide selection of plants to fill them
Hand-carved stone bird baths
Self-contained ceramic fountains, colorful and easy to install and maintain
"Living Canopies," a modern take on patio umbrellas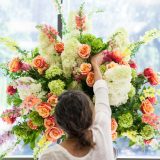 Floral Demonstration
On the Tent Main Stage
12–1 p.m.
Bridget Vizoso, a top New York City floral designer, demonstrates how to create the perfect floral arrangement.
About the instructor: With more than 18 years in the field of event design, Bridget Vizoso draws inspiration from the flowers she works with, many of which are foraged—adding to the exotic nature of her arrangements.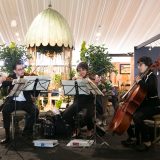 Live Music
Four-Ever Yours String Quartet
On the Tent Main Stage; 1–4 p.m.
One of the most sought-after New York string quartets, the group enjoys performing both classical music as well as original arrangements of popular non-classical songs.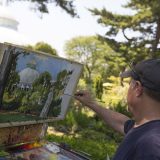 Third Annual Plein-Air Invitational
On Saturday, May 5, renowned painter James Gurney will be joined by more than 20 established plein-air artists spread out across the Garden grounds in a public display of talent and technique.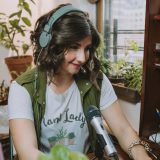 Plant Sale Weekend Partners
May 4; 3–5 p.m.
Join Christopher Satch, The Sill's in-house plant scientist, for a container workshop for the summer season.
May 5; 12–4 p.m.
Meet Bloom & Grow Radio host Maria Failla, and tune in for an interview with Mariane Garceau of NYBG Shop about how to make a windowsill herb garden.
About The Sill
The Sill's mission is to make the experience of discovering the perfect potted plants as wonderful as the plants themselves. The Sill is the source that bridges the gap between plants and people, offering products and services that fit with your personal style, your lifestyle, and your budget.
About Bloom & Grow Radio
Bloom and Grow Radio Podcast is a weekly podcast that educates and inspires Plant People around the world by sharing stories, tips and tutorials about the beauty and benefits of indoor gardening. Maria Failla is a former Succulent Killer turned Crazy Plant Lady with a passion for helping people love plants as much as she does (or at least help them not kill so many). She believes that everyone, no matter how small their living space, can benefit from having and caring for a plant, and wants to empower people to #keepblooming and #keepgrowing.