Antique Garden Furniture Fair
Saturday, May 1 – Friday, May 7 | Presented Virtually
This year The New York Botanical Garden's much-anticipated Antique Garden Furniture Fair will be presented virtually. The weeklong public event, May 1–May, 7, features unique offerings from leading antique dealers, including classic furniture and fine garden antiques—some with a modern twist, both elegant and inspiring—for the home and garden.
Contact Thao Phan at tphan@nybg.org or 718.817.8774 to purchase tickets for exclusive access to the Collectors' Plant Auction where one can bid on the choicest plant selections curated and handpicked by NYBG's expert horticulturists. Proceeds support NYBG and its premier horticultural programs.
Preview Party Featuring the Collectors' Plant Auction
Festivities begin on April 29 with an exclusive Preview Party featuring Special Guest Martha Stewart and an opportunity for guests to take part in a live Q&A. Preview Party supporters receive earliest access to the Fair's exhibitor offerings and exclusive access to the Collectors' Plant Auction, a curated collection of exquisite and beautifully grown garden plants handpicked by NYBG's horticultural staff.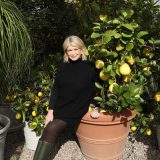 Shop the 2021 Fair through May 7, 12 p.m.
NYBG's Antique Garden Furniture Fair is the ideal virtual venue for finding design inspiration for your home and garden, learning about garden antiques, and building personal collections. Peruse the offerings of the Fair's extraordinary dealers through Friday, May 7, 12 p.m.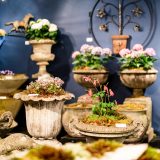 WITH APPRECIATION TO OUR SPONSOR

Virtual Floral Demonstrations, Lectures, & Spotlight on Exhibitors
Putnam & Putnam Floral Demonstration
Celebrated designers Putnam & Putnam create a brilliant floral centerpiece inspired by a late 19th-century painting, currently exhibited in the Fair by Hawthorne Fine Art.
An Eye for Design with Kathryn Herman
Previously recorded on February 16, 2021 as part of the 2020–21 Landscape Design Students & Alumni Series.
Life in the Studio with Frances Palmer
Previously recorded on November 10, 2020 as part of the 2020–21 Landscape Design Students & Alumni Series.
Beatrix Farrand's American Landscapes
This documentary from director Stephen Ives and horticulturist Anne Cleves Symmes explores the life and innovative ideas of one of the most influential and creative garden designers of the early 20th century.
Barbara Israel Garden Antiques
Judith and James Milne-At Home Antiques
New England Garden Company