Wellness Wednesdays
Wednesday, June 12, 2019 – Wednesday, October 30, 2019
10 a.m. – 6 p.m.
Connect with Nature and Feel Restored
Take part in activities throughout the Garden that focus on healthy choices for mind and body, from local food options at the NYBG Farmers Market to forest bathing, cooking demonstrations, and more.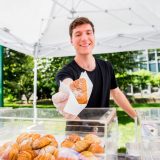 NYBG Farmers Market
Near the Mosholu Entrance
9 a.m. – 3 p.m.
The NYBG Farmers Market abounds with locally grown produce, fresh baked goods, and other specialty items. Learn more about our rotating vendors.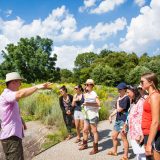 Health & Wellness Activities
Restore your inner balance and harmony with healthy, family-friendly activities each week.
Pick Up the Pace Walking Tour
11 a.m.
Weekly beginning September 11; 11 a.m.
Near the Mosholu Entrance

Join a brisk yet easy-paced tour of our signature gardens and landmarks. Stop and stretch along the way.
Forest Bathing
1 p.m.
Meet at the Reflecting Pool
Experience the ancient Japanese practice of Shinrin yoko ("Forest Baths") – gentle walks that enhance tranquility and connectedness through sensory immersion. Slow down, be present, and awaken your senses to the forest as never before on this guided tour.
Lawn Games
10 a.m–3 p.m.
Near the Mosholu Entrance
Relax and play outdoors with classic lawn games like giant chess, Giant Jenga, and hula-hoops.
Get Involved
12–2 p.m.
Near the Mosholu Entrance

Visit the NYBG Information table to learn about the many opportunities to become involved in the NYBG community including employment, volunteer, education and citizen science opportunities.
Story Time
July 3 & August 7; 12 p.m.
The Lillian Goldman Fountain of Life
Children ages 3-8, gather around this iconic fountain for a garden-themed story selected by our Mertz library staff.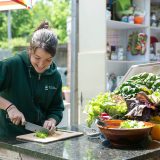 Fresh From the Garden Tastings
Presented by Whole Foods Market®
Edible Academy | Starting June 12
2 & 4 p.m.
Cooking demonstrations, featuring recipes from the Edible Academy, are offered each week.

Wellness Wednesdays are made possible in part by public funds provided through the New York City Department of Cultural Affairs and the New York City Council.