Wellness Wednesdays
Wednesday, June 13, 2018 – Wednesday, October 31, 2018
10 a.m. – 5 p.m.
Take part in activities throughout the Garden that focus on healthy choices for mind and body, from local food options at the NYBG Farmers Market to yoga, cooking demonstrations, and more.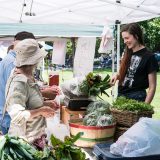 NYBG Farmers Market
Near the Mosholu Entrance
9 a.m. – 3 p.m.
The NYBG Farmers Market abounds with locally grown produce, fresh baked goods, and other specialty items. Learn more about our rotating vendors.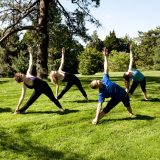 Health & Wellness Activities
Meet by the Reflecting Pool
11 a.m.
Restore your inner balance and harmony with healthy, family-friendly activities like forest bathing, yoga, meditation, and tai chi.
Meditation
August 8; September 5; October 3 & 31
Wellness starts from within. Practice time-honored meditation techniques for developing awareness, serenity, and bliss with Buddhist monastics.
Forest Bathing
August 22, September 19, & October 17
Shinrin yoko ("Forest Baths") are gentle walks that enhance tranquility and connectedness through sensory immersion. Slow down, be present, and experience the forest as never before with Buddhist monk Bhante Suddhāso as your guide.
Yoga
August 15, September 12, & October 10
Improve your flexibility and posture while balancing your body and mind. Learn a variety of family-friendly techniques for all ages and all levels. Please bring your own yoga mat.
Tai Chi
August 1 & 29; September 26; October 24
The meditated, flowing movements of this ancient technique combat stress while improving balance, flexibility, and muscle tone. This gentle, graceful exercise is fun for the whole family.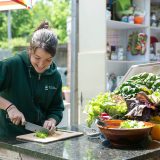 Fresh From the Garden Tasting
Presented by Whole Foods Market®
Edible Academy | Starting June 20
2 & 4 p.m.
Cooking demonstrations, featuring recipes from the Edible Academy offered each week.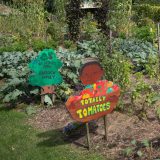 Culinary Herb Activity
Edible Academy | Starting June 20
1:30 – 5:30 p.m.
Stop by the Edible Academy on Wellness Wednesdays for a Culinary Herb Activity, with a new theme each month!
Sensational Herbs | June–July
Smell, touch, and explore how these delicious leaves are used in all parts of our daily lives. Mix and make your own take-home packet of herby salad dressing.
Pickle Me | July–August
Learn about the crops, spices, and herbs used to make pickles. Create your own unique spice mix to add to a batch of "Fridge Pickles" to enjoy at home.
Pollinator Pals | August–September
The garden is a-buzz with pollinators! Sample local honey infused with aromatic herbs and spices while learning about the relationship between a flower's life cycle and bees, bugs, and butterflies.
The Three Sisters: Corn, Bean, Squash | September–October
The Three Sisters—Corn, beans, and squash—are favorite crops to grow together. Make a fragrant herb bouquet to decorate your corn husk doll and learn about the Lenape tribe native to the Bronx.
Goodnight Garden | October–November
Say good-bye to the growing season.  Learn about the life-cycle of plants and how to collect and save seeds.  Create an herb seed packet to take home.
Sponsored by