Enid A. Haupt Conservatory and Palm Dome Restoration
Discover the Enid A. Haupt Conservatory and Plants from Around the World
Constructed by Lord & Burnham Company and completed in 1902, the Haupt Conservatory is considered one of the most superb glasshouses of its time. Conservatory restoration projects occur approximately every 20 years, and this most recent restoration helps ensure that the collections of displays of palms from around the world beneath it continue to thrive.
The project upgraded the infrastructure of the dome, including the mechanical operation of the dome windows, misting system, heating, and lighting. The painted wood cladding around the drum and the wood cornice was also replaced with aluminum, which requires less maintenance. The newly designed and replanted palm collection highlights the history of tropical plant research at NYBG and the economic and ecological importance of the palm family—presenting new plants that help us better tell the stories of palm diversity, conservation, and evolution.
Leadership Support for the 2020 Palm Dome Restoration:
LuEsther T. Mertz Charitable Trust
Larry E. Condon
John J. Hoffee
Jay Beckner
The City of New York
Bronx Borough President Ruben Diaz Jr.
Mayor Bill de Blasio and the New York City Department of Cultural Affairs
New York City Council Member Ritchie J. Torres
The State of New York
Governor Andrew M. Cuomo and the
Empire State Development Corporation
The Palm Dome Interactive Mobile Guide is made possible by Bloomberg Philanthropies.
The Palm Dome Restoration Process
Take a look at the aluminum fabrication that facilitated the palm dome restoration and future maintenance.
Todd Forrest, Arthur Ross Vice President for Horticulture and Living Collections, details the upgrades to the Conservatory's complex heating system.
Todd Forrest, Arthur Ross Vice President for Horticulture and Living Collections, explains the restoration process.
Learn about the restoration's progress during summer 2019.
Learn about the restoration work that took place during fall 2019.
Experience the Palm Dome from New Heights
Palm Dome Interactive Mobile Guide
See inside the palm dome like never before with our interactive mobile guide. Special features include 360-degree augmented views, never-before-seen views of the tops of the towering palms, and more.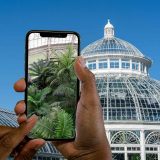 Meet the Plants of the Palm Dome

Join Marc Hachadourian, Director of Glasshouse Horticulture & Senior Curator of Orchids, as he shares some of his favorite plants from the historic palm dome.
Palm Dome Tour:
Verschaffeltia splendida
Palm Dome Tour:
Coccothrinax crinita
Palm Dome Tour:
Attalea oleifera
Palm Dome Tour:
Tacca chantrieri
Palm Dome Tour:
Calytronoma rivalis