History of Daffodils at NYBG
NYBG's daffodil collection began in 1898 with a gift from Peter Barr. Affectionately referred to at the time as the "Daffodil King," Barr was a famed British horticulturist credited with helping popularize daffodils. At more than 120 years old, today the collection boasts many legacy plantings as well as new varieties. Daffodil Hill has been stewarded by many curators and horticulturists throughout its history, but we owe the splendor of this collection to Ethel Anson Peckham (1879–1965).
A horticulturist and botanist, Peckham was a founding member of the American Iris Society and avid grower of daffodils. She was instrumental to the rapid expansion of NYBG's Narcissus collection. In 1924 she partly gave and partly purchased, using the Narcissus fund that she established, 10,000 Narcissus bulbs to NYBG. She was named NYBG's Honorary Curator of Iris and Narcissus Collections in 1927.
In recent years new cultivars have been planted. Those newly added include some of the hybrid cultivars that William Gordon Pannill (1927–2014) created. Pannill, the award-winning Dean of Amateur American Daffodil Hybridizers and former President of the American Daffodil Society, as well as the American Horticultural Society, hybridized more than 200 varieties of daffodils during his lifetime. Several of his introductions, including 'Intrigue', 'Sailboat', 'Toto', and 'Chromacolor', now bloom on Daffodil Hill every spring.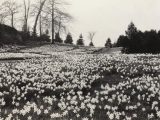 Daffodil Hill in bloom in April of 1933
Courtesy of LuEsther T. Mertz Library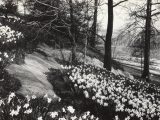 Narcissus 'White Queen' in bloom in 1930
Courtesy of LuEsther T. Mertz Library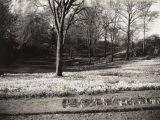 Daffodil plantings. May 9, 1926
Courtesy of LuEsther T. Mertz Library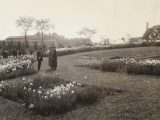 Ethel Anson Peckham with guests on Daffodil Hill, 1924
Courtesy of LuEsther T. Mertz Library