The first lilacs at NYBG were planted in the late 1800s as shrub borders along the Garden perimeter. In 1912 horticulturist and renowned lilac hybridizer T.A. Havemeyer (1868–1936) donated a group of lilacs from the collection of 20,000 he had amassed at Cedar Hill, his Long Island estate and nursery. Havemeyer continued to provide the Garden with plants from his collection until his death. The first lilac plantings at this site were established in 1949 with hundreds of plants from Cedar Hill endowed by Havemeyer's widow, Katherine. The collection was designed by prominent landscape architect Marian Coffin (1876–1957), who designed the campus plan of the University of Delaware and Winterthur, Delaware, and had recently redesigned the Rose Garden at NYBG.
In 2012 the Garden retained landscape architect Shavaun Towers, PLA, FASLA, to create a new plan for the collection, which had declined over the decades as the landscape changed. Towers's design, based on Coffin's original drawings, utilized the site's topography and provided ample space for new plantings. Garden curators developed a planting plan that preserved remaining specimens in good health and worked with lilac growers in New York, New England, and Canada to select new varieties with a range of bloom time and color. The restored Burn Family Lilac Collection features more than 140 different lilac varieties.
New York Lilacs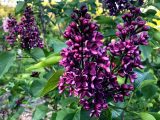 Americans have been growing lilacs since the colonial period, and New York State has a special history with this group of plants. Long Island horticulturist T.A. Havemeyer (1868–1936) began breeding lilacs around 1910. Working largely with French nurseryman Victor Lemoine's (1823–1911) hybrids, Havemeyer developed richly hued, large-flowered lilacs such as this Syringa vulgaris 'Sarah Sands'.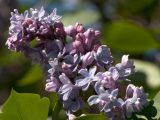 Rochester, New York—"The Lilac City"—became another center for lilac hybridization. John Dunbar (1859–1927) planted the first lilacs at Highland Botanical Park in 1891 and created hybrids such as this lilac, 'President Grevy'.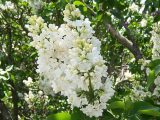 In 1971 Alvan R. Grant (1916–2007), Director of Parks at Rochester, NY, bred the common lilac cultivar 'Rochester' with a unique many-petaled flower shape called a radial double.
Image: Хомелка / CC BY-SA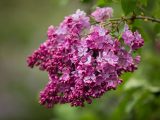 Richard A. Fenicchia (1909–97), Superintendent at Highland Botanical Park, used 'Rochester' as the foundation for further hybridization work in the 1970s and 80s resulting in cultivars such as this 'Margaret Fenicchia'. The work of Grant and Fenicchia is still enjoyed at Rochester's annual Lilac Festival, which has been celebrated since 1898.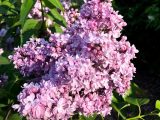 Other lilac breeders, including renowned lilac expert and writer Father John L. Fiala (1924–90), have continued to breed these New York hybrids and their progeny to develop ever more bold hues and unique flower shapes, the most stunning of which are featured throughout NYBG's Collection such as this 'Hosanna'.