Urban Naturalist Certificate Program
Become a steward of your urban environment.
In this teeming metropolis we call home, nature is all around us whether we pause to carefully observe it or not. Amaranth springs through the cracks in our sidewalks; migrating warblers rest in our parks; horseshoe crabs scuttle onto our beaches to breed. As an NYBG Urban Naturalist, you will have a unique opportunity to explore these diverse habitats while discovering the keys that unlock their many secrets.
The NYBG Urban Naturalist Certificate Program will equip you with the observation, interpretation and documentation skills necessary to become a citizen scientist and an effective environmental steward. Led by Mike Feller, our team of expert naturalists, including Ken Chaya and Nancy Slowik, will use the NYBG's grounds and select NYC City Parks as living labs to investigate the interrelationships between species, and discover how our urban environment sustains those ecosystems.
This five-week program focuses on vascular and non-vascular plants, invertebrates and vertebrates of New York City's uplands and coastal wetland ecosystems, emphasizing the critical conservation issues facing each locale. Classroom lectures and hands-on activities are complimented with classes in the field and working excursions in the Thain Family Forest, Bronx River, Central Park, and Pelham Bay Park, among other locations. Learn more.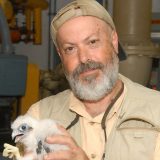 Meet Our Chief Urban Naturalist
Mike Feller spent 31 years as Chief Naturalist for the NYC Parks Natural Resource Group (NRG), where he supervised the design and execution of myriad ecological restorations and oversaw NRG's environmental education program. Mike spearheaded the creation of the Forever Wild Program that established 51 nature preserves throughout New York City. His photos of urban nature have appeared in many books, magazines, and corporate offices.