Kids and teens can embark on an exciting adventure—the adventure of discovering the world of plants.
Across the Garden and in two gardens designed especially for kids, the Everett Children's Adventure Garden and the Edible Academy, introduce youths of all ages to the thrill of science exploration and of seeing what seeds and soil can become.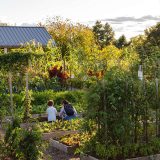 Children's Gardening Program
Spring through fall, kids plant, tend, and harvest fresh vegetables and herbs, and learn about topics from pollination to composting.
Guided by instructors, each gardening season offers unique and engaging activities, customized for two age groups: Garden Sprouts, ages 3–5, and Garden Crafters, ages 6–12.
Save 10% when you register for two or more seasons. Enter code CGP1021 at checkout.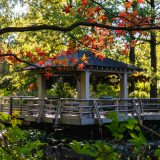 NEW | Virtual Workshops
Learn about science, nature, and gardening, in a series of live, online workshops. More than a dozen virtual field trips are available.
These fun, interactive live workshops led by NYBG educators allow children to experience—and ask questions about—the woodlands, wetlands and meadows around the Garden, as well as our collection of desert plants in the Conservatory.