All Summer 2020 programs will be offered exclusively online.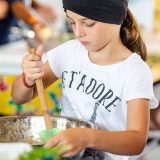 NEW | Summer Mini-Camp
Are you searching for a fun and engaging break for your kids this summer? Look no further than NYBG Summer Mini-Camp! They'll spend three exciting days exploring plants, nature, and cooking with passionate NYBG educators and connect with like-minded kids who dig science and gardening.
Kids and teens can embark on an exciting adventure—the adventure of discovering the world of plants.
Across the Garden and in two gardens designed especially for kids, the Everett Children's Adventure Garden and the Ruth Rea Howell Vegetable Garden, hands-on activities introduce youths of all ages to the thrill of science exploration and of seeing what seeds and soil can become.