Wild Medicine: Healing Plants Around the World,
Featuring The Italian Renaissance Garden
May 18 - September 8, 2013

Discover how cultures around the world rely on plants for everything from medicine to cosmetics. Embark on a journey of the senses through a stunning re-creation of an Italian Renaissance garden and interactive stations highlighting the rejuvenating and healing powers of tea, cacao, and tropical juices. Explore a fascinating presentation of rare books and manuscripts known as herbals and enjoy a poetry walk, weekend Renaissance music & dance performances, hands-on science adventures for kids, and more!
Healing Plants Around the World features the research of some of the Garden's leading experts in science, medicine, and ethnobotany. Explore plants such as the cinchona tree, the source of quinine, which treats malaria, and white willow, whose bark leads to the production of aspirin. More than 500 species or cultivars of medicinal plants are showcased, most of them grown in the Garden's glasshouses, making this one of the largest exhibitions of medicinal plants ever mounted. See the full list.
The Italian Renaissance Garden is inspired by Europe's first botanical garden, created in 1545 at the University of Padua, in the Venetian Republic. A lush landscape of Mediterranean flowers, including exotic varieties, endangered species, and medicinal plants, are classically composed to evoke the original design that remains at Padua to this day.
About the Curators

Dr. Michael J. Balick, Vice President for Botanical Science, Director and Philecology Curator of the Institute of Economic Botany at The New York Botanical Garden, and curator of Wild Medicine, has dedicated three decades to studying the relationship between plants and people and is widely recognized as a leading authority in ethnobotany.

Lucia Tongiorgi Tomasi, curator of The Renaissance Herbal, is Professor Emeritus in the Department of Art History at the
Universita di Pisa. A prolific writer, Dr. Tomasi focuses on the relationships among art, science, and nature.
About the Designer

Jorge Sanchez, designer of The Italian Renaissance Garden, is President of the Palm Beach-based landscape architecture firm Sanchez & Maddux, Inc. Their design philosophy incorporates a "botanical garden" approach fused with a historic and classical garden framework.
---
The Renaissance Herbal
This compelling exhibition, in the LuEsther T. Mertz Library's Rondina and LoFaro Gallery, showcasing rare manuscripts and beautifully illustrated books produced in the medieval and Renaissance eras, demonstrates the evolving role plants have played in medicine and history since antiquity. These beautiful herbals have been selected from the incomparable collections of the Mertz Library, the largest botanical and horticultural library in the world.
Leadership support provided by the LuEsther T. Mertz Charitable Trust
Additional support provided by The Gladys Krieble Delmas Foundation and Save Venice Inc.
Adult All-Garden Pass tickets start at $20. See prices by date.
Four Seasons
May 18-October 27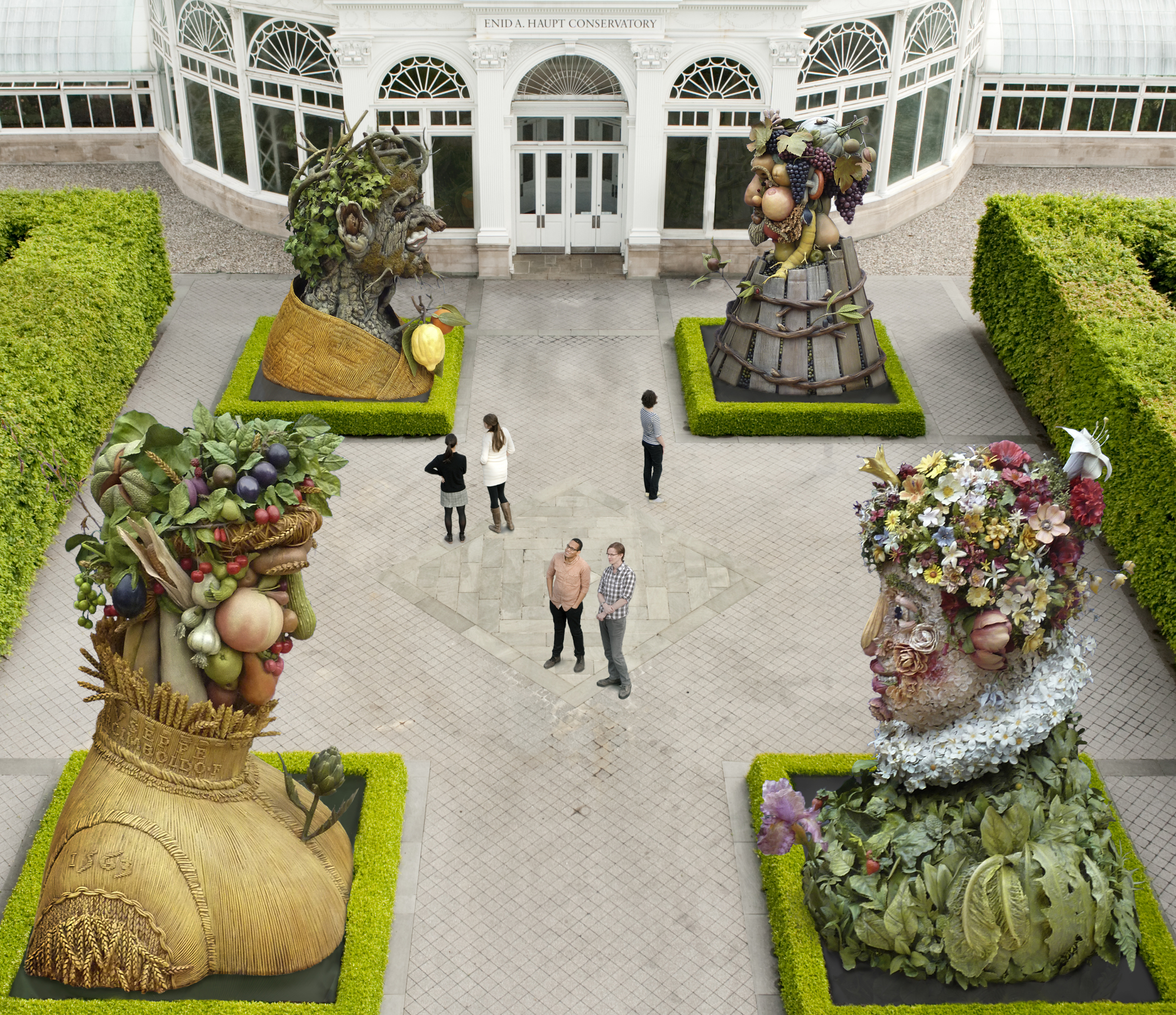 Four Seasons, in the Conservatory Courtyard, is an installation of four sculptures, each standing more than 15 feet high--Spring, Summer, Autumn, and Winter--by contemporary American artist and filmmaker Philip Haas. Haas was inspired by the 16th-century Italian Renaissance artist Giuseppe Arcimboldo, who painted eccentric, yet scientifically accurate, composite heads composed of flowers, ivy, moss, fungi, vegetables, fruit, bark, and branches. The colossal size of Haas's sculpture accentuates the visual puzzle of natural forms as they are recycled to form four human portraits, each representing an individual season.
About the Artist

Philip Haas is an American artist and filmmaker. His work has been presented at the National Gallery of Art in Washington, D.C., the Piazza del Duomo in Milan, the Gardens of Versailles in France, Dulwich Picture Gallery in London, the Kimbell Art Museum in Ft. Worth, Texas, and Sonnabend Gallery in New York City. Winter debuted at the National Gallery in Washington, D.C., in 2010 to great acclaim. Two years later, Spring, Summer, and Autumn have been added to comprise Four Seasons, which is on a three-year international tour of botanical gardens and museums.
Four Seasons is made possible by the New York State Council on the Arts with the support of Governor Andrew Cuomo and the New York State Legislature
Additional support provided by the Milton and Sally Avery Arts Foundation and the Anna-Maria and Stephen Kellen Foundation
---
Members-Only Preview
Friday, May 17, 10 a.m.-6 p.m.
Members have access to the exhibition and special programs before the public opening. Exclusive benefits include:
- Free parking with a valid Member ID
- 20% off purchases at Shop in the Garden
- 10% discount at both Cafes
- Up to four half-price tickets for friends and family
For Membership information visit nybg.org/membership
Schedule for Members-Only Preview Day, March 17
Wild Medicine Film Screening
Ross Hall — 10:30 a.m., 11 a.m., 11:30 a.m., 2 & 4 p.m.
This introductory film narrated by Sigourney Weaver helps set the tone for your visit, celebrating plants through history and scientific discovery.
Roaming Wild Medicine Experts
Enid A. Haupt Conservatory — 11 a.m. - 2 pm.
Ask away! Roaming Garden Guides are available to answer your questions and highlight parts of the permanent collection and special exhibition, adding insight to your experience of Wild Medicine.
Gardening Demonstration: Herbal Healing Gardens
Garden Terrace Foyer — 11 a.m. - 12 p.m.
Gardens are sanctuaries. They not only provide us with a retreat from the world, but they also supply us with many soothing remedies. Join us to learn how to design your own little haven as well as grow healing herbs and fragrant plants that will calm your nerves.
Music & Dance of the Italian Renaissance
Ross Hall — 1 & 3 p.m.
Enjoy a rich repertoire of the music and dance of the Italian Renaissance period as presented by artists from Early Music New York and The New York Historical Dance Company. Performers wear costumes and play historical instruments to reproduce the sights and sounds of this period music, explaining the progression from the classic to the modern.
Depicting Nature: Flowers, Plants, and Gardens in Italian Renaissance Paintings
Garden Terrace Room — 2 - 3 p.m.
Among the most significant challenges to the Renaissance artist was the accurate portrayal of nature—ever-present within paintings of the period. This lecture by Caroline A. Wamsler, Ph.D., will present works by renowned Renaissance artists such as Fra Angelico, Botticelli, and Leonardo da Vinci to consider the symbolic, religious, and mythological meanings that flowers, plants, and gardens communicated to the Renaissance viewer.
This event is reservation based; Members who do not reserve in advance but wish to attend on the day will be accommodated if seating allows
Please call 718.817.8703 or e-mail membership@nybg.org
---
Opening Weekend Lecture and Award Presentation: Andrew Weil, M.D.
Saturday, May 18, 1-2:30 p.m.

Don't miss this exciting opportunity to hear Andrew Weil, M.D., a world-renowned leader in the field of integrative medicine, share fascinating experiences and offer unique perspectives on the power of plants to maximize well-being and quality of life. The recipient of the Garden's first H.H. Rusby Award, Dr. Weil, a Harvard-trained physician, botanist, and Founder and Director of the Arizona Center for Integrative Medicine, is being recognized for his distinguished contributions to the fields of ethnobotany and integrative medicine, and for advancing our understanding of the importance of plants in clinical care. After his remarks, meet Dr. Weil, who will sign copies of his recent books, True Food: Seasonal, Sustainable, Simple, Pure and Spontaneous Happiness: A New Path to Emotional Well-Being.
Non-Member $35/Member $10
Get Your Tickets
---
Programs
Interactive Stations
Ongoing during regular Garden hours
See, smell, and taste the rejuvenating and healing powers of tea, cacao, and tropical juices through interactive demonstrations and samplings. A special tea showcase will explore how this powerful plant goes from leaf to cup and provide insights into its cultural importance throughout the world.
Poetry Walk
On view during regular Garden hours
Stroll the Jane Watson Irwin Perennial Garden and explore poems extolling the virtues of healing plants.
Co-presented with the Poetry Society of America
Music & Dance of the Italian Renaissance
Saturdays and Sundays, 1 & 3 p.m.
Enjoy a rich repertoire of sights and sounds. Performers play historical instruments and wear period dress. On select
dates, hear dramatic readings of 16th-century romantic and botanically inspired poetry during performances.
Cocktail Evenings and Summer Concerts
Thursdays, June 27, July 18, and August 15, 6-9 p.m.; concert at 7 p.m.
Sip a botanically inspired cocktail and enjoy an evening viewing of Wild Medicine. Then enjoy a concert featuring festive music.
Adults: Non-Member $30/Member $20 (includes one complimentary specialty cocktail or non-alcoholic beverage for adults 21 and over) Advance tickets recommended.
Start the evening off with a champagne pre-party at Shop in the Garden each night from 5 to 6 p.m. Learn more at nybg.org/priceless
Generous support for the Summer Concert Series is provided by Vivian and Edward Merrin.
Family Adventures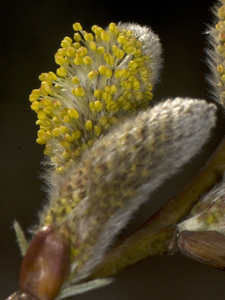 Naturally Curious
Weekdays, 1:30-5:30 p.m.; Weekends plus Holiday Mondays, 10 a.m.-5:30 p.m.
In the Everett Children's Adventure Garden, adventure abounds for kids of all ages with art and science activities such
as mixing paints and creating science notebooks.
Family Days in the Italian Renaissance
Memorial Day Weekend: May 25 - 27; Independence Day Weekend: July 4 - 7; Labor Day Weekend: August 30 - September 2
Families can experience life in the Renaissance through music, dance, and commedia dell'arte with characters of the period.
International Garden Photographer of the Year Exhibit
May 18 - September 8
The New York Botanical Garden is the exclusive U.S. partner of this worldwide photographic competition that showcases the very best professional and amateur garden photographers from around the globe. This exclusive exhibit, Nature's Pharmacy, will feature the finest images embodying the themes of healing and wellness.
Science Open House
Behind-the-Scenes Tours
Saturday, June 1 & Sunday, June 2; 11 a.m., 12, 2, & 3 p.m.
Tour the renowned Pfizer Plant Research Laboratory, home of the Lewis B. and Dorothy Cullman Program for Molecular Systematics, or the William and Lynda Steere Herbarium for a rare look at DNA collections, medicinal plant herbarium specimens that date to the 18th century, and more. Speak with Garden scientists about their roles in discovering and understanding the diversity of plants down to their most essential levels and their uses for human health.
Healing Through Plant Medicines and Foods: What We Can Learn from Different Cultures
Saturday, June 1, 1 p.m.
Dr. Ina Vandebroek, Ethnomedical Research Specialist at NYBG, will trace the importance of medicinal plants among indigenous peoples and immigrant communities from the Bolivian Amazon to New York City.
Classes
Herbs: Historic Impact and Contemporary Uses
Wednesdays, August 7 & 14; 10 a.m.-4:30 p.m.
Investigate the physical properties of herbs and their roles within traditional cultures, from their ceremonial uses to their practical applications as medicinals, aromatics, dyes, and detergents.
Non-Member $280/Member $252
Nature's Pharmacy
Sunday, March 17, 10a.m.-2:30 p.m. Saturday, September 21, 10 a.m.-2:30 p.m.
Learn about plants historically used for first aid, asthma, insomnia, sinusitis, bronchitis, revitalizing the immune system, preventing colds and flu, and much more.
Non-Member $96/Member $86
Browse more classes and register at nybg.org/AdultEd