Antique Garden Furniture Fair: Antiques for the Garden and the Garden Room
with Specialty Plant Sale
April 24–26, 2015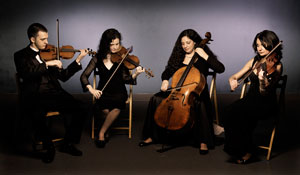 Friday through Sunday, April 24–26, 2015; 10 a.m.–5 p.m. In the Conservatory Tent behind the Enid A. Haupt Conservatory
Long held as the country's most renowned stage for authentic garden antiques and rarities, the Antique Garden Furniture Fair returns to The New York Botanical Garden with an expansive collection of ornament, decorative art, and timeless furniture for the home and garden. More than 30 established exhibitors display centuries of classic design inspiration gathered from across the United States and Europe. New this year, refreshments are available for purchase at the Fair throughout the day and all may enjoy an afternoon performance by string quartet, The Dolce Ensemble. An additional highlight to the weekend is a special Saturday evening gathering for young collectors of garden art and antiques.
Make sure to stop by the entrance of the Conservatory Tent for the weekend-long Specialty Plant Sale, offering an extensive selection of unusual, colorful plants that represent some of horticulture's finest growers. A variety shrubs and trees—including Japanese maples, Itoh peonies, and other perennials—will be available alongside annuals and herbs.
Acquiring a large or heavy piece? Home delivery can be arranged for any items purchased during the Antique Garden Furniture Fair.
Spring Season sponsored by

Benefit Preview Party & Collectors' Plant Sale
Thursday, April 23; 6–8 p.m.
Enjoy an exclusive benefit preview party and plant sale. Start the celebration at this exclusive event that includes a silent auction and rare and exotic plant sale. Tickets begin at $200. For tickets, please call 718.817.8773 or click here.
---
---
Generously sponsored by

Included in any All-Garden Pass
Adults: $25
Seniors (65+): $22
Students (with valid ID): $22
Children (2–12): $10
Children under 2: Free
Includes access to the Antique Garden Furniture Fair, Enid A. Haupt Conservatory, Special Exhibitions, Everett Children's Adventure Garden, Rock Garden and Tram Tour.
All-Garden Pass access is FREE for active Members. Not a Member? Become a Member today and enjoy discounts, exclusive access and much more!
---
See Examples from the Fair