Featured Program
Jens Jensen The Living Green
Award-winning Documentary Film Screening and
Panel Discussion
6:30–8:30 p.m. (Doors open at 6 p.m. Light refreshments available for purchase.)
Join us for the New York premiere of this award-winning documentary on Jens Jensen (1860–1951)—the Danish immigrant who rose from street sweeper to "dean of American landscape architects" and passionate environmental activist. Half a century after his death, Jensen is now hailed as an early champion of community gardens, neighborhood parks, native species, and sustainable design. After the screening, a panel explores Jensen's work and relevance to today's urban environmental issues.
Non-Member $19 / Member $15 / Full-time students with valid ID $10 at the door
Register here
Presented by the Humanities Institute, LuEsther T. Mertz Library
Support provided by The Andrew W. Mellon Foundation
Cosponsor: Library of American Landscape History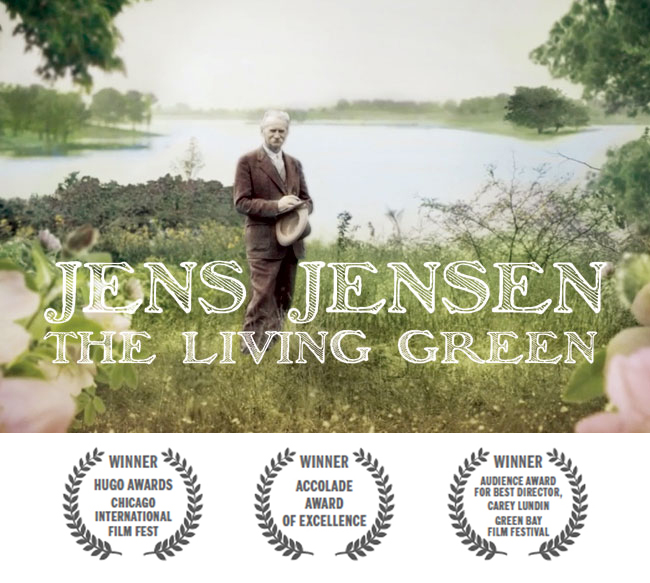 "A beautifully-made film about a man whose ideas for public space perfectly fit the time we live in." —Piet Oudolf
"A thoughtful, compelling and inspiring documentary." —Chicago Tribune
Earth Day with the NYC Compost Project
Compost Q & A with NYC Compost Project
11 a.m.–12 p.m., Home Gardening Center
Stop by for free tip sheets, pamphlets, and workshop schedules designed to help gardeners increase their horticultural, composting, and recycling knowledge. Master Composters with the NYC Compost Project will provide you with the practical tips, advice, and encouragement you need to take composting to the next level, whether you are just starting out or have been digging in for years.
Guided Tours
Meet at the Reflecting Pool at the Leon Levy Visitor Center, unless noted
Earth Day Compost Insider's Walking Tour - 10–11 a.m.
Meet at Home Gardening Center Compost Demonstration Site
Ever wonder what happens to plant trimmings, pruning, and weeds at The New York Botanical Garden? Come along with The NYC Compost Project for a behind-the-scenes peek at NYBG's compost operations to learn about how we recycle nutrients and resources in an efficient, earth-friendly way.
Native Plant Garden Tour - 11 a.m.
Join a tour guide for an insider's view of the newly designed Native Plant Garden. Enjoy a mosaic of nearly 100,000 native trees, wildflowers, ferns and grasses designed to flourish in every season.
Notable Trees Tour - 12:30 p.m.
What makes a tree notable? It could be its size, its bark, its uses, or a variety of other features. Some of our trees have been here since before the Garden was formally established in 1891. Join one of the Garden's Docents for a tour highlighting some of the most interesting trees across this historic 250-acre site.
Forest Tour - 2:30 p.m.
Experience the beauty of the Garden's 50-acre Thain Family Forest on this walking tour with an expertly trained Docent. You'll learn facts about the trees, history, geology, and ecology of this original, uncut woodland.
Family Activities
What better place to celebrate Earth Day and its gifts than at NYBG? During the day, bring the family to learn how to make and maintain a worm compost bin, create a tiny terrarium to take home, look for wildlife such as birds, frogs, and turtles—or simply enjoy the landscape of this urban oasis.
Dig! Plant! Grow!
Wake Up, Garden!
1:30–6 p.m., Ruth Rea Howell Family Garden
Plants and imaginations grow at the Howell Family Garden, where kids are allowed!—no, encouraged!—to play in the dirt. Display gardens, such as the Global Gardens and the Bean Tunnel or Salad Bowl, and daily interactive gardening activities delight and inspire. Drop-in activities end at 5:30 p.m.
Spring Fun!
1:30–5:30 p.m., Everett Children's Adventure Garden
Come celebrate spring in the Everett Children's Adventure Garden! Watch the Garden's plants and animals wake up from the long, cold winter with buds bursting, birds nesting, and seeds sprouting. Investigate the ways that nature signals spring is in the air and help our feathered friends build their nests with special nesting bags to take back to your neighborhood.
Learn How to Compost your Kitchen Food Scraps with Worms—
Drop-In Family Workshop
2–4 p.m., Everett Children's Adventure Garden
See how easy it is to recycle your food scraps by composting them in a home worm bin! See what a working worm bin looks like, learn the basics for sustaining this earth-friendly ecosystem and get the practical tips, advice, and encouragement you need to begin composting at home.