This evening performance is now SOLD OUT.
Jazz at Lincoln Center Orchestra with Wynton Marsalis
NYBG's 125th Anniversary celebration reaches its peak with an al fresco performance by the Jazz at Lincoln Center Orchestra and its renowned trumpeter and music director, Wynton Marsalis. Join us for an evening in the Garden with the splendor of the Conservatory Lawn serving as the backdrop for first-class jazz from some of the world's greatest performers, composers, and improvisers—including special guests Billy Collins, former U.S. Poet Laureate, and Jared Grimes, award-winning tap dancer. This special event is rounded out with an evening viewing of Impressionism: American Gardens on Canvas in the Enid A. Haupt Conservatory and a reception with a complimentary cocktail among the beauty of the Conservatory Courtyard's pools. Complement your evening before or after the concert with a sit-down meal at Hudson Garden Grill.
See the evening's event schedule.
About Billy Collins
Billy Collins is an American phenomenon. No poet since Robert Frost has managed to combine high critical acclaim with such broad popular appeal. Billy has been a friend of the Garden since 2013, as he has lended his works to be displayed on our grounds during the Holiday Train Show®, and made special appearances.

His work has appeared in a variety of periodicals including The New Yorker, The Paris Review, and The American Scholar, and he is a Guggenheim fellow and a New York Public Library "Literary Lion." His last three collections of poems have broken sales records for poetry. The typical Collins poem opens on a clear and hospitable note but soon takes an unexpected turn; poems that begin in irony may end in a moment of lyric surprise. No wonder Collins sees his poetry as "a form of travel writing" and considers humor "a door into the serious."

Billy Collins has published over eight collections of poetry, including Questions About Angels, The Art of Drowning, Picnic, Lightning, Taking Off Emily Dickinson's Clothes, Sailing Alone Around the Room: New & Selected Poems, Nine Horses, The Trouble With Poetry and Other Poems, Ballistics, and most recently, Horoscopes for the Dead. Included among the honors Billy Collins has received are fellowships from the New York Foundation for the Arts, the National Endowment for the Arts, and the Guggenheim Foundation. In June 2001, Billy Collins was appointed United States Poet Laureate 2001–2003. In January 2004, he was named New York State Poet Laureate 2004–06. Billy Collins is a Distinguished Professor of English at Lehman College of the City University of New York, as well as a Senior Distinguished Fellow of the Winter Park Institute at Rollins College.
Empire State Building to Honor NYBG/125

Thursday, June 9
While the Jazz at Lincoln Center Orchestra with Wynton Marsalis honors NYBG's 125th Anniversaryt, the Empire State Building will be hosting its own celebration of the Garden with a special lighting in our honor! New York's most iconic skyscraper will shine "Anniversary Green" in recognition of NYBG.

Follow along on Facebook, Twitter, and Instagram for highlights from the performance and updates on the lighting. Don't forget to watch the Manhattan skyline this Thursday night!
Schedule of Events
6 p.m.
Doors open; 1891 Alehouse and Hudson Garden Grill open
(prix fixe menu; last pre-concert reservation 5:45 p.m.) | Open Table
7 p.m.
Concert on Conservatory Lawn
8:30–9:30 p.m.
Evening viewing of Impressionism: American Gardens on Canvas in the Enid A. Haupt Conservatory
Reception in Conservatory Courtyard (one specialty cocktail included with admission ticket; cash bar)
Hudson Garden Grill post-concert dining |
Open Table
Wynton Marsalis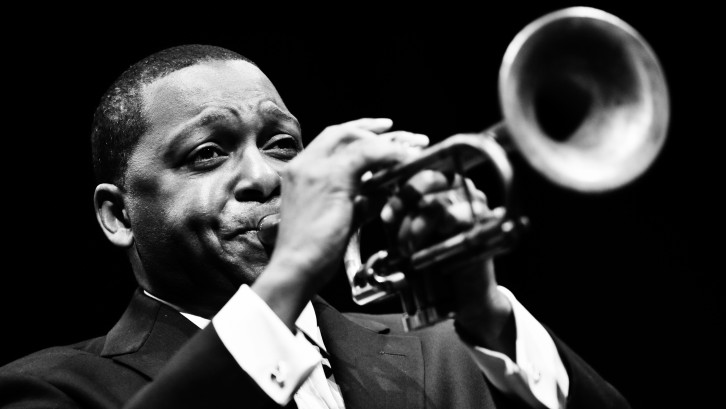 Wynton Marsalis is the managing and artistic director of Jazz at Lincoln Center and a world-renowned trumpeter and composer. Born in New Orleans, Louisiana in 1961, Marsalis began his classical training on trumpet at age 12, entered The Juilliard School at age 17, and then joined Art Blakey and the Jazz Messengers. He made his recording debut as a leader in 1982, and has since recorded more than 60 jazz and classical recordings, which have won him nine GRAMMY Awards.
In 1983 he became the first and only artist to win both classical and jazz GRAMMYs in the same year and repeated this feat in 1984. Marsalis is also an internationally respected teacher and spokesman for music education, and has received honorary doctorates from dozens of U.S. universities and colleges.
In 1997 Marsalis became the first jazz artist to be awarded the prestigious Pulitzer Prize in music for his oratorio Blood on the Fields, which was commissioned by Jazz at Lincoln Center. In 2001 he was appointed Messenger of Peace by Mr. Kofi Annan, Secretary-General of the United Nations, and he has also been designated cultural ambassador to the United States of America by the U.S. State Department through their CultureConnect program. Marsalis helped lead the effort to construct Jazz at Lincoln Center's home - Frederick P. Rose Hall - the first education, performance, and broadcast facility devoted to jazz, which opened in October 2004.