Stay tuned for details about 2017's programs and events.
Fall at NYBG: So Much Fun, It's Scary!
Enjoy this bountiful time of year with eye-popping pumpkins, spooky scarecrows, and plenty of fun.
Giant Pumpkins
Each year, NYBG brings in some of the largest pumpkins grown from all over the world—often weighing in at over a ton! And this year is no different. In fact, we have not only the largest pumpkin grown in North America, but one of the biggest, heaviest pumpkins from the United Kingdom, as well.
See our biggest pumpkin's recent appearance on Live with Kelly!
Largest Pumpkin Grown in North America
Grown by:
Dick Wallace
Greene, Rhode Island

Weight: 2,261 lbs.
2016 Prize-winning Giant Pumpkin
Grown by:
Ian & Stuart Paton
Lymington, England

Weight: 2,252 lbs.
2016 Prize-winning Giant Pumpkin
Grown by:
Mike Schmit
Markesan, Wisconsin

Weight: 2,106 lbs.
Produced in collaboration with the Great Pumpkin Commonwealth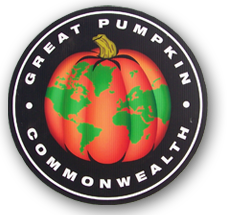 Scarecrows: From the Heartland to Horror
September 17–October 30

Throughout history, scarecrows have been the guardians of gardens. Sculptor and artist Ray Villafane returns to NYBG to create an original installation that explores the evolution of the scarecrow in the U.S., from its everyday role in agriculture to its status as a cultural icon in films and comic books. This art display, presented by the Tri State Cadillac Dealers, features larger-than-life sculptures crafted from natural materials and set amidst the Garden's landscape. Explore the detailed display during the day, discover its surprises after dark, and enjoy special experiences on select dates from Cadillac.

(CADILLAC Credit)
Pumpkins: Playful & Plentiful
September 17–October 30
Celebrate the bounty of fall in the Everett Children's Adventure Garden with rare and unusual pumpkins and gourds. Daily hands-on activities feature a puppet playhouse while weekends bring interactive demonstrations featuring bats, and other creepy creatures.
Scarecrow Nights
October 21, 22, 28, 29; 6:30–9:30 p.m.
(timed entries at 6:30 & 7:15 p.m.)
Scarecrows take over NYBG on these exclusive nights for kids of all ages. For those looking for a fright, the Scarecrows: From the Heartland to Horror installation comes to life with stories from the characters who know scarecrows best. There's plenty of family friendly fun in the Adventure Garden, too. Grab a ConEdison flashlight and explore the trails and sculptures, listen for critters of the night, and meet and mingle with larger-than life skeletons and costumed characters
Additional Details:
• For those that dare, travel along the Mitsubishi Wild Wetland Trail to encounter the scarecrow's companions come to life. Hear their story and take safe haven from their menacing looks in the company of these companions. Become aware of your surrounding at the forest edge and watch out for shadowy figures, for your own good! Through the narration by dynamic characters, immersive sound and light, and audience interaction, you'll have a one-of-a-kind experience that can only be found at The New York Botanical Garden.



o Truth in Lies is an all-inclusive theatrical production company with the goal of creating unique immersive experiences. Creating multi-level games, transformative environments and emotionally-driven side characters, many of the company's events focus on the main character being the individual audience member; their decisions determine the path of their own storyline. While personal stories are being told, Truth in Lies strives to push our professional boundaries while challenging the idea of what storytelling can be.



• Enjoy the antics of larger-than-life skeletons created by Lucrecia Novoa, dance along to live music, and purchase snacks and beverages at the Visitor Center.


• Go trick-or-treating along the Whole Foods Market® Trick-or-Treat Trail for tasty treats as you learn more about the scarecrows and creatures of Halloween along the way. Pick up your treat bag at the Reflecting Pool and decorate it with leaf rubbings.


Adults and kids of all ages: Non-Member $20/Member $15.
Advance tickets recommended.
Special ticket required
Giant Pumpkin Weekend & Meet the Growers
October 22–23
Q&A at 11 a.m., 1 p.m. & 3 p.m.
Throughout the Children's Adventure Garden
Monstrous pumpkins from around the country—some weighing in at more than a ton—once again arrive at the Garden, arranged in collaboration with the Giant Pumpkin Commonwealth. Meet the growers to learn more about the growing process during Q&A sessions and enjoy photo ops with these giant gourds, on display through October 30.
Creepy Creatures of Halloween
Saturdays and Sundays, October 1–30; 12 & 2 p.m.
Columbus Day Weekend, October 8, 9, 10; 12 & 2 p.m.; 12, 2, & 4 p.m.
At the Clay Family Picnic Pavilions
Some of the animals that make us scream are actually the coolest animals around. Meet critters from our big backyard and beyond during this live animal presentation and discover the unique adaptations which help them survive in their habitats.
On Columbus Day Weekend, bats are back by popular demand! Come face-to-face with different bats from around the world--the North American Big Brown bat, the endangered Rodrigues bat, and the Malayan Flying Fox--a beautiful bat with a 6-foot wingspan. Learn how bats impact humans and keep our environment healthy as well as easy ways to make your backyard a refuge for these important animals.
About the presenting organizations:
Erik Zeidler, founder of New York Wild!, has a lifelong passion for wildlife and nature, especially reptiles. This is an interest he has been pursuing since he was 4 years old while growing up in the Bronx, a seemingly unlikely setting for a naturalist. His involvement with NYBG began in 2009, when at age 17 he started his first independent field study documenting the ecology of his borough's most unexpected residents – giant snapping turtles, some of them weighing in at 50 lbs. His company, New York Wild!, brings opportunities to the youth of the Bronx and New York City so that they too can be involved with wildlife. His programs have a profound impact and have changed the way many people feel about snakes and other misunderstood animals. Ny-wild.com
Rob Mies, conservation biologist, bat expert, author, and executive director of the Organization for Bat Conservation, shares information concerning the benefits of bats, the need for their conservation, and what can be done to help these unique mammals. He invites everyone to step into the mysterious world of bats and explore their benefits, habitats, and nocturnal strategies. batconservation.org
Scarecrow Weekend
Columbus Day Weekend, October 8, 9, 10; 1:30-5:30 p.m.
In the Ruth Rea Howell Family Garden
It's time to make scarecrows! Each family gets a scarecrow to dress up as we fill the Ruth Rea Howell Family Garden with friendly faces. Plant and prepare for fall with us, and make marigold jewelry to take home.
Scarecrows: From the Heartland to Horror
Presented by: