See Masterworks from Oak Spring Garden Foundation
LuEsther T. Mertz Library Art Gallery
This exhibition in the LuEsther T. Mertz Library's Art Gallery—presented in partnership with the Oak Spring Garden Foundation—features masterworks of the botanical art collection belonging to the late Rachel Lambert ("Bunny") Mellon. Curated by Dr. Lucia Tongiorgi Tomasi, Susan Fraser, and Tony Willis, the exhibition comprises nearly 80 important works of art ranging from rare watercolors by renowned botanical artists such as Jacques Le Moyne de Morgues and Pierre-Joseph Redouté to 20th-century paintings by Pablo Picasso and Andy Warhol.
About Oak Spring Garden Foundation
The mission of the Oak Spring Garden Foundation is to perpetuate and share the gift of Rachel Lambert Mellon, including her home, garden, estate, and the Oak Spring Garden Library, which comprises a celebrated collection of rare books, manuscripts, works of art, and other related artifacts. The Foundation is dedicated to facilitating scholarship and public engagement on the history and future of plants, including the culture of gardens and landscapes, and the importance of plants for human well-being. Learn more at oakspring.org.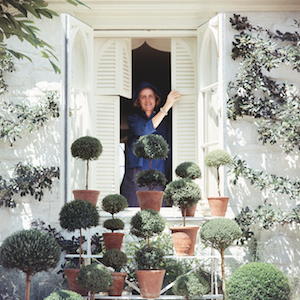 Bunny Mellon photographed for Vogue, 1965
Horst P. Horst/Vogue © Conde Nast
About the Curators
Lucia Tongiorgi Tomasi is Professor Emeritus in the Department of Art History at the Universita di Pisa. A prolific writer, Dr. Tomasi focuses on the relationships among art, science, and nature.
Tony Willis is Librarian of the Oak Spring Garden Library.
Susan Fraser is Vice President and Director of the LuEsther T. Mertz Library at The New York Botanical Garden.
Redouté to Warhol in the News