Winter Garden, Family Fun
Escape cabin fever with a trip to the Winter Garden. Housed inside the cozy Discovery Center at The New York Botanical Garden, the Winter Garden is a fun and engaging afternoon full of activities for families.
Inside the cozy Discovery Center kids of all ages can explore the coolest of the seasons: winter. Count the rings of a tree to discover its age and make ''tree cookies'' in a Field Notebook, make pinecone prints, and plant winter wheat in a pot to take home. Families can investigate nature, using their sense, creativity, and basic science skills to explore the vital sparks of life that lie just below the surface in this quiet season.
During February break, a trip to the Discovery Center becomes a trip to the tropics with Caribbean Garden-themed activities.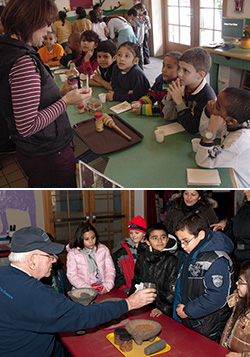 February 19-27
Tropical Treats: Chocolate, Vanilla, and Spice
Daily--including President's Day, Monday, February 21--10 a.m. - 4:30 p.m.
Come experience a deliciously themed week of fun during February break at the Garden! Families get to discover the plants that flavor chocolate, vanilla, and cinnamon treats during this week-long break for New York City schools.
Start your visit in the warmth of the Lowland Tropical Rain Forest house of the Enid A. Haupt Conservatory where you can find the orchid that provides the vanilla pods that flavor your ice cream. Then head over to the Everett Children's Adventure Garden's Discovery Center to explore the seeds and fruit of the cacao tree, as well as cloves, and the bark of the cinnamon tree. As a reward for your scientific explorations, indulge in delicious vanilla, chocolate, and cinnamon treats to taste (in the name of science, of course!) and smell.
A trip to The New York Botanical Garden and the Winter Garden is a great way to get out of the house and to let the kids have a little fun. Need a little more adventure? A walk through the Native Forest is wonderful in winter. The bare trees make it easier to spot the Garden's 36 species of birds, and works up a great appetite before stopping for lunch at one of our two tasty Cafes. And while you're here, why not let your budding Ansel Adams or Annie Lebowitz snap a few shots for our Caribbean Garden Photo Contest? It's a great way to see the world from the kid's perspective. Need to warm up, or reward someone for an afternoon of good behavior? Visit our Winter Sale at the Shop in the Garden.
A day spent at The New York Botanical Garden is a whole day of fun for everyone in your family. So start planning!