From the Field: Bill Buck in Cape Horn 2013, Day Five
Posted in Bill Buck, From the Field, Science on February 25 2013, by William R. Buck
January 14, 2013, Prov. Antártica Chilena, Comuna Cabo de Hornos, Isla Grande de la Tierra del Fuego, Bahía Yendegaia, 54°50'S, 68°48'W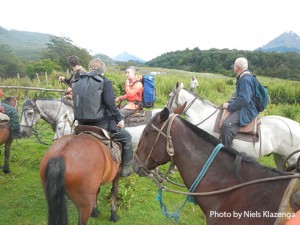 We arrange for the horses to be ready at 9 a.m. Initially the crew tell us it will cost about $30 to rent a horse for a day, but the ranchers counter with $50. This is more than I am prepared to spend, but with some negotiation we settle on $40 for each of the seven horses plus a guide for the day. I decide $280 is well worth the opportunity to access an area in our flora region that otherwise would be unreachable.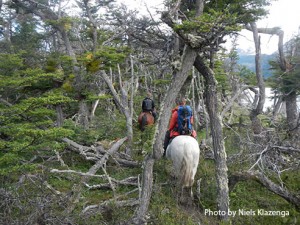 As we ready for the day in the field, the crew fix our pack lunches and ready the Zodiac to take us ashore. When we arrive, the horses are saddled and ready to go. Our group consists of two extremes in horse experience; at one end I have never been on a horse before, and at the other, Ernesto, Juan, Blanka, Niels, and Laura all have some experience. My only similar experience is the time I  rented mules years ago to ascend Pico Duarte in the Dominican Republic, the highest peak in the West Indies. Then, as I suspect now, the stirrups are made for someone much shorter than I leaving two options, letting my legs dangle or putting my feet in the stirrups with knees strongly bent. On a horse dangling legs are really not an option, and sure enough, it is my knees being kept bent so long that proves my primary discomfort.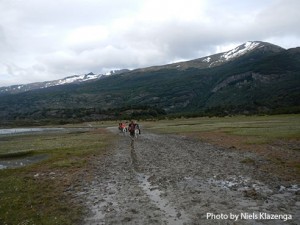 We are told it will be a 3-hour ride out and 2 1/2 hours back. Since the journey is mostly over level ground, the discrepancy in time won't become clear until the return journey. We are each paired with a horse and helped into the saddle. I was the last to mount, and once in the saddle we started out. Shortly into the trip to the Serka Glacier, I promise my horse that if he just gets me there in one piece, I will give him my apple. The first time he starts to trot rather than just walk, I hold on for dear life to my saddle. But once I realize dealing with the trot is mainly an issue of balance in order to not fall off the horse, I am more comfortable. I know perfectly well that I am not going to pick up any riding skills in my short time on a horse.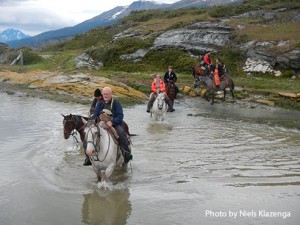 The river draining the glacier is very wide and braided and so we have numerous stream crossings, varying in depth from a couple of inches to well above the horse's belly. For the least experienced rider in the group, I have no idea why I am given the most independent horse. Every other horse just follows the lead horse, but my horse always seems to want to go on his own trail. He also doesn't like fording streams and insists on finding his own crossing points, different from those of all the other horses. Additionally, he doesn't like other horses to pass him and so whenever a horse tries to pass he breaks into a trot in order to stay ahead.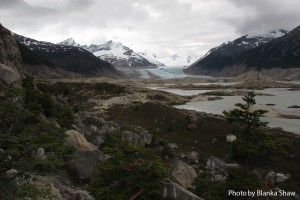 Independent horses aside, we all make it to the Serka Glacier without anyone falling off. Lunch is the first thing on the agenda, and as promised, I try to give my apple to my horse. However, he shows no interest and I suspect he just doesn't recognize it as food.
After lunch we have four hours of collecting time before we need to begin our return, so we set off on foot for the glacier. The horses are tied in a nice southern beech forest, but only a short distance away the landscape changes to look more like tundra.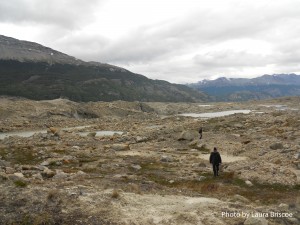 Only a single species of low-growing shrub, Empetrum rubrum, dominates the vegetation. Granitic boulders ranging from quite small to larger than a house are everywhere. And just as I had hoped, the bedrock, or at least the water that seeps from it, is calcareous. In some ways I find this site disappointing because it is drier than previous glacial sites, meaning it has lower bryodiversity. However, what we do find is quite nice.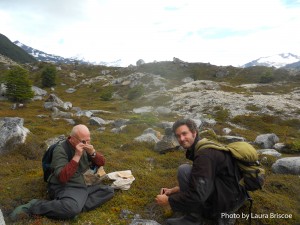 Almost right away Juan finds a moss, Racomitrium ptychophyllum, new to the flora region. As hoped, Pottiaceae dominates the moss vegetation and I'm quite sure we have found several species new to the region. After getting close to the face of the Serka Glacier (54°47'S, 68°59'W) and with an hour left, I decide to collect in the forest where the horses are tied. I find that species more typical of Navarino than the wetter regions dominate the forest. I also find more lime-loving mosses on the shaded cliff face. In all, I make 90 collections and dread the prospect of having those on my back all the way back to the ship. So, keeping my collecting pack, I cram as many of my collections as would fit into my backpack and ask one of our crew who accompanied us if he would carry it back for me.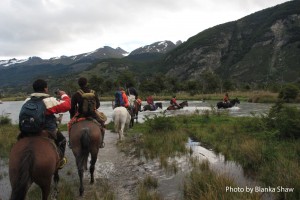 We soon discover why the return trip is shorter: The horses know they are heading home. This induces them to much more frequently break into a trot. The only advantage I find in this is that it means my time atop my horse will be shorter. As I bounce up and down on my horse, I am so glad that pack was not on my back! By the time we return to Yendegaia at almost 8 p.m., not one of us is not moaning from some discomfort as we dismount. I'm not sure my knees will ever be the same and all of us have sore butts from bouncing across the rugged landscape.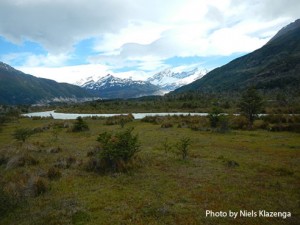 Dinner turns out to be roasted lamb, exchanged for fish from the ranch. However, my goal is my bunk. After eating only half my dinner, I am the first to retire. I don't even touch my collections from the day because I am so tired. I know we will move a couple of times in the night. We need to pass a maritime control point in the Murray Canal between Hoste and Navarino islands that is closed at night and opens at 6 a.m. So, we get to just north of there for the night and in the morning move to Seno Ibáñez, our next site. Despite the physical discomforts of the day, I don't think anyone regrets the option we chose. At the same time, I think we are all also glad that this is not an all-horseback expedition!
Ed. note: NYBG scientist and Mary Flagler Cary Curator of Botany, Bill Buck has just returned from his annual expedition to the islands off Cape Horn, the southernmost point in South America, to study mosses and lichens. For the past two years he was able to file stories from the field, but this year's locations proved so remote he was forced to wait until his return. We will be publishing them over the course of several days. Follow his journeys on Plant Talk.
Bill Buck's Previous Reports From the Field:
2013

January 13, 2013, Prov. Antártica Chilena, Comuna Cabo de Hornos, Isla Grande de la Tierra del Fuego, Bahía Yendegaia, 54°50'S, 68°48'W
January 12, 2013, Prov. Antártica Chilena, Comuna Cabo de Hornos, Parque Nacional Alberto de Agostini, Isla Gordon, Bahía Tres Brazos, 54°59'S, 69°45'W
January 11, 2013, Prov. Antártica Chilena, Comuna Cabo de Hornos, Parque Nacional Alberto de Agostini, Isla Grande de la Tierra del Fuego, NE-most arm of Seno Courtenay, 54°34'34"S, 71°10'41"W
January 10, 2013, Punta Arenas, Chile
2012
February 5, 2012; Isla Londonderry, Puerto Fortuna, approximately 54º54'S, 70º26'W
February 4, 2012; Isla O'Brien, Caleta Americana, approximately 54º53'S, 70º23'W
February 3, 2012; Isla Grande de Tierra del Fuego, Fiordo Garibaldi, approximately 54º58'S, 69º49'W
February 2, 2012; Isla Gordon, middle arm of Bahía Tres Brazos, approximately 54º58'S, 69º41'W
January 31, 2012; Isla Gordon, Bahía Romanche, 54º57'S, 69º30'W
January 30, 2012; Isla Gordon, Bahía Romanche, 54º57'S, 69º30'W
January 29, 2012; Canal O'Brien, on the way to the Brazo Noroeste of the Beagle Channel, approximately 54º55'S, 70º35'W
January 25, 2012; Isla Darwin, Caleta Virginia, approximately 54º57'S, 70º10'W
January 24, 2012; Unnamed sound off Isla Whittlebury, in Bahia San Jorge, west of Isla Hoste, approximately 55º16?S, 70º00?W
January 23, 2012; Arm of Estero Webb, SW coast of Isla Hoste, approximately 55º14'S, 69º41'W
January 22, 2012.; Unnamed sound on Isla Gordon behind Cabo El Gorro, approximately 55º02'S, 69º48'W
January 21, 2012; Isla Hoste, Estero Fouque, 55º1'S, 69º35'W
January 20, 2012; Isla Hoste, Estero Fouque, approximately 55º11'S, 69º35'W
January 19, 2012; Chile, unnamed sound on north-central coast of Isla Hoste, approximately 55º00'S, 69º12'W
January 18, 2012; Canal O'Brien, just south of Isla O'Brien, 54º55'S, 70º35'W
January 17, 2012; Punta Arenas, Chile
2011
July 15, 2011; Hobart, Tasmania, Australia
July 14, 2011; Pyengana, Tasmania, Australia
July 13, 2011; Weldborough, Tasmania, Australia
July 12, 2011; Hobart, Tasmania, Australia
July 11, 2011; Hobart, Tasmania, Australia
February 8, 2011; Punta Arenas, Chile
February 5, 2011, unnamed sound northwest of Isla Georgiana
February 4, 2011, unnamed sound directly east of Seno Mama, Chile
February 2, 2011, Seno Courtenay, northern arm, Chile
February 1, 2011, Seno Courtenay, Chile
January 31, 2011, Canal between Isla Georgiana and Isla Clementina,, Chile
January 30, 2011, Unnamed sound on south side of Brecknock Peninsula, NW of Isla Georgiana, Chile
January 29, 2011, Isla Aguirre, Seno Quo Vadis, Chile
January 26, 2011, Punta Arenas, Chile
January 24, 2011, Seno Chasco, just north of isthmus to Brecknock Peninsula, Chile
January 23, 2011, Isla Grande de la Tierra del Fuego, Puerto Consuelo, Seno Chasco, Chile
January 22, 2011, Isla Grande de la Tierra del Fuego, Seno Brujo, Chile
January 21, 2011, Isla Grande de la Tierra del Fuego, Seno Brujo, Chile
January 20, 2011, Isla Grande de la Tierra del Fuego, Seno Bluff, Chile