African American Garden:
The Caribbean Experience
Now Open
Open All Day for Exploration | At the Edible Academy
Welcome to the African American Garden: The Caribbean Experience. Take some time to stop here and wander for a spell. Here in these eight beds, you will find stories of resilience and resistance, modification and migration, remembrance, reverence, and more told through the plants of our world.
Our Caribbean region is one of vast cultural diversity. In our part of the world from the middle of the 17th century well into the 20th, the main cash crop was sugar cane, initially cultivated by the forced agricultural labor of our enslaved ancestors. Here in our garden, you will find the sugar cane that ruled our lives for centuries and grew in the fields where we worked. You will discover our tropical bounty and find plants that we grew near our homes to feed ourselves, others we used as medicine, and still others that allowed us to express our creativity by weaving baskets, dyeing fabrics, and making musical instruments that rhythmed a hemisphere.
Stop for a sip of something at the drink stand. Muse on our connection to our landscape as expressed in lyrical language in the Poetry Walk that rings the perimeter of the garden beds. As you stroll, you will enter our plant world past and present and learn our history and a bit about our wondrous region. We hope that you will leave informed and delighted, amused, and amazed.
Discover the Plants
Explore the African American Garden: The Caribbean Experience and the species planted here with this interactive map.
We did forced labor as agricultural workers when the Americas became the provider of many plant-based products that drove the European economy. In the Caribbean, it was all about sugar. Sugarcane took over as the region's main agricultural crop as tea, coffee, and chocolate became the rage. Gradually making its way up the curve of islands, cane changed the region's topography and the forced migration changed its complexion.
We learned that cane is the most brutal of the colonial cash crops. Cane is relentless and requires long hours in the sun during planting and growing seasons followed by dangerous, round-the clock labor to bring in and process it. But when the crop was finally in, we celebrated with rum, one of the by-products of production and sometimes called the "sacramental wine" of the New World.
Sugarcane (Saccharum officinarum 'Jamaican stripe')
Sugarcane (Saccharum officinarum 'Homeowners green')
Sugarcane (Saccharum officinarum 'Purple ribbon')
Sugarcane (Saccharum officinarum 'Bourboriat Suriname')
Sugarcane (Saccharum officinarum 'red variety')
The basis of much of our cooking remains in our roots. Our markets are filled with the underground bounties of the land that are sometimes called ground provisions. New World root vegetables like sweet potatoes, cassava, and arrowroot as well as Old World ones like true yams add starch on our plates. They are also sometimes served in the form of mashes and porridges many of which retain West African names like fufu and funghi. Boiled or fire-roasted or cut up and added to our flavor-rich soups and stews, they add substance and taste to many meals.
Cassava, manihot, yuca (Manihot esculenta)
Taro (Colocasia esculenta)

Consumed by many throughout the tropical world, including the Caribbean but also in Asia and Africa, Colocasia esculenta goes by many names, including taro, eddo, and dasheen.

Yam (Dioscorea bulbifera)
Yam (Dioscorea cayenensis)
Yam (Dioscorea rotundata)

Enslaved Africans found a familiar food in the Caribbean—yams (Dioscorea spp.) are native to both sides of the Atlantic, and continue to be an important starch in Caribbean food today. The botanically unrelated and often mislabeled sweet potato (Ipomea batatas) was a new addition from the Caribbean that was quickly adopted and sometimes used in place of yams in African culinary traditions.

Yam (Dioscorea trifida)
Sweet Potato (Ipomoea batatas 'boniato')
Malanga blanca (Xanthosoma sagittifolium)
Yautia lila (Xanthosoma sagittifolium)
Arrowroot (Maranta arundinacea)

The rhizomes (tuberous roots) of arrowroot are powdered and used as the preferred thickener in soups, sauces and puddings of the Caribbean. Growth of this root crop became a major industry in the 18th century Caribbean, but it has more ancient origins in South America where it was one of the first plants to be domesticated there nearly 8,200 years ago.
Our cooking maintains many of the hallmarks that distinguished it on the African continent. Our soupy stews, often served over a starch, are savory and well-seasoned, and can at times be spicy hot. Using ingredients like tomatoes, a variety of leafy greens called callaloo, dasheen, or other names, as well as okra, chayote, and more, our dishes are always tasty. We have mastered the art of combining rice with beans of all sorts—as our peas and rice, rice and peas, arroz con gandules, congris, diri ak pwa and others amply demonstrate.
Rice (Oryza sativa 'Timonchette 3')

Rice was introduced into the Caribbean by European colonizers as a cash crop and food source for enslaved laborers. Many enslaved Africans were already familiar with rice cultivation—West Africans domesticated a native species of rice, Oryza glaberrima, at least three thousand years prior, and developed advanced techniques of irrigation. African rice (O. glaberrima) is related to Asian rice (Oryza sativa) but has a darker red hue, earning it the common name "red rice."

Variety from Haiti, tall with red bran. Supplied by the USDA.

Carolina Gold Rice (Oryza sativa 'Carolina Gold Rice')
Rice (Oryza sativa 'Hill')
Rice (Oryza sativa '27')
Rice (Oryza sativa 'Buffalo')
Rice (Oryza sativa 'WC 3995')
Bean (Phaseolus vulgaris 'black turtle')
Kidney beans, red (Phaseolus lunatus)
Lima bean (Phaseolus lunatus)
Calaloo (Amaranthus sp.)
Purslane (Portulaca oleracea)
Amaranth, bledo (Amaranthus retroflexus)
Okra (Abelmoschus esculentus 'Puerto Rico Everblush')

It is disputed whether the geographic origin of okra is Ethiopia or East Asia. Regardless, okra has a deep history of use in the stews of West Africa, prized for its thickening, some say "slimy," texture. The plant was brought to the Americas as a part of the Trans-Atlantic slave trade, where it took on the name okra, from the Igbo (a West African language) word okuru. In the Caribbean it goes by many names—what
do you call this plant?

Okra (Abelmoschus esculentus 'Burgundy')
Tomato (Solanum lycopersicum 'Plate de Haiti')
Tomato (Solanum pimpinellifolium 'chiapas')
Calabaza squash (Cucurbita moschata)

Cucurbita moshata squash are native to the Caribbean and South America, where they go by many names—calabaza, giraumon, calebasse, and pumpkin, among them. With a brilliant orange interior and a soft, sweet taste, calabaza are a favorite addition to African-style stews in the Caribbean.

Chayote (Sicyos edulis)

This edible plant in the gourd family originates from Mesoamerica.

Eggplant (Solanum melongena 'rosita')
Breadfruit (Artocarpus altilis)

In 1787, Lieutenant William Bligh of the British Navy embarked on a botanical mission to carry breadfruit plants from Tahiti to the West Indies,
where the plants were intended to serve as a cheap and reliable food for the enslaved peoples of the British Empire. Capt. Bligh was known for his cruelty, and a mutiny ensued when he gave limited water rations to the breadfruit plants before his crew. Today, breadfruit shows
promise as a sustainable and resilient crop in the face of climate change in the Caribbean.
Our food has flavor: we are master seasoners. Chilis abound and from fiery hot habaneros to mild but tasty bell peppers, we love them all. Allspice, also known as Jamaican pepper, pimento or bois d'inde, is native to the region, and turns up in surprising places, but we also use cinnamon, nutmeg, cloves, and more. Garlic is essential, and along with European cilantro and our native culantro, seasons our dishes. We learned about annatto from Native Peoples, and it now gives many of our dishes a characteristic orange tinge. Savory or sweet, our food takes full advantage of the bounty of herbs and spices that grow in our world.
Parsley (Petroselinum crispum 'Giant of Italy')
Hot Pepper (Capsicum chinense 'Chocolate seven pot')
Hot Pepper (Capsicum chinense 'Trinidad seven pot')
Garlic, music (Allium sativum var. ophioscorodon 'Music')
Hot Pepper (Capsicum chinense 'Scotch Bonnet')

This pepper is one of the spiciest in the world. The lantern-shaped scotch bonnet pepper is central to Caribbean cuisine, providing spice and flavor to everything from stews to rice dishes. Though hot peppers are native to Central America, they have become central to West African
cuisine as well, having been introduced during the Trans-Atlantic slave trade.

Hot Pepper (Capsicum chinense 'Aji Dulce')
Shallot (Allium cepa 'Roderique')
Thyme (Thymus vulgaris)
Scallions (Allium fistulosum 'Evergreen White Bunching')
Hot Pepper (Capsicum chinense 'West Indies Red')
Hot Pepper (Capsicum chinense 'Tobago')
Onion (Allium cepa 'Alisa Craig')
Onion (Allium cepa 'Red Wethersfield')
Hot Pepper (Capsicum frutescens 'Tabasco')
Cilantro (Corianrum sativum)
Culantro (Eryngium foetidum)

Culantro, an herb native to the Caribbean, tastes like a stronger version of cilantro—a related but different plant. Culantro is a key ingredient in many chefs' sofrito, a tomato-based sauce used ubiquitously throughout the Caribbean, and it is especially common as a marinade for meats, particularly in Cuba, the Dominican Republic, Haiti, Puerto Rico, and Trinidad and Tobago.

Turmeric (Curcuma longa) and Ginger (Zingiber officinale)
Cinnamon (Cinnamomum verum)
Bay Laurel (Laurus nobilis)
Black pepper (Piper nigrum)
Cardamom (Elettaria cardamomum)
Vanilla (Vanilla planifolia)
Nutmeg (Myristica fragrans)

The Caribbean island of Grenada is sometimes called "spice island" for its contributions to the international spice trade, and there, nutmeg is known as "black gold." Nutmeg, as well as the spice mace, come from the nut-like seeds of the tropical evergreen tree Myristica fragrans. In
the Caribbean, nutmeg has been a popular spice for centuries, and is an essential addition to stews, curries, soups and, of course, rum punch.

Allspice (Pimenta dioica)

The unripe berries of this Caribbean- and Central American-native tree were named allspice by the English as early as 1621, for the way their flavor seemed to combine cinnamon, nutmeg, and clove.

Tamarind (Tamarindus indica)
Curry (Murraya koenigii)
We wove baskets with grasses and vegetable materials to hold things in our homes, for storage, and in other areas of work. We also used plant fibers to make fabric for clothing that we then dyed with indigo and colors made from still other plants. As we had in Africa, we grew calabash gourds and used them for storage and kitchen utensils like dippers, serving dishes, and bowls. With the addition of seeds or shells or beads, we transformed them into all manner of musical instruments from shekeres to maracas. Other transformations made guïros and drums. All created rhythms that celebrated ancestors, called orisha and loa, and fused into new musical forms that made the world dance.
Indigo (Indigofera suffruticosa)

When soaked in water, the leaves of Indigofera spp. create the distinctive blue dye known by the same name as the plant: indigo. Indigofera spp. are native to both Africa and the Americas, so while the Maya and Aztecs were using indigo to create "Maya blue" pigments for ceremonial use, West Africa's extensive textile industry was also utilizing indigo dye to create brilliant blues.

Bottle gourd (Lagenaria siceraria)

Dried bottle gourds have been used for millennia as useful tools: forming containers like cups and bowls, as floats for fish nets, smoking
pipes, and even musical instruments. When enslaved Africans arrived in the Caribbean, their rich musical traditions combined with the drum-heavy rhythms of the Native Caribbean peoples to create entirely new forms of music. Native African instruments made from gourds including axatse and chekerés melded together with Native Caribbean ones, including güiros, and took on new identities.

Cotton (Gossypium hirsutum 'Sea Island Brown')

Before cotton became the top crop in the American colonies, it was labored over and cultivated across the Caribbean by enslaved Africans. Gossypium hirsutum is an upland plant native to Central America and the Caribbean, which produces short fibers and accounts for the majority of the world's cotton production today.

Cotton (Gossypium barbadense)
Shoeblack hibiscus (Hibiscus rosa-sinensis)
Prickly pear (Opuntia)
Jicara (Crescentia cujete)

This small evergreen tree produces gourd-like fruits, used to make cups, bowls, and basins throughout the Caribbean. Though named for its fruits' resemblance to the gourd family, it is unrelated.
Outside of our doors was a paradise of tropical bounty. We learned to cultivate it from the Tainos, and created gardens with an understanding of their traditional knowledge that we combined with our African knowhow. These gardens are known in Spanish by the Taino word conucos. In them, individual plants are allowed to grow in symbiotic harmony. Some plants provide shade; others lend nutrients; still others create beauty–all growing together in living examples of the benefits of conjoining traditional gardening wisdoms.
Mango (Mangifera indica)

"Mangoes arrived in the New World (Brazil) in the fifteenth century and in the Caribbean after 1872. It's difficult to be exact about the year, but in 1872, a French vessel carrying a cargo of mangoes from the Iles Bourbon to Hispaniola was captured by the English off Jamaica, the cargo was jettisoned, then floated to various Caribbean islands where it reproduced. The most common mangoes in the Caribbean are Julie mangoes, which are flattened light green ovals. "Manges are used in many different ways in the Caribbean. Green mangoes are used in hot sauces and in condiments such as kuchela. Ripe mangoes appear in desserts and candies and even pureed in drinks. Needless to say, to many, a ripe mango simply sucked on or cut open and eaten is one the delights of the tropics". (Harris, 63).

Pineapple (Ananas)

Pineapples have been cultivated for centuries by Indigenous peoples in their native Brazil and Paraguay; they later spread throughout the Caribbean to become a staple food. When introduced to Europe from the Caribbean, pineapples became a symbol of luxury and colonial power, given the distance they had to travel. It is one of the only edible bromeliads.

Passionflower (Passiflora incarnata)
Barbardos cherry (Malpighia glabra)
Sapodilla (Manilkara zapota)
Sweetsop (Annona squamosa)
Culantro (Eryngium foetidum)
Corn (Zea mays 'Sea Island White Flint')
Calabaza (Cuburbita moshata)
Lima bean (Phaseolus lunatus)
Peanut (Arachis hypogaea)
Cassava, manihot, yuca (Manihot esculenta)
Sweet potato (Ipomoea batatas)
Tobacco (Nicotiana tabacum 'Orinoco')
Banana (Musa 'grand nain')
Jackfruit (Artocarpus heterophyllus)
Guava (Psidium guajava)
Papaya (Carica papaya)
Ackee (Blighia sapida)

Ackee fruits, closely related to lychee, are native to tropical West Africa. Ackee was carried to the Caribbean sometime before the end of the 18th century. When unripe and raw, ackee fruits are poisonous, containing hypoglycin toxins. As the fruit ripens, the toxicity breaks down and the pod "smiles," or cracks open, to reveal the yellow flesh inside, indicating it is safe to cook and eat.

Plantain (Musa)
We have always known of the properties of plants to cure and harm, to heal and comfort. This knowledge also arrived with us. It informed us about plants, many of which were, in the Caribbean climate, similar to those on the tropical part of the African continent. We also expanded our medicines with new knowledge discovered from both experimentation and learned from Native Peoples. This living pharmacopeia offered new cures and new remedies. This knowledge kept us connected to African traditions and allowed us to heal, help, and yes, harm, in the new Caribbean landscape.
Cerasee (Momordica charantia 'big top')

Cerasee, sometimes called caraille or bitter melon, originated in Africa, spread through Asia, and has long been a medicinal plant in both places. When it made its way to the Caribbean, cerasee became popular as a medicinal tea. The fruits, similar to small cucumbers, are also
commonly fried up with tomatoes or okra in Trinidad & Tobago, Guyana, Suriname and across the Caribbean.

Cerasee (Momordica charantia 'goya')
Cerasee (Momordica charantia 'jade dragon')
Cerasee (Momordica charantia 'cundeamor')
Sage (Salvia officinalis)
Tropical milkweed (Asclepias curassivica)
Rosemary (Rosmarinus offinalis)
Periwinkle (Catharanthus)
Tumeric (Curcuma longa)
Sorrel (Hibiscus sabdariffa)
Lemongrass (Cymbopogon)
Okra (Abelmoschus esculentus 'Puerto Rico Everblush')
Cuban oregano (Pleth amboinicus)
Kalanchoe (Kalanchoe pinnata)
Aloe (Aloe vera)

Aloe can be found in home gardens throughout the Caribbean, often grown for its medicinal qualities. Aloe has long been used as a skin remedy, especially for burns, and as a diuretic and general health tonic. This North African native plant contains an impressive number of vitamins, minerals, enzymes, and anti-oxidants.

Jamaican vervain (Stachytarpheta jamaicensis)
Lemon verbena (Aloysia citrodora)
Guinea hen herb (Petiveria alliacea)
Basil (Ocimum basilicum var. minimum)

There are dozens of species and varieties of basil native to Africa and Asia. In the Afro-Cuban religion of Santeria, basil is a sacred herb, whose use likely goes back to Yoruba traditions from Nigeria, Benin and Togo. In Yoruba religion, basil—especially purple basil—is one of the most powerful spiritual cleansers and protective plants.

Rue (Ruta graveolens)

Rue has been used as a medicinal and divine herb around the world for centuries. In the Caribbean, rue is used as a protective to ward off negative spirits, typically placed above doors or worn behind the ear. It is a characteristic flavor in Berber cuisine of Ethiopia and Eritrea,
and though commonly used in small doses as a culinary herb, it is toxic to the liver in larger quantities.

Yerba buena, spearmint (Mentha spincata)

The common name yerba buena can refer to a number of aromatic plants, nearly all in the mint family, but most commonly it is used to indicate Mentha spicata. Also called spearmint in English, M. spicata is the primary ingredient in a true Cuban mojito.
Things did not always remain as they had been. We have a remarkable history of adaptation and discovery. We migrated. We transformed. Some of the plants that had formed major parts of our Caribbean lives were not readily available in new places like the Bronx, so we substituted others to keep our traditions alive. As we had in the movement from the African continent to the Caribbean region, we adapted again in our journeys to these new climates. Our plants may have changed again, but our food—although modified by time and distance—our cultures, and our ways of being persevered, survived, and triumphed.
Yam (Dioscorea rotundata)
Sweet Potato (Ipomoea batatas)
Rice (Oryza sativa 'Djubuh')
Rice (Oryza sativa × glaberrima 'NERICA 3')
Rice (Oryza sativa 'WAB 56-104')
Rice (Oryza sativa × glaberrima 'NERICA 4')
Rice (Oryza sativa 'M'Bale')
Rice (Oryza sativa 'Buffalo')
Okra (Abelmoschus esculentus 'Puerto Rico Everblush')
Sorell (Hibiscus sabdariffa)
Bottle gourd (Lagenaria siceraria)
Pigeon peas (Cajanus cajan)

Pigeon peas are often eaten as a celebratory good-luck food on holidays, especially New Year's Day, in the Caribbean and throughout the African Diaspora. This tradition has African roots—pigeon peas originated in Africa, and have been cultivated in North Africa, along the Nile,
for at least 2,000 years. The peas and their associated traditions, were carried to North America via the Trans-Atlantic slave trade, and remain important today.

Field Pea (Vigna unguiculata 'Fast Lady Northern')
Peanut (Arachis hypogaea 'black runner')
Light red kidney bean (Phaseolus vulgaris)
Coconut Palm (Cocos nucifera)

Few plants are so singularly useful as coconut. The fiber around the coconut's shell makes strong ropes, the shell makes excellent charcoal, and the flesh inside is nutritious and contains potable water. The palm's thatched leaves are a traditional roofing material. Coconut palm is native to Southeast Asia; it was introduced to the Caribbean by way of Africa in the 16th century, and has since become emblematic of the region.

Malay Apple (Syzgium malaccense)
Annatto (Bixa orellana)

This Caribbean native plant produces seeds used for centuries by Indigenous Caribbean peoples as a flavoring and dye. It is thought that enslaved West Africans in the Caribbean mixed annatto with lard in many dishes in order to recreate the reddish hue that palm oil—unavailable in the Caribbean—had lent to many foods back home. Today it is commonly used in blaff and the common sauce sofrito.

Plantain (Musa 'dwarf Puerto Rican')
Banana (Musa 'African rhino horn')
Explore the Garden
Within the eight beds, you'll find stories of resilience and resistance, modification and migration, remembrance, reverence, and more told through the plants of the region—including those used for food, medicine, music, and craftwork.
Hudson Garden Grill
After visiting the African American Garden: The Caribbean Experience, be sure to make a reservation at the Hudson Garden Grill to enjoy the Caribbean-inspired dishes in honor of the collection.
Check out the of the featured recipes for the summer, and make them at home with family and friends!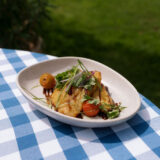 Caribbean Restaurants in NYC
This summer, take an opportunity to experience the various flavors of the Caribbean around NYC with some of these partner restaurants.
Present your All-Garden Pass or Grounds Access Pass at any of the below locations and receive the following offer, through October 22.
See full list of partnering Caribbean restaurants stores below.
Marche220 The Bronx | Complimentary Gambian Sorrel Juice or Akara
Fyahbun Creative Midtown East | 15% Discount
Las' Lap Lower East Side | 10% Discount
*Limited to Sunday–Thursday*
Jalao Washington Heights | 10% Discount
Santiago's Beer Garden East Harlem | Complimentary Dessert
Freda's Caribbean Cuisine Upper West Side | Complimentary Drink with your meal
Image Credit: Jalao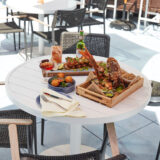 Project Team
Jessica B. Harris, Ph.D., is celebrated as America's leading scholar on the foods and foodways of the African Diaspora. Author of 12 critically acclaimed books, she has lectured on African American food and culture across the U.S. and abroad, and her work has appeared in numerous publications. Among her awards and accolades are an honorary doctorate from Johnson & Wales University and the DeMasters Award from the Association of Food Journalists. Dr. Harris was recently inducted into the James Beard Foundation's Hall of Fame and was named one of Time magazine's "100 Most Influential People of 2021." High on the Hog: How African American Cuisine Transformed America, the popular Netflix series inspired by her most-recent book, has been renewed for a second season.

Cave Canem is a nonprofit organization, committed to cultivating the artistic and professional growth of Black poets. Founded by artists for artists, Cave Canem fosters community across the diaspora to enrich the field by facilitating a nurturing space in which to learn, experiment, create, and present. Cave Canem develops audiences for Black voices that have worked and are working in the craft of poetry.
Acknowledgements
2023 Consultants & Seeds Stewards:
Maricel E. Presilla, Ph. D.
Kenneth Walker
Anna McClung, USDA
Glenn Roberts, Anson Mills
USDA National Plant Germplasm System
Truelove Seeds
Southern Exposure Seed Exchange
Seed Savers Exchange
Henry Obispo, Founder of ReBORN FARMS
Garden graphics provided by the GrowVeg.com Garden Planner
The African American Garden structural elements, originally conceptualized by Lawrence Moten III, has been re-imagined for this year by the curator, local artists, and NYBG team.
Bottle Tree:
Judith S. Kaye High School, Principal Andrew Brown
School of Cooperative Technical Education, Principal Corey Prober
Welding Teachers:
Amadou Barry and Greg Gauntlett
Students:
Raymond Bishop, Victor Borys, Isaiah Cruz, Abdoulaye Diallo, Mason Malave, Matthew Napolitano, Christopher Reyes
The African American Garden is made possible with support from the Mellon Foundation and The Charles E. Culpeper Arts & Culture Program of the Rockefeller Brothers Fund.