African American Garden Poetry Walk
Now Open
Open All Day for Exploration | At the Edible Academy
Emblems of Memory, an introduction to the African American Garden Poetry Walk by Dante Micheaux, Director of Programs for Cave Canem Foundation.
The contribution of Caribbean peoples to the survival of the African Diaspora cannot be overstated. Its greatest gift, of course, is the example of liberty and self-determination in the form of the Haitian Revolution—the demonstration that Black people could dismantle the global power of morally bankrupt enslavers and build a nation in the colonized world.
So too, its contributions to our poetry! It would be difficult for any literary person to think about Caribbean literature and not think of the great Saint Lucian poet, Derek Walcott, who would often remind listeners that was he not "American," in the typical understanding, and the breadth of his observation had no allegiance to this empire. I turn to Walcott now for how his poetry proves that Caribbean life and culture is imbued with the natural world. His penultimate collection of poems, White Egrets, was in fact inspired by the flora near his daughters' houses, "sometimes puta trees or flamboyants or immortelles," which produce in him a "physical serenity." In conversation, he spoke of poems that confirm a "memory of anticipation" and it is this attitude that I hope the poems curated for African American Garden: The Caribbean Experience will convey; that the flora which appears in the poems, and also in the garden itself, become emblems of memory and portals to a time or place that is special to each individual visitor.
In an effort to capture the rich cosmopolitanism of the Caribbean, the poems are accessible in English, Spanish, and Haitian Creole. From the devastating epic of Desiree C. Bailey's "Chant for the Waters and Dirt and Blade" is a harrowing passage on the commodity which, arguably, fueled Europe's enslavement project—sugar; a comic plea touches upon the ramifications of World War II in "Rice Gawn," a poem by Louise Bennett, whose life's work was to codify Jamaican Patois in myth and the stories of the island; Gustavo Pérez Firmat's word play in "Bilingual Blues" allows the Spanish language to dance in the center of its newfound English-speaking homeland; Rico Frederick's "Grandpa Shoes" is a warm depiction of life in Trinidad from the point of view of a child and told at a child's speed; the sensual act of eating fruit becomes a poet's meditation in "Paradise and Quenepas" by Jane Alberdeston Coralin; and the clear, high lyric of Marie-Ovide Dorcely threatens a kind of transcendental rapture with its beauty.
I encourage you adjust your rhythms to the poems and open, not only taste but all your senses to the cornucopia of the Caribbean.
– Dante Micheaux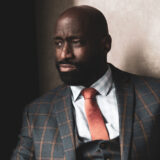 Featured 2023 Poets and their poems:
Desiree C. Bailey is from Trinidad and Tobago, and Queens, NY. She is the author of What Noise Against the Cane, which won the Yale Series of Younger Poets Prize and was a finalist for the National Book Award for Poetry. What Noise Against the Cane was also a finalist for the Kate Tufts Discovery Award and the Four Quartets Prize, and was selected as one of the Best Books of 2021 by the New York Public Library.
Bailey is also the author of the fiction chapbook In Dirt or Saltwater and is published in Best American Poetry, Best New Poets, American Short Fiction, Callaloo, and Poem-A-Day, among other journals. Bailey holds a BA from Georgetown University, an MFA in Fiction from Brown University, and an MFA in Poetry from New York University. She has received fellowships and residencies from the Norman Mailer Center, Kimbilio Fiction, Callaloo Creative Writing Workshop, Poets House, The Conversation, Princeton in Africa, and the James Merrill House. She is also a recipient of the New York State Council on the Arts/New York Foundation for the Arts award and Poets & Writers' Amy Award. Bailey is the inaugural Writer-in-Residence at Clemson University.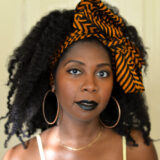 from Chant for the Waters and Dirt and Blade
from Chant for the Waters and Dirt and Blade

I seize the sugar mill's singing throat
crush its hymn its grind nailed
to a settler's lust merciless thief
of land limbs

if I could
unrip untear unshred
the fingers forearms fed whole
to its unforgiving gnash

we feed the palaces cathedrals
skeletal looming casting
their shadows across the earth

our bodies shoved into the mouths of discovery
civilization's march towards more
and more comforts
for the cult of the whitened god

Desiree C. Bailey, 1989 –
Trinidad & Tobago

de Canto para el Agua, la Tierra y la Espada

tomo la garganta cantante del ingenio azucarero
aplasto su himno su molino clavado
a la lujuria del colono saqueador sanguinario
de tierras muertos

si yo pudiera
desromper desquebrar destriturar
los demos las manos mutiladas
por su mandíbula implacable

alimentamos los palacios catedrales
esqueletos acechando cubriendo
con sus sombras la tierra

nuestros cuerpos empujados a las fauces del descubrimiento
la civilización se adentra
más y más en el confort
de adorar a un dios blanco como ellos

Desiree C. Bailey, 1989 –
translated by Jorge Alejandro Ccoyllurpuma

ekstrè Chante pou mèt dlo yo è pousyè è lam kouto

Mwen prann vwa a nan fon andann gòj moulen sik la
kraze misik la graj li kloure
nan liksi kolon volè san kè
tè manb

si m te kapab
depran dekoupe dechikte
dwet yo ponyen yo ki te manje
nan manje dan san padon

nou soutni katedral yo palè yo
vye zo eskèlèt nou voye jete
lonbraj nou fè la wonn dede atravè tè a

kò nou fose nan bouch dekouvèt
yon mach sivilizasyon ki fouye cheche pou plis
plis rekonfò
pou kil dye blanchi a

Desiree C. Bailey, 1989 –
translated by Marie-Ovide Dorcely
Louise Bennett, MBE, was born on September 7, 1919, in Kingston, Jamaica. She authored Anancy Stories And Poems In Dialect; Laugh with Louise: A pot-pourri of Jamaican folklore; Jamaica Labrish; Selected Poems; and Auntie Roachy Seh. Bennett lectured extensively in the United States and the UK on Jamaican folklore and music.
For her contribution to Jamaican cultural life, she was honored with the Norman Manley Award for Excellence, the Order of Jamaica, both silver and gold Musgrave Medals for distinguished eminence in the field of Arts and Culture, an honorary doctorate from the University of the West Indies, the Order of Merit, and appointed Cultural Ambassador at Large. Bennett also received the Gabriela Mistral Commemorative Award from the Chilean government and an honorary doctorate from York University. She died on July 26, 2006 in Toronto and is interred with her husband, Eric Coverley, in Kingston, Jamaica.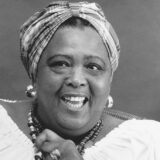 Rice Gawn

Authority control all price,
Dem teck off and put awn;
Authority go fas' wid Rice
An Rice get vex and gawn.

Rice sey, dem pass dem place fe want
Control a swell like she,
From one-and-six to ten pence! Wat
A piece o' libaty!

Rice sey, sence dem confine her, sence
Dem put her eena cage,
Sence dem low rate her prestige,
She noh want no patronage.

An so, all of o' sudden, swips!
Rice disappear, Rice done!
Like Mass Charles ram-goat beard de night
A crawl-yard fire bun!

Wat gwine happen to curry-goat?
Wat sal-fish dah go do?
Stew-beef, pork chops, an stew red-peas,
Me sorry fe oonoo!

Me kean blame de Authority,
Me 'gree wid dem but den
Me kean talk loud fe meck Rice hear,
For me and Rice is frien.

Beef-balls noh got no taste to me,
Bwile parrot-fish noh nice,
Me plate come in like garbage-pan
Ef it noh got een Rice.

So me dah-go pon me knee
An beg Authority
Fe exercise him competence
An bring back Rice fe me.

Louise Bennett, 1919–2006
Jamaica

Mi Arroh se Fue

La Autorida' controla to' loh precioh,
Loh suben y loh bajan;
La Autorida' mostró al Arroh dehprecio
Y el Arroh se ofendió y se fue.

El Arroh dice, si quieren se pasan
Bajaale el precio,
¡De uno con seih a dieh peniqueh! ¡Sí que
Son necioh!

El Arroh dice, como lo confinan, como
El precio está en litigio,
Como le bajan el prestigio,
De él no va a queda' vehtigio.

¡Y así, de repente, fiu!
¡El Arroh se fue, mi Arroh desapareció!
¡Cual barba de cabra de Don Carloh la noche
un fuego en el patio se prendió!

¿Qué va a ser del curry de cabra?
¿Qué será del bacalao en salazón?
Guiso de carne, chuletah de cerdo, y ehtofa'o de frijoleh,
¡Qué preocupación!

Yo no puedo culpa' a la Autorida',
Yo coincido con elloh pero no
Yo no puedo habla' fuerte y que el Arroh ehcuche,
Eh que somoh amigoh el Arroh y yo.

La albóndiga pa' mí no tiene gusto,
Y el peh loro no me agra'
Mi plato parece un montón de restoh
Si no hay Arroh.

Así que me vo' a arrodilla'
Pa' suplicá' a la Autorida'
Que cumpla su trabajo
Y que mi Arroh me vuelva a da'.

Louise Bennett, 1919–2006
translated by Jorge Alejandro Ccoyllurpuma

Diri Ale–pa gen diri ankò

Otorite kontwole tout pri
Yo bese pri…yo monte pri
Otorite aji vit ak diri
E diri menm fache, li al fè wout li.

Diri memn vin di yo pa konn plas yo
Pou eseye kontwole yon gran famn tankou li
Yon santim a sis santim. Ki sa.
Gade jen yo pèmèt, yo!

Diri di piske yo mete restriksyon sou li, piske
yo mete li nan yon kaj
Piske se valè sa a yo bay li
Li pa bezwen okenn patronaj.

E toudenkoup jis konsa
Diri disparèt, diri fini avè yo
Menm jan kabrit mèt Charles la te kouri ale nan mitan lannwit la
Yon batay lèd.

Sa ki pral rive kabrit nan sòs curry?
Ki sa pwason gwo sèl pral fè?
Ragou vyan bèf, ragou kochon ak legim, sòs pwa rouj?
Mwen santi mwen mal pou yo.

Mwen pa ka mete blame nan su otorite a
Mwen dakò avè yo
Mwen pa ka pale fò sou bagay la pou diri tande mwen
Paske diri ak mwen mem se zanmi.

Boulèt pa gen gou ankò
Bliye pwason en sòs, li pa bon ankò
Plat mwen pral sanble fatra
Si li pa gen diri ladann.

Mwen pral oblije ale sou jenou
Epi sipliye otorite a
Pou li egzèse kompetense li
Epi pote diri tounen ban mwen.

Louise Bennett, 1919–2006
translated by Marie-Ovide Dorcely
Gustavo Pérez Firmat, from Cuba, is the author of several books of poetry in Spanish and English, among them Bilingual Blues, Scar Tissue and Sin lengua, deslenguado. His books of literary and cultural criticism include The Havana Habit, Tongue Ties, and Life on the Hyphen. He is the David Feinson Professor Emeritus of Humanities at Columbia University.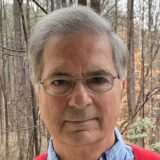 Bilingual Blues

Soy un ajiaco de contradicciones.
I have mixed feelings about everything.
Name your tema, I'll hedge;
name your cerca, I'll straddle it
like a Cubano.

I have mixed feelings about everything.
Soy un ajiaco de contradicciones.
Vexed, hexed, complexed,
hyphenated, oxygenated, illegally alienated,
psycho soy, cantando voy:
You say tomato,
I say tu madre;
You say potato,
I say Pototo.
Let's call the hole
un hueco, the thing
a cosa, and if the cosa goes into the hueco
consider yourself en casa.

Soy un ajiaco de contradicciones,
un puré de impurezas:
a little square from Rubik's Cuba
que nadie nunca acoplará.
(Cha-cha-chá.)

Gustavo Pérez Firmat, 1949 –
Cuba

Blues Bilingüe

I am a salad bowl of contradictions.
Con sentimientos encontrados sobre todo.
Nombra tu topic, lo voy a evitar;
nombra tu hedge, y me lo voy a saltar
como un cubano.

I am a salad bowl of contradictions.
Con sentimientos encontrados sobre todo.
Enojado, despojado, acomplejado,
generalizado, simbolizado, ilegalizado,
my mente is wrong, I sing along:
Tú dices tomato,
Yo digo tu madre;
Tú dices Satchmo,
Yo digo Pototo.
Llamemos hueco
al whole*, la cosa, thing,
y si la thing se acopla al whole
considérate at home.

I am a salad bowl of contradictions,
puree of mashed impurities:
el cuadrito de una Cuba Rubik
that'll never be solved by anyone.
(Cha-cha-chá.)

Gustavo Pérez Firmat, 1949 –
translated by Jorge Alejandro Ccoyllurpuma

Blues Bileng

Soy un ajiaco de contradicciones
Mwen mare tankou krab
Ban mwen yon tema, mwen pral evade pwoblem nan
Ban mwen cerca ou, mwen pral prann tou de bò
Tankou yon Kiben

Mwen mare tankou krab
Soy un ajiaco de contradicciones
Mwen gen madichon mwen vekse mwen komplekse
Tireye, oksyjene, alyene illegal
Mwen enraje– cantando voy
Si ou di tomat
Mwen menm m'ap bay tu madre
Si ou bay patat m'ap reponn ak pòmtoto
Ann fini ak hueco–bagay la se una cosa
è si la cosa antre nan el hueco
konsidere tèt ou en casa

Soy un ajiaco de contradicciones
yon pire dinpirite:
yon ti nèg jis soti Kiba Rubik la
que nadie nunca ap marye
(Cha-cha-chá.)

Gustavo Pérez Firmat, 1949 –
translated by Marie-Ovide Dorcely
Rico Frederick was born in Trinidad and is a graphic designer and the Creative Director of justmedia.org. He is the author of Broken Calypsonian. Frederick holds an MFA in Writing from Pratt Institute, and has received fellowships from Cave Canem Foundation and Poets House.
He is the first poet to represent all four original New York City poetry venues at the National Poetry Slam, and is former House DJ for the Nuyorican Poets Cafe Friday Night Slam. His poems and artistic work have been featured in Rolling Stone, Estée Lauder Ad campaigns, The New York Times, Muzzle, Epiphany, No Dear and The Big Apple Film Festival. For his poetry, Frederick is a Best of the Net Anthology nominee and has received an honorable mention from the Academy of American Poets.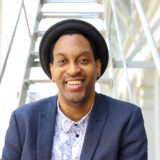 from Grandpa Shoes
for Alton Boyke
from Grandpa Shoes
for Alton Boyke

Patois, flourishing like pollen off a hibiscus tongue
Chadon Beni (shado beni) twisting in the roots of Amerindian Afros
The struggle of unrefined asphalt call it middle passage

…

Cocoa bread Cocoa tea Red Label Rum & Pomerac wine
Palau over-flowing in every El Socorro kitchen
We eat blood pudding baking laughter
into the swell of Hot Roti & pleated Currents roll

As children we walked through backyards
full of Tamarind Soursop Breadfruit Julie Mango
Plum Trees Coconut Trees Calabash & a dull Cutlass
Come Six O'Clock We raced the streetlights home

The place where hand-me-downs
were the only chance we ever had
to walk in our Grandfather's shoes

Rico Frederick, 1975 –
Trinidad & Tobago

de Los Zapatos del Abuelo
para Alton Boyke

Patois, volando como polen que sale de la lengua del hibisco
Chadon Beni (shado beni) inmiscuyéndose en las raíces de los Afros Amerindios
La lucha del asfalto bruto llámalo callejón del medio

…

Pan de cacao Té de cacao Ron Etiqueta Roja y vino Pomerac
Palau rebosando en cada cocina de El Socorro
Horneamos carcajadas comemos morcilla acompañada
de la masa del roti caliente & de los enrollados

De niños recorríamos patios
repletos con Tamarindo Guanábana Fruta de Pan Mango Julie
Ciruelos Cocoteros y Calabazas; un Machete viejo
Vuelvan a las Seis Corrimos, siguiendo los postes de luz, a casa

Ese lugar donde la ropa usada
era la única oportunidad que teníamos
de caminar en los zapatos del Abuelo

Rico Frederick, 1975 –
translated by Jorge Alejandro Ccoyllurpuma

ekstrè Soulye Granpapa
pou Alton Boyke

Patwa fleri tankou polèn nan lang choublak
Koulan (zansèt beni yo) trese nan rasin afro Amerindyen
Lit la dewoule sou yon asfalt koryas, rele pasaj mwayen

…

Bonbon sirop lèt chokolat Rhum Etikèt Rouj &… diven pòm dlo
Diri ak pwa Kongo ap vide tankou yon sous dlo nan kwizin El Sokoro
Nou manje boudin ri nou kwit
nan andann yon bonbe roti cho è nan ti pli pen korint yo–kouran woule

Timoun te kon mache nan lakou
plen tamarin sapoti veritabl mango fransik
Prunye kokotier kalbass &… yon manchèt ki pa file
Vini sis è nou kouri lakay pou fènwa pa prann nou deyò

Kote Kenedy
se sèl chans nou genyen pou
mache nan chemen Granpapa nou

Rico Frederick, 1975 –
translated by Marie-Ovide Dorcely
Jane Alberdeston Coralin's work has been published in various anthologies and journals, such as Paterson Literary Review, Sargasso: A Journal of Caribbean Literature, The Acentos Review, Rock and Sling: A Journal of Witness, and Louisiana Literary Review.
Her first novel was Sister Chicas, a co-authored YA story. Alberdeston Coralin's new novel, Colony 51, is forthcoming from Jaded Ibis Press. After 14 years of living on the island of her birth, Puerto Rico, she has returned to the US to teach in the MFA program at Old Dominion University.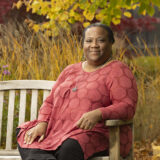 from Paradise and Quenepas
from Paradise and Quenepas

She is full of tongue when she sees them, lime-green and leather-bound, cascading from a streetside
pyramid of brown packing paper.

The poet considers walking on, past the huddled masses of workmen and punks, past the sleepy mailboxes
and double-parked cars. But a minute-market insists

on selling her nostalgia, wares from an isle where the only thing like snow is ash flowing from fires lit in the
fields of her imagination

There are other foods, of course: platanos, mangoes, even coconuts on the half shell, opened for the
bootstep of flies and curious passerby.

But, to the poet on her way to read a poem about dead-beat fathers on Bruckner Boulevard, there is no
other than the quenepa.

Quenepas tumbling over baskets of tomato and lettuce heads; they spin like marbles, if marbles were the
clumsy circles of fingerprints.

Jane Alberdeston Coralin, 1968 –
Puerto Rico

de Paraíso y Quenepas

Ella es toda lengua cuando las mira, verde-lima y como envueltas en cuero, cayendo en cascada
de una pirámide de papel marrón a un lado de la calle.

La poeta considera seguir de largo, pasar las masas apiñadas de obreros y vagos, más allá de los
buzones soñolientos y autos en doble fila. Pero la feria insiste

en venderle nostalgia, productos de una isla donde lo único que se parece a la nieve es la ceniza
que viene de fuegos encendidos en los campos de su imaginación

Hay otras frutas, por supuesto: plátanos, mangos, hasta cocos en mitades, abiertos para el
paso de las moscas y del transeúnte curioso.

Pero, para la poeta que se dirigía a leer un poema sobre padres errantes en Bruckner Boulevard,
no hay más que la quenepa.

Quenepas cayendo sobre cestos de tomates y lechugas; giran como canicas, como si las canicas
fueran los círculos irregulares de las huellas de los dedos.

Jane Alberdeston Coralin, 1968 –
translated by Jorge Alejandro Ccoyllurpuma

ekstrè Paradi è Quenepas

Lè li wè yo, lang li pete–vèt-citwon mare nan kwi
se yon kasdad-piramid bo la ri a, sou papye anbalaj

Powèt la konsidere kontinwe mache, pase mas rasanble travayè è punks yo,
pase yon bann bwat postal k'ap prann repo è machin ki pake mal. Poutan yon ti mache

ki sou vann li nostalji pa prann non pou reponse. Prodwi yo soti nan yon peyi kote sèl bagay ki sanble nèj se sann kap koule nan dife li we nan tèt pa li

Gen lòt manje: bannan, mango, menm mwatye kokoye, ouvè pou
pasaje kirye è mak pye mouch

Men, pou powèt la sou wout pou li yon powèm sou papa ki abandone timoun nan Bruckner Boulevard, pa gen lòt bagay, se kenep

Kenep debode, tonbe sou panye tomat ak tèt leti a; yo vire tankou mab, si mab
te ti sèk maladwa nou jwenn nan anprent dwèt nou.

Jane Alberdeston Coralin, 1968 –
translated by Marie-Ovide Dorcely
Marie-Ovide Dorcely was born in Port-au-Prince, Haiti and educated at Bryn Mawr College, Stanford University, and Columbia University. Her poems, essays, and translations have appeared in Callaloo, Obsidian, Ploughshares, and elsewhere.
Dorcely has received fellowships from Wesleyan Writers' Conference, Caribbean Writers Institute at University of Miami, Cave Canem Foundation, and Mellon Foundation. She is trained in the history of urban form, visual culture, modern languages and literatures, poetics, translation creative writing, Africana Studies, and research methods and the crisis of knowledge. Dorcely has worked at a range of academic institutions, research programs, and community groups, as well as international and domestic service organizations—including University of Florida; Hunter College; Haitian Studies Association; Cornell University; United Nations; American Friends Service Committee; and with emergency response entities.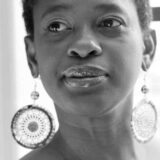 from Rhizome

To the iris I go
Singing to the bloom
in my skirt. The pale, pale pulse of trees
of the beige damask

echo of a sprig; purple foreignness flying,
I am, and breathe for the next, dig.

I go, just hands, beyond the just, and climb,
clamber, through begonia, a blue husk,
impatiens, a dolly for leaves.

I breathe for the hush of happiness.
I breathe: each petal is forgiveness,
each petal, alms. I breathe
for honeysuckle, to cut through the season and a lapse, and sorrow.

A map shows the lines I departed
for this hill (from hill to hill I go);
the map reveals what I departed–
to dig where I've alighted
the hill I see clear, first mountain.

Marie-Ovide Dorcely, 1965 –
Haiti

de Rizoma

Al iris me dirijo
Cantándole a la flor
en mi falda. El pálido, pálido pulso de los árboles
de damascos ámbar

eco del cultivo; púrpura foraneidad flotando,
Soy, y vivo por la próxima, excavación.

Voy, uso las manos, las abuso, y trepo,
subo, por la begonia, trigo azul,
alegrías de la casa, una carretilla para las hojas.
Respiro para disimular la dicha.

Respiro: cada pétalo perdona,
cada pétalo, dádiva. Respiro
por la madreselva, para sobrevivir la estación y el lapso, y condolerme.

Un mapa muestra las líneas que recorrí
hasta esta cumbre (voy de cumbre en cumbre);
el mapa revela lo que he perdido–
para excavar la tierra donde me he posado
veo claro la loma, primera montaña.

Marie-Ovide Dorcely, 1965 –
translated by Jorge Alejandro Ccoyllurpuma

ekstrè Rizòm

Nan liris la mwen ale
Chante nan florezon jip mwen
Batman pye bwa pal—pal
nan damas bej la

Eko yon branch, yon vyolèt etranje ki vole ale,
Mwen santi mwen menm, epi mwen, m'ap, respire pou pwochen nan, mwen fouye.

Mwen ale, ak men mwen selman, mwen depase jistis, epi mwen monte,
Mwen monte, mwen monte, atravè begonya a, yon gous ble,
impasyens, yon poupe pou fèy.
Mwen respire pou silans kontantman.

Mwen respire: chak petal se yon padon,
chak petal se don. Mwen respire
chèvrefèy, pou travese sezon an, è abandon, è la penn.

Yon kat montre liy, chemen, mwen te derape
pou rive mòn sa a, mwen mache soti nan yon ti mòn pou yon lòt ti mòn)
Kat montre sa mwen te kite
pou rive fouye kote mwen te ateri a
mwen wè ti mon lan klè—premye mòn

Marie-Ovide Dorcely, 1965 –
translated by the Poet
Bloomberg Connects App
Hear from the poets themselves, and download the free Bloomberg Connects App.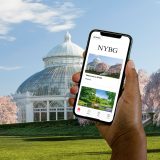 About the Curators of the Poetry Walk:
Cave Canem is a nonprofit organization, committed to cultivating the artistic and professional growth of Black poets. Founded by artists for artists, Cave Canem fosters community across the diaspora to enrich the field by facilitating a nurturing space in which to learn, experiment, create, and present. Cave Canem develops audiences for Black voices that have worked and are working in the craft of poetry.

Dante Micheaux is the author of Amorous Shepherd and Circus, which won the Four Quartets Prize from the Poetry Society of America and the T. S. Eliot Foundation. His poems and translations have appeared in African American Review; The American Poetry Review; Callaloo; Literary Imagination; Poem-a-Day; Poetry; PN Review; and Tongue—among other journals and anthologies. Micheaux's other honors include the 2020 Ambit Magazine Poetry Prize, and fellowships from Cave Canem Foundation and The New York Times Foundation. He is the Director of Programs for Cave Canem Foundation, a non-profit literary service organization committed to cultivating the artistic and professional growth of African American poets.