Black History Month
Wednesday, February 1, 2023 – Tuesday, February 28, 2023
Online & At the Garden
Join NYBG for Black History Month to celebrate the African American experience through plants. Discover barrier-breaking pioneers in environmental science and agricultural education as well as contemporary activists and advocates who are creating and supporting communities that foster representation, identity, and diversity. Explore the enduring botanical legacy of the African Diaspora that reveals the inextricable link between Black history and American history through the lens of gardening and farming, horticulture and science, and arts and culture. From thought-provoking conversations and personal stories to inspiring lectures and programs for all ages, learn about the foundational contributions of Black Americans to our understanding of the plant world.
Above: NYBG planted its first African American Garden in 2022. As a protector of the garden, and to celebrate ancestors, a traditional African American bottle tree was among its special features.
Welcome Message from Councilmember Althea Stevens
New York City Councilmember,
District 16, The Bronx
Edmond Albius and Orchid Pollination
Select weekends beginning February 18; 11 a.m.–2 p.m.
Enid A. Haupt Conservatory, Lowland Tropical Rain Forest Gallery
In 1841 Edmond Albius, a 12-year-old enslaved Black child living on a plantation on Réunion island in the Indian Ocean, devised an innovative technique of hand-pollinating the orchid species Vanilla planifolia—initiating the global trade in vanilla, which would become one of the world's most popular spices.
Explore the familiar—and surprising—fragrances, flavors, and foods that are produced from this orchid and other plants found in the Haupt Conservatory. A rotating selection of multisensory activities will be presented by NYBG staff, volunteers, and partners during The Orchid Show: Natural Heritage.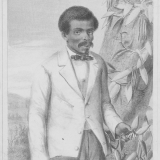 Edmond Albius and the Vanilla Orchid
Listen to Everett Children's Adventure Garden Explainers discuss Edmond Albius's history-changing discovery while touring vanilla plants in the Haupt Conservatory and pressed specimens from the Steere Herbarium.
Kids Corner
Gather the kids for activities to discover the cultural influences of the African Diaspora, and watch an interview about the importance of caring for the natural world.
Rooted in Plants
Through February 28

Come to the Everett Children's Adventure Garden to explore ways in which people of the African Diaspora have contributed to our understanding and uses of plants around the world!
Investigate seeds native to Africa, and learn about West African indigo dyeing by making your own dyed bag. Create your own pine cone bird feeder in celebration of NYC Black birder Christian Cooper. Discover inspirational stories about Black botanists, herbalists, and environmentalists from history and today.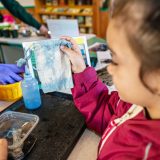 Black History Month: Celebrate Science!
Interviewer: Jalika Barrie, Master Explainer at the Everett Children's Adventure Garden
Interviewee: Eliot Nagele, Director of the Thain Family Forest
Plants as Liberation
This wide-ranging series of interviews, begun in February 2022, continues as NYBG Educator Arvolyn Hill speaks with Black people in the plant world. From herbalists and houseplant enthusiasts to farmers and gardeners, listen and learn how they are using plants as a powerful expression of liberation and freedom.
Plants as Liberation: Joshua Bennett
Plants as Liberation: Justin Robinson
Plants as Liberation: Leah Penniman
Plants as Liberation: Suhaly Bautista-Carolina
Enjoy a variety of programs from 2022 that examine culture and identity, including the vital role of food traditions, especially when cultural heritage or languages have been prohibited and erased.
Afro-Indigenous Histories of Food and Gardening in the Bronx
The Food Dialogues: Matthew Raiford in Conversation with Jessica B. Harris
Around the Table Symposium: A Seat at the Table
The Bond of Live Things Everywhere Symposium
African American Gardens
Supported by generous funding from the Mellon Foundation, The New York Botanical Garden will plant three African American Gardens between 2022 and 2024, each telling different stories of the African American experience through plants. All three gardens will be curated by NYBG Trustee Dr. Jessica B. Harris, America's leading scholar on the food and foodways of the African Diaspora.
Learn about the contributions of Black scientists to our understanding of the plant world, the rich legacy of plants and knowledge about their uses that enslaved Africans brought to America, and other plant stories.
Cowpeas and the African Diaspora
Enslaved Africans brought the bean known as the cowpea with them to the New World, where it has become a staple of Southern cuisines and is generally associated with good luck and New Year's celebrations.
In a series of three informative, wide-ranging Plant Talk posts, NYBG Associate Curator Benjamin Torke, Ph.D., explores the science and cultural history of cowpeas and the potential for herbarium specimens to fill in some of the gaps in that history.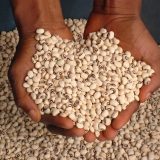 Focus on Black Botanists
This fascinating series highlights under-recognized Black scientists whose research and discoveries have contributed to our collective knowledge and understanding of the plant world.
Marie Clark Taylor – Botanist and Educator:
Find out how to grow cosmos and the other colorful garden annuals that Dr. Taylor, the first Black woman to receive a Ph.D. in science from Fordham University, studied to understand the impact of light on plant development. Learn More
Thomas Gaither – Activist and Biologist:
Behind each collection is the life of the collector, often lost to history. We're excited to celebrate the contributions of Dr. Gaither not only through his fungal collections but also through his advancements in the fight for civil rights. Learn More
Lafayette Frederick – Fungal Systematist:
See a type specimen of a fungal species described by Lafayette Frederick, a mycologist who followed in George Washington Carver's footsteps to understand and document all manner of plant pathogens. Learn More
Thelma Perry – Mycologist and Teacher:
Discover one of the "hidden figures" of groundbreaking fungal research at the USDA Forest Service. Learn More
Dr. James Still – "Doctor of the Pines":
A brief account of the life and legacy of a 19th-century herbalist. Learn More