Plant Talk
Dr. James Still – Doctor of the Pines: A Brief Account of the Life and Legacy of a 19th-Century Herbalist
Samantha D'Acunto is Reference Librarian and Shea Wert is User Services Librarian in the LuEsther T. Mertz Library at The New York Botanical Garden.
---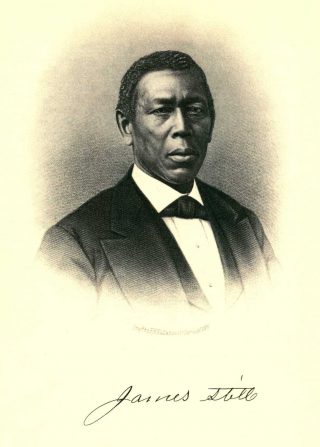 "A great mind is planted within us in the beginning of our lives, and, like other plants, it needs cultivation and watering from the best fountains."
Dr. James Still, Early Recollections and Life of Dr. James Still, p. 5
(1812–1885)
Though not a formally trained physician by Western standards, Dr. James Still was known to many as the Doctor of the Pines; his skills as a herbalist and physician provided care for a countless number of people in the community of Medford Township and throughout New Jersey pinelands.
Still was a curious child, documented as often being seen exploring his surroundings or experimenting with found items and objects. In his lifetime he persevered through many tragedies. Born to parents who were formerly enslaved, he experienced extreme poverty and limited educational oppourtunities. His first wife, Angelina Willow, and daughter, Beulah, died within a year of each other. He spent many hours grueling over factory work until he inherited his father's land upon his death.

Nevertheless, Still persisted and made the most out of what life provided. He remarried and had seven children with Henrietta Thomas. Upon inheriting his family's land, he had an opportunity to rekindle the childhood curiosities of his youth: plants, nature, and science. He taught himself medical botany through books and experimentation with plants and herbs. Applying the techniques he read about, he furthered his knowledge of tinctures, essences, poultices, and bitters while under the apprenticeship of a local physician. Soon he was a leading herbalist and self-trained physician in his own right—inspiring future practitioners in the medical fields.
His legacy and enthusiasm for healing and caring for community was carried on by his son, James Thomas Still (1840–95), one of the first Black graduates of Harvard's School of Medicine in 1871, and later by his great-grandnephew, Dr. Cecil C. Still (1931–2012), who wrote Botany and Healing: Medicinal Plants of New Jersey and the Region. In the preface of Botany and Healing, Dr. Cecil C. Still recalls the elder Dr. James Still's influence on his career path, stating:
"Although Still's direct descendants did not carry on his herbal medicine practice, I feel that knowing about his achievements stimulated my own early interests in looking for local medicinal plants and growing them myself. As important as James Still was in his time, I am convinced that the only reason we are aware of his life and medical practice is that he left a written record of his activities."
Consider learning more about Dr. James Still in his autobiography, Early Recollections and Life of Dr. James Still (1812–1885), available to read in the LuEsther T. Mertz Library or follow the links below.
References:
Dr. James Still Historic Office and Education Center, http://www.drjamesstillcenter.org/index.html.
"Dr. Still Center for Education." Medford Historical Society, https://www.medfordhistory.org/drstillcenter/index.php.
"Official Site of the State of New Jersey." NJDEP | Dr. James Still Office Historic Site | New Jersey State Park Service, https://www.nj.gov/dep/parksandforests/historic/drjamesstill.html.
Still, Cecil C. Botany and Healing: Medicinal Plants of New Jersey and the Region. Rutgers University Press, 1998.
"Still, James Thomas." Omeka RSS, http://stillfamily.library.temple.edu/stillfamily/exhibits/show/william-still/people-and-places/still–james-thomas.
Still, James. Early Recollections and Life of Dr. James Still, 1812–1885. Rutgers Univ. Press, 1973.
SUBSCRIBE
Enter your email address to subscribe to this blog and receive updates on new posts.