Plant Talk
Thelma Perry: "Hidden Figure" of Beetle-Fungus Research
João Araújo, Ph.D., is Assistant Curator, Mycology, in the Institute of Systematic Botany at The New York Botanical Garden.
---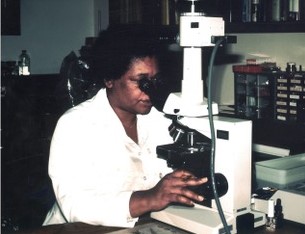 Thelma Perry (1941–98) was one of the great "hidden figures" of the early pioneering beetle-fungus research involving the southern pine beetle. She worked as a microbiology technician at the Forest Insect and Disease Research program at the USDA Forest Service in Pineville, Louisiana. As a Black woman in the 1970s, she was a rarity in the biological sciences, especially in Mycology and in the southern U.S. She was largely self-trained as a Mycologist, and her work on southern pine beetle fungi was groundbreaking. It was Perry who first discovered, carefully described, and photographed the nutritional fungal symbionts housed in mycangia of the female southern pine beetle, Dendroctonus frontalis. This beetle, and some fungus it carries, has caused enormous economic losses for the pine tree industry and has had a broad impact in pine forests. Mycangia are structures that evolved independently in different bark-beetle groups and are used to carry fungal propagules from one tree host to another; the trees become infested with the beetles and colonized by the fungi. These beetles are dependent on their associated fungi for nutrition, especially during larval stages. Perry mentored scientists and graduate students in laboratory techniques, fungal morphology, and the natural history of this beetle-fungus association. Even as she endured many personal challenges in the last 15 years of her life, before she died of cancer in 1998, she courageously made time to continue to work in the lab and teach a new entomology/mycology course in the methods and philosophy she gleaned during her career of beetle-fungus symbiosis research.
Thelma Perry was one of the pioneers to consider the competitive interactions between species of these fungi, and her work was key to understanding the crucial basidiomycete fungi associated with the southern pine beetles. While she did appear on at least nine peer-reviewed papers as co-author, her role in this important field was under-recognized. Recently, several collaborators published an article dealing with one of the groups to which Perry dedicated her research, a fungus that forms mutualistic relationships with beetles of the genus Entomocorticium. To acknowledge her influential contributions, we have proposed a new species in her honor posthumously, Entomocorticium perryae. By naming a species after Thelma Perry we seek to memorialize her contributions to the taxonomy of this group she loved so much. We also aim to inspire new generations of Black and Latinx women and other minorities to pursue academic careers in the sciences.
SUBSCRIBE
Enter your email address to subscribe to this blog and receive updates on new posts.