Earth Day @ 50: Tools for 21st-century Ecology Webinar
Friday, April 24
11 a.m. | Online
Join us for Earth Day 50 with NYBG at Home. We are marking the 50th anniversary of the modern environmental movement with multiple days of online programs. Hear from Kerissa Battle, Founding Director, Community Greenways Collaborative, Inc., and Daniel Atha, NYBG's Director of Conservation Outreach, in discussion on how the public can help document biodiversity across the City through the New York Phenology Project and New York City EcoFlora project.
Kerissa Battle 
"When science meets activism: the role of monitoring and restoration in the data revolution" 
Community science-based initiatives focused on plant-pollinator monitoring and restoration are increasingly the front lines of climate mitigation and biodiversity loss. This talk will put monitoring and restoration projects such as the New York Phenology Project into the larger context of network-based movements that are using the power of the crowd and large-scale data platforms to advance discovery and galvanize community action. Highlighting the digitization and comparison of data from a 200-year-old phenology monitoring network in New York with our own modern data vividly demonstrates why policy efforts should support the continuation and expansion of organized long-term monitoring and restoration efforts.
Daniel Atha 
"Documenting the 21st-Century Flora: how do we keep up?"
Faced with a mind-boggling flood of biological discoveries from every corner of the world, renowned Swedish botanist Carl Linnaeus (1707–78) organized and simplified the techniques for naming, describing, and preserving plants and animals, helping to make natural history study both scientific and democratic. Natural historians trying to make sense of the Anthropocene today need a new paradigm to deal with the unprecedented and even lethal pace of change. The New York City EcoFlora project at The New York Botanical Garden is addressing this challenge by using legacy data from museum and library collections to inform and empower community science efforts across the City. The project leverages iNaturalist and Global Biodiversity Information Facility (GBIF), two global tools that do what Linnaeus intended, but on a scale and speed necessary to keep up with today's changes
About the Speakers: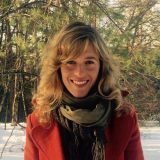 Kerissa Battle, Research Ecologist and Founding Director of Community Greenways Collaborative, is a research ecologist and social entrepreneur whose work is focused on social-ecological connectivity, network resilience, community science and plant-pollinator conservation. She founded and currently manages the New York Phenology Project and works as a strategic advisor for organizations seeking to build capacity in the fields of conservation and education.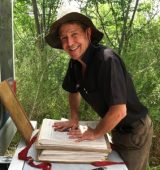 Daniel Atha is Director of Conservation Outreach at The New York Botanical Garden. He has conducted botanical fieldwork in all 50 U.S. states as well as such far-flung places as Vietnam, Bolivia, Mexico, Belize, and several states of the former Soviet Union. He has published a book on the plants of Belize and numerous scientific articles, and discovered two species new to science. In 2020 he will publish a botanical inventory of Central Park. With Dr. Brian Boom, Vice President for Conservation Strategy at NYBG, he co-manages the New York City EcoFlora, a community science project to document the wild plants in New York City.
Support for the Humanities Institute provided by The Andrew W. Mellon Foundation