Let's stay connected with NYBG at Home, our content hub featuring videos, plant guides, virtual events, recipes for kids, and so much more. As the seasons unfold, we will bring you the brightness and color of our 250 acres, a reminder of how the natural world brings us joy.
GET GOING GROWING
Now is the best time to put those green thumbs to work. We have lots of ways for you to tend to plants at home, including answers to your questions from the Plant Doctor.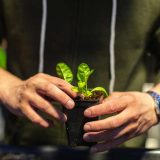 Learn from Home with Online Classes
Whether you're an aspiring rooftop gardener or looking to start growing veggies indoors, there's an online NYBG class for you! Taking a class is a great way to support the Garden while expanding your plant knowledge.
See the Seasons Unfold
Read & Watch
Catch up on blog posts, enjoy a lecture, read fascinating plant stories. Browse all.
Keep Kids Growing
Kids at home? We can help with recipes, videos, lessons plans, and more. Browse all.
Connect with our collections
Explore our digital resources for an in-depth look at many of our treasures, from rare books and captivating herbarium specimens to beautiful indoor and outdoor living collections.
JOIN YOUR FELLOW PLANT LOVERS VIRTUALLY
Join us for an exciting lineup of virtual events, including Facebook Watch Parties and more.
Get Involved
Show your love for plants by participating in a virtual research expedition or taking part in an EcoQuest challenge.
Bring the Beauty of NYBG To Your Virtual Meeting
Download and save one of these backgrounds and share NYBG on your next virtual call.