Earth Day Weekend Celebration
Saturday, April 23, 2022 – Sunday, April 24, 2022
11 a.m.–4 p.m
Deepen Your Connection with Nature
Each year, NYBG's Earth Day celebration highlights the Garden's central work to save the plants of the world and offers visitors a beautiful space to honor our surroundings. Embrace your relationship with nature while enjoying food, live music, and crafting on Daffodil Hill. Meet NYBG scientists to learn how they collect, study, and conserve plants and fungi, or join us for one of our tours!
Live Music on Daffodil Hill
12–4 p.m.; Daffodil Hill

Join us for the Garden's first solar-powered concert! Dance to this line-up of musical artists who are inspired by nature and their surroundings.
Ali Dineen
Saturday; 12–2 p.m.
Ali Dineen is a multidisciplinary artist from Jackson Heights, Queens. She performs her original music and songs from the American folk tradition regularly in New York City and across the so-called United States. Her lyrics are poetic and deeply personal, and highlight the intersections between personal experience, larger histories, and systems of power. Ali has performed at the Museum of Art and Design, the Caramoor American Roots Music Festival, the Savannah Music Festival, the American Folk-Art Museum, and the Brooklyn Folk Festival. 
Endless Field
Saturday; 2–4 p.m.
Endless Field (Biophilia Records Artists) is a collaborative instrumental guitar and bass duo featuring guitarist Jesse Lewis and bassist Ike Sturm. They play original songs filled with intricate finger-style lines, improvisation and ambient textures. Drawing on inspiration from nature, the duo seeks to bring music to outdoor spaces, encouraging audiences to explore their own frontiers.
Noé Socha
Sunday; 12–2 p.m.
Noé Socha is a Brooklyn-based guitar and harmonica player originally from the small town of Carpi, Italy. His work was highlighted on the iHeartRADIO podcast, Sleepwalkers, as well as Reddit, for his yearlong project entitled "The Everyday Project" on his YouTube channel called Blind Selfie. Since the COVID-19 Pandemics outbreak in 2020, Noé has been working socially distanced events and gigs around NYC. He is part of The Blues and Beyond music program and was most recently interviewed for CBS New York in a story called "Blind in the Pandemic". He will be joined by singer and guitarist Junior Mack.
The Ladles 
Sunday; 2–4 p.m.
Recorded over the course of four days in an historic former Baptist church, the collection Springville Sessions is pure Ladles, mixing timeless folk, pop, jazz, choral, and chamber music into an addictive blend fueled by spare, acoustic instrumentation and lush, three-part harmonies. While The Ladles—Pontoniere, guitarist/singer Katie Martucci, and banjoist/singer Caroline Kuhn—have always managed to walk the line between technical virtuosity and emotional intuition, 'Springville Sessions' finds the trio reaching new heights with a less-is-more approach, embracing their environment and recording the entire album with the stripped-down intimacy of a live performance.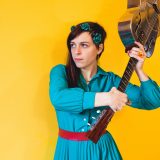 Explore Food & Games
Daffodil Hill
Spread out across Daffodil Hill to dig into local bites and play some classic lawn games.
Lawn Games
11 a.m.–4 p.m.
Enjoy an assortment of family-friendly games, including Cornhole, Ladder Toss, Ring Toss, Horseshoes, Giant Jenga, Giant Connect 4, Giant Chess, Badminton, and Hoola Hoops.
Local Food
11 a.m.–4 p.m.
Enjoy an array of food presented by ecofriendly and local food purveyors. Presented by the Bronx Night Market and Constellation.
Bronx Night Market vendors
April 23
April 24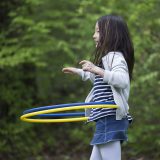 Get to Know NYBG Scientists and Horticulturists
Daffodil Hill
Learn more about the work NYBG scientists do to protect and preserve the plants of the world from the scientists and experts themselves.
Meet the Scientists
11 a.m.–3 p.m.
The Science Division of The New York Botanical Garden encompasses several departments, and contains more than one hundred scientists, including staff, graduate students, Emeritus Curators, and Adjunct Scientists. All are working toward the Garden's scientific mission to explore, understand, and conserve the Earth's vast botanical diversity. Stop by the booth and learn about the work being done here in the Bronx or in other cities and countries around the world.
Saturday, April 23
Dr. Kenneth G. Karol is the Cullman Associate Curator, Cullman Program for Molecular Systematics. His expertise lies in Green Algal Systematics and Evolution (Charales) all over the world. To learn more about his work, click here.
Dr. Gregory M. Plunkett, a botanist and evolutionary biologist, is the Director of NYBG's Cullman Program for Molecular Systematics. He studies the world's amazing plant diversity, using field, herbarium, and DNA-based laboratory approaches to gain insights into the evolutionary and biogeographic history of plants, especially those in the carrot and ivy families (Apiaceae and Araliaceae, groups that encompass >6,000 plant species). He also works to document the plants, their traditional uses, and their indigenous names in the South Pacific Islands, most actively in Vanuatu, a country of over 80 islands and more than 130 languages, as part of NYBG's Plants & People of Vanuatu program.
Sunday, April 24
Dr. Benjamin M. Torke is an Associate Curator in the Institute of Systematic Botany at the New York Botanical Garden. He holds a PhD. in Evolution, Ecology, and Population Biology from Washington University and is an expert on plant diversity in the Amazon rainforest, and the systematics, evolution, and ecology of tropical trees. For the past decade, Dr. Torke, has been working in the Brazilian Amazon Rainforest, in close collaboration with Brazilian partners, to build inventories of the plants of two expansive protected areas in the basin of the Tapajós River, one of the largest tributaries of the Amazon River. These efforts have greatly expanded knowledge of the flora of this biodiverse and rapidly changing region, which is under intense threat from whole-scale landscape changes brought about by human-mediated deforestation and climate change. The data generated are critical for the conservation and management of the biological resources of the two protected areas, in that they constitute a baseline of information against which future change can be measured. Dr. Torke's research has also led to the discovery of many new species and has provided insights into the dispersal ecology of tropical trees and the ancient assembly of plant communities in the Amazon rainforest.
John Y. Park is a Bioinformatics Postdoctoral Associate at NYBG. John received Ph.D. from the University of Florida with the work analyzing diverse leaf cycling patterns in the tropical forest. At NYBG, John works on a project to harness the full power of artificial intelligence to automate plant classification. Due to the rapid decrease in global biodiversity, it has never been more crucial to accelerate plant discovery. To achieve this goal, John is at the frontline in NYBG to apply state-of-the-art computer vision algorithms to digitized plant specimen images. John also leads NYBG's collaborative effort with data scientists and machine learning engineers to develop the novel methods for plant classification, through annual community-based algorithm competitions.
Herbarium Pop-Up
11 a.m.–2 p.m.
NYBG Herbarium staff showcase samples collected from the Garden's 250-acre landscape. Learn more about the plant specimens housed in the collection and how to collect and preserve samples.
The staff include:
Kate Samra holds a bachelor's degree in Botany from the University of Michigan. She has been collecting and pressing plants for personal study and art for several years. Kate currently works in the specimen mounting room of the NYBG Herbarium, where she enjoys preparing pressed plants from Brazil and Myanmar.
Kelcie Brown is a curatorial assistant in the phanerogamic collection at NYBG's William and Lynda Steere Herbarium. She has worked in herbaria for 5 years and just celebrated one year at NYBG. Herbarium work is her passion, and she is always happy to answer any and all questions about herbaria and their lasting importance!
LuEsther T. Mertz Library Deaccessioned Books Cart
11 a.m.–4 p.m.
Stop by and pick up a deaccessioned book to take home from the LuEsther T. Mertz Library collection. These books have been deaccessioned for a variety of reasons: age of publication, condition, circulation, and content. We hope these books will find second homes on your bookshelves.
Bronx Green-Up Pop-Up
Sunday; 11 a.m.–2 p.m.
Bronx Green-Up is a program that provides horticulture education, training, and technical assistance to Bronx residents, community gardeners, urban farmers, local schools, and community organizations. Come and meet the team and see how the program is inspiring NYC residents to get involved in improving their communities through greening projects.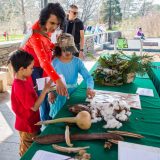 Art & Poetry
Daffodil Hill
Channel your inner artist with eco-artisan demonstrations, poetry wishes, and crafting.
Eco-Artisan Demonstrations
12–4 p.m.
Plant-based Dyes with EcoBronx
Bronx resident and founder of EcoBronx, Maranda Miller, showcases how to use a variety of vegetables, spices, and plant materials to create natural dyes! Learn how to craft affordable dyed décor using low or zero waste.
Avocado Carving Demonstrations with Thomas Brown Studio
Marvel as local artist Thomas Brown transforms ordinary avocado pits into intricate animal faces.
Cast a Wish with Flora & Phrase
12–3 p.m.
Join Flora & Phrase to write a wish for the Earth! Select wishes will be typed by Zoe on her 1931 Remington Noiseless typewriter and shared on NYBG's Instagram. Wishes will be written down on germination seed paper, which will be collected and used to germinate seedlings for future planting.
The poet behind Flora & Phrase is Zoe Branch, an award-winning lifestyle and business writer focusing on social impact stories. Her interests led her to crafting short- and long-form pieces on climate change, sustainability, health, and the arts. She received the "New Journalist of the Year" award from the Society of Professional Journalists Western Washington Chapter.
From Trash to Art: Materials for the Arts
12–3 p.m.
Keep everyday materials out of the landfills through the creation of art! Materials for the Arts, NYC's premier reuse facility, will be inviting participants to use recycled materials to create a take-home piece of art!
Materials for the Arts (MFTA) aims to build relationships with the New York City arts, culture, and educational communities by teaching the value of Creative Reuse and supplying endless donated materials for art making. The goal is to make a larger impact on the global carbon footprint through sustainability practices in creativity.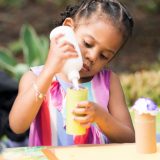 Blooming presented by Contemporaneous
Native Plant Garden
Performances from 12–3 p.m.
What sound does a leaf make when it falls? How rhythmic is the wind as it blows?
Encounter a string performance inspired by the natural world, featuring musicians from across the world coming together to present the sounds of Pa Bobo Jobarteh and Jali Bakary Konteh, Gambian griots and bearers of the Mandinka oral tradition. Through their music, Contemporaneous surrounds you with sound that celebrate the return of warmer weather.
Image by Contemporaneous, Inc.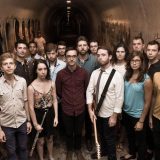 Tours and More
Join experts for a variety of tours—from bird walks to a behind the scenes look at the Plant Research Laboratory.
Forest Bathing Walk
Saturday & Sunday; 11 a.m.
Join Treebath Inc. on a meditative 60-minute walk through our grounds.
Meet the Monarchs
Saturday & Sunday; 12–3 p.m.
Marvel at artist Lucrecia Novoa and her anatomically correct monarch butterfly puppets roam throughout the Everett Children's Garden and Daffodil Hill.
Signs of Spring
Saturday & Sunday; 1 p.m.

Join an NYBG Volunteer on a walk through the Thain Family Forest to scout for signs of warmer weather! Spring sights to be on the lookout for include wildflowers, buds on the forest floor and tree limbs, as well as wildlife.
Bronx River Walk
Sunday; 2 p.m.
The Bronx River, New York City's only freshwater river, flows through the center of NYBG and is buffered by the Thain Family Forest. Join a representative from the Bronx River Alliance for this 30-minute tour about the history and importance of the Bronx River. 
Bird Walk
Sunday; 3 p.m.
Join Gabriel Willow for a 90-minute tour featuring our feathered friends! Gabriel Willow is a naturalist with a particular passion for birds and urban spaces. He is an environmental educator and ecological tour guide in NYC, where he leads tours and teaches classes for NYC Audubon and Wave Hill. His tours focus on seeking out the overlooked and ignored elements of wildness hiding all around us.
Native Plant Garden
Sunday; 3 p.m.
The Native Plant Garden houses a diverse collection of ferns, perennials, shrubs, and trees native to the northeastern United States. Take a guided tour through these re-created habitats with one of the Garden's docents.