ADMISSION
Advance reservations are strongly recommended as tickets do sell out.
All-Garden Pass tickets include admission to the Enid A. Haupt Conservatory, Special Exhibitions, Everett Children's Adventure Garden, and Tram Tour.
Adults: $23
Seniors (65+): $20
Students (with valid ID): $20
Children (2–12): $10
Children under 2: Free
Members: Free*

Adults: $30
Seniors (65+): $28
Students (with valid ID): $28
Children (2–12): $18
Children under 2: Free
Members: Free*

The Holiday Train Show® takes place in the Enid A. Haupt Conservatory, which is accessed with timed entry tickets. Although these tickets are sold in 15-minute increments, you may spend as much time enjoying the exhibition as you wish once inside.

Get your tickets online before you visit for guaranteed access to the exhibition. Select the free print-at-home delivery method and bring your printed tickets with you (we cannot accept mobile tickets) to skip the line at the entry gate when you arrive. Members, bring your Member ID, parking passes, and guest passes. Separate tickets are required for daytime All-Garden Pass access and Bar Car Nights. View our calendar for daily hours of operation and program schedules.

Special events such as Bar Car Nights, lectures, and Adult Education classes require separate fees. Advance reservations are strongly recommended as these events do sell out.
*Excludes Community Grounds Membership levels
Hours & Getting to the Garden
The New York Botanical Garden is generally open for daytime All-Garden Pass access to the Holiday Train Show® from 10 a.m. to 6 p.m., Tuesday to Sunday.

Bar Car Nights: 7–10:30 p.m.

Extended Hours: 10 a.m–7 p.m. on Saturdays, November 25–January 13; Friday November 24; and December 26–December 30

Monday Openings: December 11 & 18; January 1, & 15

Members Early Access: Members enjoy early access beginning at 9 a.m. on Saturdays and Sundays*, Friday, November 24, and from December 24–29. *Early access not valid on December 9.

Early Closures: 2 p.m. on November 30 and 3 p.m. on December 15 & 24 (Christmas Eve)

Closures: November 23 (Thanksgiving) and December 25 (Christmas)

The Garden is located at 2900 Southern Boulevard, Bronx, NY 10458 and is off the Bronx River Parkway at Fordham Road (Exit 7W). We recommend using public transportation; NYBG is easily accessible via Metro-North Railroad and by subway. Find complete directions at nybg.org/directions.

Enter via the Conservatory Entrance at 2900 Southern Boulevard for on-site parking. During peak times, off-site parking at NYBG's Parking Garage (401 Bedford Park Blvd) or elsewhere may be used if the on-site lot is full. Please follow the signage or consult with NYBG staff members for directions.
Tips for Your Visit
Check the forecast before you visit. The Garden's events and exhibitions are located indoors and outdoors; please dress accordingly and be prepared to walk. The Garden will make every effort to hold events and programs as scheduled. Modification or cancellation of an event or program is dependent on weather conditions at the Garden. Keep in mind that the Garden does not have coat/bag check facilities. Review the full list of regulations about strollers, photography equipment, and backpacks on our complete Tips for Your Garden Visit page.

Visitors can pick up a Garden map at any entry gate.

The Garden Tram Tour is also included in All-Garden Pass admission and offers an overview of the Garden's 250-acre landscape, its history, and its programs. Hop off and explore at any of the nine stops.

Most key areas of the Garden are wheelchair accessible. Wheelchairs may be rented free of charge on a first-come, first-served basis at the Visitor Center, Mosholu Gate, Bedford Park Gate, and East Gate. Reservations are not accepted. An ID must be left with Visitor Services. We cannot guarantee availability and strongly recommend you travel with your personal mobility device. Use our online accessibility guide to plan your visit or pick up an accessibility guide at an entry gate.

The Garden is a living museum and we ask that visitors respect NYBG's landscape and help preserve its collections.

Stay on paths, picnic on Daffodil Hill only, and keep your pets at home.
Do not pick flowers, climb trees, or touch art works.
Recreational sports, group exercise, bicycles, and toy scooters are not permitted on Garden grounds.
Photography is prohibited in the Art Gallery.
Strollers, tripods/monopods, easels, selfie sticks, food, and drink are not permitted in the Conservatory, Art Gallery, and Ross Hall.
Smoking is prohibited on Garden grounds.
Never feed or approach wildlife at the Garden.

Questions may be directed to Ticketing Support Hotline between 10 a.m. and 5 p.m. daily at ticketingsupport@nybg.org or 718.817.8716.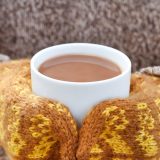 Dining
Round out your Holiday Train Show® visit with a variety of dining options.
Hudson Garden Grill | Across from the Conservatory
11:30 a.m.–6 p.m.
Tuesday–Friday; 3:30–6 p.m., offerings limited to bar service, coffee, and light snacks
Nestled within the 40-acre Ross Conifer Arboretum, Hudson Garden Grill is the first full-service dining destination to open on NYBG grounds, offering innovative New American cuisine and locally sourced ingredients.
Make reservations by calling 646.627.7711 or on opentable.com
Pine Tree Café | Leon Levy Visitor Center
Tuesday–Friday; 10 a.m.–6 p.m.
Saturday & Sunday; 9 a.m.–6 p.m.
Enjoy first-class culinary creations amid one of the Garden's arboreal wonders: a world-renowned collection of rare and unusual pines from Asia, Europe, and North America that features century-old specimens nearly 100 feet tall. The family-friendly menu ranges from artisanal panini, Neapolitan-style pizza, and signature salads to sweet treats and snacks.
Gingerbread Café
Friday–Sunday; 11 a.m.–6 p.m.
December 18–January 1 and January 15; 11 a.m.–6 p.m.
The Gingerbread Café offers a festive setting to satisfy both kids and grown-ups with a great selection of items including hot dogs, soups, sandwiches, salads, pretzels, nachos, chili, coffee drinks and hot chocolate, and a host of holiday sweet treats.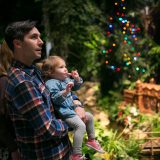 Shopping
Pick up a keepsake of your holiday visit at NYBG Shop.
NYBG Shop
Leon Levy Visitor Center
Open during regular Garden hours
Discover signature items for home and garden, and find new and unusual plants for indoors and out, nature-inspired toys, distinctive personal accessories, exhibition-related items, and more. The Shop's superb selection of gardening and horticulture books provides insight for beginner and experienced gardeners alike. During the Holiday Train Show®, explore NYBG Shop's winter wonderland of glittering ornaments, home décor, unique holiday gifts, and toy trains for kids of all ages.
Purchases in the Shop and online support the Garden's pursuit of excellence in horticulture, plant research and conservation, and education.