Mother's Day Weekend Garden Party
May 13 & 14, 2023
11 a.m.–5 p.m. | At the Garden
Treat Mom to a One-of-a-Kind Garden Party
The most spectacular spring landscape New York City has to offer is the setting for live music, games, picnicking, and more.
Join the Weekend Fun
Daffodil Hill; 11 a.m.–5 p.m.
Make Daffodil Hill your own backyard and bring the whole family together while playing your favorite garden party lawn games, make a card for Mom, and get your face painted with whimsical designs.
Picnic on the Lawn
11 a.m.–5 p.m.
Daffodil Hill
Picnic on Daffodil Hill while enjoying the delicious offerings for sale by Bronx Night Market.
Music on the Lawn
Kicking us off will be a DJ Dance Party featuring Bronx-based DJ collective Uptown Vinyl Supreme. Uptown Vinyl Supreme is a Bronx-based DJ collective and community organization paying homage to the analogue roots of music, party, and dance culture.
Lawn Games
Enjoy an assortment of family-friendly games—from Cornhole and Ladder Toss to Hoola Hoops.
Crafting with Mom!
11 a.m.–4 p.m.
Clay Family Picnic Pavilions
Join NYBG Volunteers for follow-along demonstrations.
Card for Mom
Draw and color a card for Mom using a template of botanical illustrations from the Garden's archives.
Gift for Mom
Join Materials for the Arts to use recycled materials to create a one-of-a-kind gift!
Flower for Mom
Follow along to create your own decorative paper magnolia designed by Charles Zimmerman! Zimmerman is a self-taught artist and plant lover who has been crafting paper flowers inspired by years of experience archiving botanical specimens in The New York Botanical Garden's Herbarium. Charles now lives in Asheville, North Carolina, and works as an environmental educator and teaches art classes at the North Carolina Arboretum.
Face Painting
1–4 p.m.
Clay Family Picnic Pavilion
Get your face painted with a whimsical design in the spirit of spring. Highlighted by Time Out New York Kids as one of the six best party entertainers in NYC, Face Art by Melissa is NYC's premier face painting company and an NYBG Mother's Day favorite! Melissa and her team of amazing artists will transform you and your child into princesses, tigers, butterflies, or ninjas… or wherever your imagination takes you!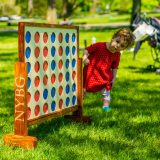 Plan Your Mother's Day Lunch
Treat Mom to a delicious farm-to-table lunch at the Hudson Garden Grill, which draws inspiration from the Garden's acclaimed Edible Academy program.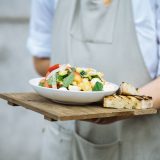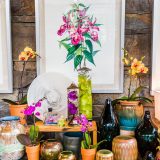 A Toast to Mom