Plant Talk
Continuing NYBG's Botanical Fieldwork in the Age of COVID-19: The Long Journey of Herbarium Specimens from Vanuatu to the Bronx
Gregory M. Plunkett, Ph.D., is Director and Curator of the Cullman Program in Molecular Systematics; Michael J. Balick, Ph.D. is Vice President for Botanical Science and Director and Philecology Curator of the Institute of Economic Botany; Matthew Pace, Ph.D., is Assistant Curator of the William and Lynda Steere Herbarium; and Sarah Hardy is a research assistant at The New York Botanical Garden. Herbarium Collections Manager Laura Briscoe provided additional information and photographs.

---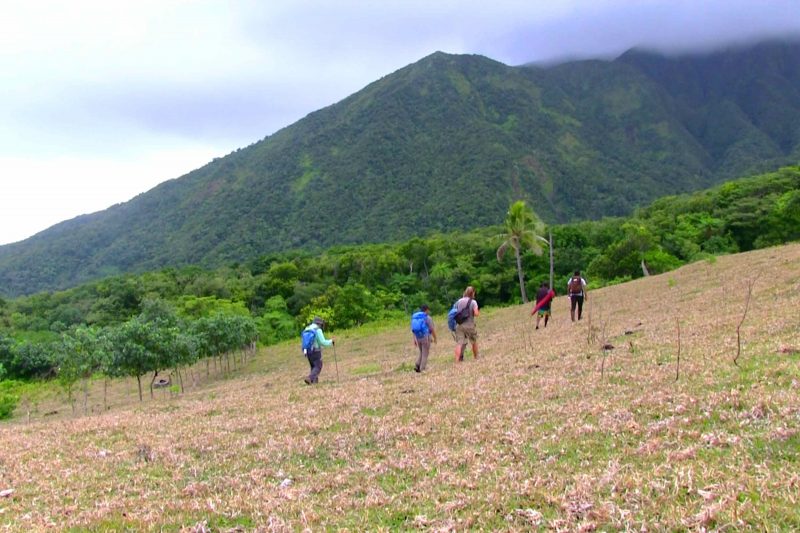 On March 12, Dr. Gregory Plunkett departed a fully functioning New York City to travel to Vanuatu, an archipelago in the southwest Pacific, where he and Dr. Michael Balick are coordinating a multifaceted and multi-institutional project to understand and document the plants of that country, the traditional uses of those plants, and their names in the 113 languages spoken by the indigenous people there. Unlike their other, extended trips to remote field sites, Greg's trip in March was supposed to be a two-week effort to organize and bundle the nearly 6,000 pressed and dried plant specimens that the team had collected during the past three expeditions and ship them back to New York.
A day later, New York City and State began enacting ever-more restrictive stay-at-home guidelines to slow the spread of COVID-19. Six days later, Vanuatu closed its international border. Greg was stranded there, but because no cases of COVID-19 were reported in Vanuatu, he was able to organize and pack up eight large boxes of plant specimens that were important to Greg and Mike's research on Vanuatu's flora. With the help of the Vanuatu National Herbarium and the Department of Environmental Protection and Conservation, Greg obtained the necessary permits to export the specimens. Coordinating with Dr. Matthew Pace back at NYBG, he obtained the three permits from the U.S. Department of Agriculture (USDA) and the Fish and Wildlife Service needed to import the specimens into the United States.
On March 24, Greg brought the large cache of specimens to a local shipping company in Vanuatu's capital city of Port Vila. At the time, even cargo flights and vessels had been suspended. By April 14, cargo was once again moving but not through the normal, direct channels. The specimens departed Port Vila for Brisbane, Australia. From there, they were sent to Singapore and then Hong Kong. Finally, on April 19, they arrived in the United States, first entering at Cincinnati. Meanwhile, Greg is still stranded in Vanuatu, but he is making the best of it and still going on extensive collection trips.
On April 23, the specimens arrived at John F. Kennedy International Airport and were transferred to the USDA Plant Inspection Station operated by USDA's Animal and Plant Health Inspection Service (APHIS). There, Dawn Cozine, an APHIS plant health safeguarding specialist, thoroughly inspected the specimens and their accompanying paperwork. This work, which is part of APHIS' critical safeguarding mission, ensures that agricultural products shipped to the United States from abroad meet the USDA's entry requirements to exclude pests and diseases that could impact our country's agriculture and natural resources. After she inspected the specimens and paperwork and found everything in order, Plant Inspection Station staff arranged for the shipment to be forwarded via an express mail delivery service to Matthew at NYBG's William & Lynda Steere Herbarium.
Once the boxes arrived safely at the Steere Herbarium, they needed to be frozen; this is done to kill any insects that might have hitched a ride inside the boxes from Vanuatu (or any other country). However, since NYBG's temporary closure in March, Herbarium staff have been working from home. Herbarium Shipping Manager Lucy Klebieko obtained special permission to return to the office for one day to freeze these specimens and any other shipments that had arrived. Science does not stand still in a pandemic, and neither do the insects that want to eat pressed plant specimens. To freeze the specimens, Lucy put the entire set of boxes in the Herbarium's large chest freezer, which holds the temperature at –40 degrees Fahrenheit. They remained in the freezer until Lucy and Herbarium Collections Manager Laura Briscoe were able to return two weeks later. As they removed the boxes of specimens from the freezer, they noted that the shipment contained not only full pressed plants but also small samples of plant tissue that were dried in bags with silica gel to preserve as much of the samples' DNA as possible. These will be used in molecular studies that could help explain the evolution and species relationships of Vanuatu's plants. Lucy and Laura moved all of the specimens to the Herbarium's cold storage room, which is kept at 50 degrees. There they await the return of Mike and Greg.
While the boxes of dried plant specimens were making their long journey from Vanuatu to NYBG, research assistant Sarah Hardy was working diligently to prepare the labels for the mounted herbarium specimens. As she explained to her three roommates, who were perplexed by the growing stacks of paper in her room, each label contains valuable information about where the plant was collected, when, and by whom. A label will eventually be glued to archival paper alongside a dried plant to form a complete herbarium specimen. NYBG staff will then photograph the specimen and enter the label information in the database of the C. V. Starr Virtual Herbarium so the specimen will be available online to scientists across the globe.
And that is how plants collected from a small island nation, as part of a study funded by the National Science Foundation devoted to understanding the plant and fungal diversity of a very poorly explored part of the world, traveled 15,439 miles from a forest in Vanuatu to the NYBG Herbarium.
SUBSCRIBE
Enter your email address to subscribe to this blog and receive updates on new posts.