Plant Talk
GEAR UP Students Explore Career Pathways in Landscape Architecture with ASLA
Tai Montanarella is the Marian S. Heiskell Associate Director of School and Out-of-School Programs at The New York Botanical Garden.
---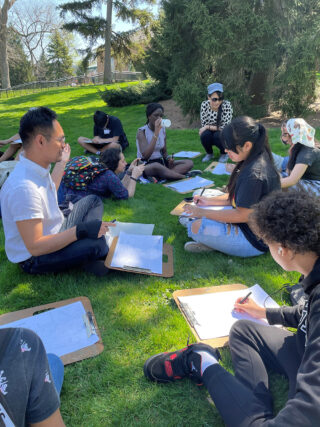 Middle school students enrolled in Gaining Early Awareness and Readiness for Undergraduate Programs (GEAR UP) at the Bronx Institute at Lehman College joined us at the Garden during their Spring Recess, April 12–13, where they explored the designed landscapes of Lily Kwong's The Orchid Show: Natural Heritage in the Haupt Conservatory, as well as the beauty of the Native Plant Garden. During their journey they discovered the role of a botanical garden while participating in mission-based conservation action. Yet it was their personal connections to nature uncovered during their two-day program that surprised them.
During their journey guided by GreenSchool educators, they imagined and created their own landscape design drawings with the Garden's Planning, Design, and Construction Manager, Slavica Mickovic, and the Education Committee members of the American Society of Landscape Architecture New York Chapter. Their task was to create a memorable space for people in the area leading from the road that circumvents the Garden to the catering facility in the Garden Terrace Room. They had ideas, and they were encouraged to get them on paper with this team of professionals in the field.


In the LuEsther T. Mertz Library, students demonstrated their art and creativity while presenting their vision. It was apparent that logic and problem solving was implemented in each sketch, but what resonated were the experiences and histories students brought to this place while designing and sharing their thinking. These included:
A spot to think of "long-distance" friends that have moved away
First aid station and medical assistance
Public bus stop inside the Garden
More benches to just hang out with friends and talk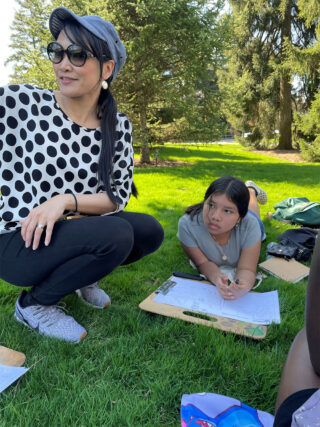 As one student commented while reflecting with the group about their two days at the Garden, "socializing and meeting people" was their favorite aspect, reinforcing the idea that personal connections and positive experiences in nature may be the greatest act of conservation.
GEAR UP is an initiative to increase academic performance and college and career readiness for middle through high school students from underserved communities. One of its fundamental tenets to college and career readiness is the importance of students' first-hand exposure to varieties of career paths.
The Education Committee of the American Society of Landscape Architects New York Chapter (ASLA-NY) goal is to connect Landscape Architecture as a career path to young people from underrepresented communities through mentorship and outreach programs.
SUBSCRIBE
Enter your email address to subscribe to this blog and receive updates on new posts.