9/28/2014: 2:00 p.m.–3:30 p.m.
Featured Booksigning: Eileen Rockefeller
Author of Being A Rockefeller, Becoming Myself
At Shop in the Garden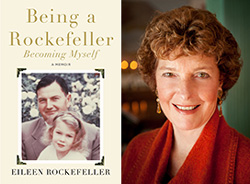 Eileen Rockefeller will be on hand in Shop in the Garden from 2 to 3:30pm to sign softcover copies of her recently published memoir Being A Rockefeller, Becoming Myself.
Eileen Rockefeller is the great-granddaughter of John D. Rockefeller and the youngest child of David and Peggy Rockefeller. The first Rockefeller woman to write a personal family memoir, Eileen reveals her family's wholesome values and her intimate stories affirm how self-understanding helps make us whole, whatever the circumstances of our birth.
Eileen is co-chair of her family's generational association, the founding chair of the Rockefeller Philanthropy Advisors, founder of the Institute for the Advancement of Health, and co-founder of the Collaborative for Academic, Social and Emotional Learning (CASEL). Together with her husband and sons, Eileen manages a philanthropic fund that catalyzes actions to stem climate change.
Included with
All-Garden Pass
admission
|
Get Your Tickets
|
Share