Landscape Design Students & Alumni Series: Nick McCullough
Tuesday, October 25, 2022
1 – 2 p.m. | At the Garden
American Roots
Revel in the beauty and unique character of the landscapes that designer Nick McCullough sought out on his quest to define the American garden. You'll get an intimate look at gardens from many regions across our vast nation, all of which were designed and planted by their owners-from an unconventional quarter-acre prairie garden that fronts a suburban Nebraska home to a post-Katrina New Orleans cutting garden. Gain design inspiration, planting tips, and an expanded notion of what an American garden is from this lushly illustrated talk.
About the Speaker
Award-winning garden designer Nick McCullough has developed a distinctive style he calls Midwest Modern, one that relies on a balance of natural paving and innovative perennial plantings. Based in Ohio, he and his team at McCullough's Landscape & Nursery create and maintain plant-centric gardens in and around the Midwest that are both ecologically sensitive and family-forward.
His first book, American Roots, which he co-authored with his wife Allison and Teresa Woodard, has recently been published by Timber Press.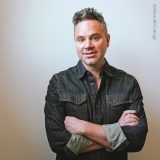 We offer Continuing Education credits (CEUS) for LA CES and APLD for successful completion of this lecture.