Landscape Design Students & Alumni Series: David Maynes
Tuesday, January 17, 2023
1 – 2 p.m. | Online
Holistic Design Thinking
Maine-based landscape architect David Maynes creates spaces that encourage people to actively engage with the ecological processes that unfold around them. For him, a client's perception of the landscape is just as important as a plant palette; a landscape's edges and transitions create opportunities; and a site's details are the bridge that foster connection between people and landscapes. Join Maynes for a wide-ranging discussion about the natural materials he uses-from sustainably sourced wild sods to local stone-and the many principles that guide his work.
About the Speaker
David Maynes, PLA, has more than 20 years of experience designing, planning, and building landscapes in New England and Maritime Canada. Currently, davidmaynesSTUDIO focuses on private residential design, farm and landscape systems design, rural park development, ecosystem restoration, and long-term landscape planning. He holds a BS in Environmental Horticulture & Design from the University of Maine, Orono and a MLA from the University of Massachusetts, Amherst.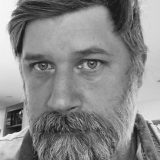 We offer Continuing Education credits (CEUS) for LA CES and APLD for successful completion of this lecture.