Landscape Design Students & Alumni Series: Dan Benarcik
Tuesday, February 21, 2023
1 – 2 p.m. | At the Garden
The Art and Artistry of Chanticleer
Chanticleer Garden, a gracefully designed series of thoughtfully planted rooms, is also known for the whimsical artwork crafted by its staff in the off-season. Their original metal sculptures, ceramic containers, wooden furniture, carved stone elements, and creative plant supports are an integral part of the visitor experience. Horticulturist Dan Benarcik highlights many of these artists and illustrates how their work creates pockets of charm and comfort that help make Chanticleer unique.
About the Speaker
Dan Benarcik has worked at Chanticleer for almost 30 years and currently oversees their Courtyard Gardens featuring tropical, subtropical, and tender perennials for seasonal display. He judges for the Philadelphia Flower Show and has worked on extended assignment at Lotusland, Long Vue House, and Ayerlies Garden. A former Regional Director of the Garden Writers Association, he has written for many publications, including Fine Gardening, Horticulture, and Martha Stewart Living.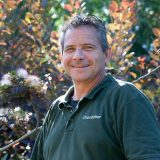 We offer Continuing Education credits (CEUS) for LA CES and APLD for successful completion of this lecture.