Earth Day Weekend
Saturday, April 20, 2019 – Monday, April 22, 2019
Celebrate the natural world and join us in preserving and protecting our planet's biodiversity.
It's one of the most significant weekends of the year to share your #plantlove. Connect with the environment and appreciate its natural wonders with a parade, music, and behind-the-scenes tours and programs highlighting NYBG's mission-driven commitment to saving the plants of the world.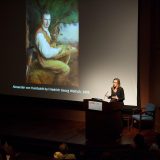 Andrea Wulf: The Adventures of Alexander von Humboldt
Friday, April 19
Kick off Earth Day Weekend with a lecture by bestselling author Andrea Wulf, who returns to the Garden to introduce her new book, The Adventures of Alexander von Humboldt on the occasion of Humboldt's 250th birthday.
Wulf discusses her evocative graphic novel recounting the revolutionary naturalist-explorer-author's five-year expedition in South America, including a conversation with collaborating graphic artist Lillian Melcher.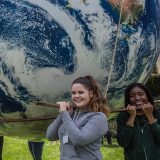 A Tribute to the Planet
Connect with the natural world through music and a lively parade.
Parade for the Planet
Saturday; 2 p.m.
Take part in a colorful tribute to the natural world during this lively parade. March alongside our giant Earth ball and larger-than-life puppets and come dressed in your own unique costume in tribute to Mother Nature for a chance to win special prizes.
Music with Angélica Negrón
Saturday; 3 p.m.
NYBG's 2019 composer-in-residence Angélica Negrón performs original works that elicit a deeper connection to the natural world. Her music and soundscapes reveal the sounds of nature through electrodes that respond to the rhythmic biology of plants.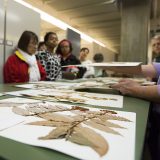 Behind the Scenes with Plant Research & Conservation
Learn about the ways NYBG is working to save the plants of the world and protect biodiversity, and how you can get involved.
Herbarium Open House
Saturday–Monday; 11 a.m.–2 p.m.
Steere Herbarium

Go behind the scenes of the Steere Herbarium, one of the world's foremost repositories of dried plants collected throughout the world, to see how these specimens are prepared, digitized, and used for research. Peruse a variety of plants and fungi across a wide range of history, from truffles to peanuts to palms. Meet Herbarium staff who will provide insight and answer your questions.
Plant Research Lab Tours
Saturday–Monday; 11 a.m. & 1 p.m.
Meet in the Plant Research Laboratory lobby

Get a rare behind-the-scenes look at NYBG's state-of-the-art laboratory and meet some of the scientists who lead teams studying DNA and genomes in order to understand plants, fungi, and algae at their most essential levels.
The Scientist Is In
Saturday & Sunday; 30 minute sessions at 12, 1, 2 & 3 p.m.
Meet NYBG scientists and students to learn how they collect, study, and conserve plants and fungi, from the Bronx to Brazil. Learn how you can become a citizen scientist by participating in EcoQuest Challenges and documenting your own observations via iNaturalist, an easy-to-use app.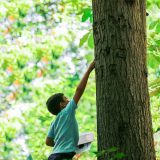 Family Fun
Family-friendly activities inspire budding environmental stewards to find joy in the natural world and interest in its well-being.
Budding Botanists
Saturday–Monday; 1:30–5:30 p.m.
Everett Children's Adventure Garden
Explore the unfolding wonders of the spring season. Investigate amazing sights and sounds of spring inside the Discovery Center using science tools; then go outside to hunt for evidence that plants and animals are awakening from their winter slumber. Craft your own seed-sprouting tray to observe at home.
Plants for Pollinators Potting Activity
Saturday–Monday; 11 a.m.–4 p.m.
Plant your own native seedling, such as an Aster or Morning Glory, which, come summer, is sure to attract local pollinators to your neck of the woods.
Kids Count!
Saturday & Sunday, April 20–21; 11 a.m.–4 p.m.
Everett Children's Adventure Garden
Learn about a teen-led, three-season project to document leaf, flower, and fruit development in native plants growing in the Adventure Garden. Go out to observe the pussy willow, a harbinger of spring. The data you gather contributes to the National Phenology Network's efforts to collect, store, and share phenology data and information worldwide.
Wake Up, Garden!
Saturday; 1:30–5:30 p.m.; Sunday; 10 a.m.–5:30 p.m.
Edible Academy
Children are invited to roll up their sleeves and help tend the gardens. Dig in the soil, sow seeds, water the seedlings, and harvest ripe produce