Earth Day Weekend
Saturday, April 20, 2019 – Monday, April 22, 2019
Celebrate the natural world and join us in preserving and protecting our planet's biodiversity.
It's one of the most significant weekends of the year to share your #plantlove. Connect with the environment and appreciate its natural wonders with a parade, music, and behind-the-scenes tours and programs highlighting NYBG's mission-driven commitment to saving the plants of the world.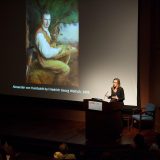 Andrea Wulf: The Adventures of Alexander von Humboldt
Friday, April 19; 10:30 a.m.
Kick off Earth Day Weekend with a lecture by bestselling author Andrea Wulf, who returns to the Garden to introduce her new book, The Adventures of Alexander von Humboldt on the occasion of Humboldt's 250th birthday.
Wulf discusses her evocative graphic novel recounting the revolutionary naturalist-explorer-author's five-year expedition in South America, including a conversation with collaborating graphic artist Lillian Melcher.
Humboldt Specimens on Display
Friday 12–2 p.m.
Mertz Library
View several of Humboldt's own dried plants specimen from the William and Lynda Steere Herbarium and some of his groundbreaking literary works that form part of the Library Collections.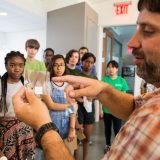 Behind the Scenes with Plant Research & Conservation
Learn about the ways NYBG is working to save the plants of the world and protect biodiversity, and how you can get involved.
Plant Research Lab Tours
Saturday–Monday; 11 a.m. & 1 p.m.
Meet in the Plant Research Laboratory lobby

Get a rare behind-the-scenes look at NYBG's state-of-the-art laboratory and meet some of the scientists who lead teams studying DNA and genomes in order to understand plants, fungi, and algae at their most essential levels.
The Scientist Is In
Saturday & Sunday; 30 minute sessions at 12, 1, 2 & 3 p.m.
Meet NYBG scientists and students to learn how they collect, study, and conserve plants and fungi, from the Bronx to Brazil. Learn how you can become a citizen scientist by participating in EcoQuest Challenges and documenting your own observations via iNaturalist, an easy-to-use app.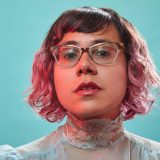 Music & Art for Earth
Take part in an interactive performance with NYBG composer in residence, Angélica Negrón, and learn how to create your own art using recycled materials.
Angélica Negrón's Living Soundscapes
Saturday; 2:30 & 3 p.m.
Leon Levy Visitor Center

NYBG's 2019 composer-in-residence Angélica Negrón performs original works that elicit a deeper connection to the natural world. Her music and soundscapes reveal the sounds of nature through electrodes that respond to the rhythmic biology of plants.
Live Music with Cumbia River Band 
Sunday; Performances at 1, 2, & 3 p.m.
Leon Levy Visitor Center

Cumbia River Band draws from a festive repertoire that take you back to the golden years of Colombian Cumbia. Featuring tuba, accordion, clarinet, percussion, guitar and voices, this New York based band delivers a captivating performance, supported by a unique approach to orchestration, which honors both traditional and contemporary sounds found in today's tropical music scene.
Materials for the Arts: One Person's Trash is Another's Art!
Saturday–Monday; 12-4 p.m.
Keep materials out of landfills through the creation of art! Materials for the Arts, NYC's premier reuse facility, invites you to draw your own portrait or craft a percussion instrument using hundreds of reusable CD cases.
Materials for the Arts (MFTA) aims to build relationships with the New York City arts, culture and educational communities by teaching the value of Creative Reuse and supplying endless donated materials for art making. The goal is to make a larger impact on the global carbon footprint through sustainability practice in creativity.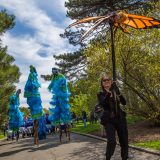 A Tribute to the Planet
Connect with the natural world through music and a lively parade.
Parade for the Planet
Saturday; 2 p.m.*
Take part in a colorful tribute to the natural world during this lively parade. March alongside our giant Earth ball and larger-than-life puppets to the festive rhythms of the Marching Cobras Drumline
*In the event of inclement weather, the parade will be rescheduled to Sunday at 2 p.m.
The Marching Cobras are an internationally acclaimed, award-winning drumline and part of a non-profit community program created to teach kids leadership, teamwork skills, and physical fitness. The ensemble appeared in the Oscar-winning film Birdman, the 2014 Superbowl, and are part of the annual Times Square New Year's Eve celebration.
The Brooklyn Jumbies giant stilt walkers perform parts of Ocean(s) Blue, charting mankind's relationship with the ocean and the urgent need for collective transformation.
Lucrecia Novoa's Giant Monarch Butterfly Puppets join in to add even more color and life to the procession. Visual artist, educator, and puppeteer Lucecia Novoa is the founder and director of "Mascara Viva." She uses a combination of masks, puppets, costumes, storytelling, and dance to interpret the folk traditions of different cultures.
Looking Glass Productions: Created in 1993, Alice Farley's work has been recognized with a "Bessie," six choreographic fellowships from the NEA, grants from NYFA, DCA, the Cary Trust, Meet the Composer, the Jim Henson Foundation, and others for her innovative dance/theater productions.
Earth Ball on Display
Saturday–Monday
Reflecting Pool

Debuting in 2017, the Earth Ball is back for another Earth Day Celebration.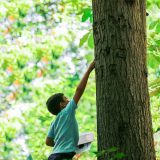 Family Fun
Family-friendly activities inspire budding environmental stewards to find joy in the natural world and interest in its well-being.
Budding Botanists
Saturday & Sunday; 1:30–5:30 p.m.
Monday; 10 a.m.–5:30 p.m.
Everett Children's Adventure Garden
Stand up for plants! Become a plant champion in the Children's Garden this spring. Discover bulbs and buds as they wake up and seeds sprout. Search for plants and animals in the Children's Garden as they grow and change through the season. Make a seed sprouting tape to plant at home and design a button that proclaims why you love plants.
Plants for Pollinators Potting Activity
Saturday–Monday; 11 a.m.–4 p.m.
Plant your own native seedling, such as an Aster or Morning Glory, which, come summer, is sure to attract local pollinators to your neck of the woods.
Kids Count!
Saturday & Sunday, April 20–21; 11 a.m.–4 p.m.
Everett Children's Adventure Garden
Learn about a teen-led, three-season project to document leaf, flower, and fruit development in native plants growing in the Adventure Garden. Go out to observe the pussy willow, a harbinger of spring. The data you gather contributes to the National Phenology Network's efforts to collect, store, and share phenology data and information worldwide.
Dig! Plant! Grow! Wake Up, Garden!
Saturday; 1:30–5:30 p.m.
Sunday & Monday; 10 a.m.–5:30 p.m.
Edible Academy
Children are invited to roll up their sleeves and help tend the gardens. Dig in the soil, sow seeds, water the seedlings, and harvest ripe produce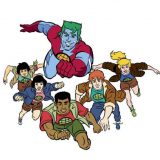 Captain Planet Screenings
Saturday and Monday; 11 a.m.–4 p.m.
Ross Hall
Join us for episode screenings from the hit 1990s cartoon show as a quintet of teenagers, the planeteers, work together to encourage environmentally responsible behavior and summon a superhero to deal with ecological disasters. Presented in partnership with the Captain Planet Foundation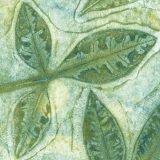 Gelatin Printing: Perserving Plant Specimens
Saturday; 10 a.m.–1 p.m
Watson Building, Room 101
Lillian Melcher, whose illustrations grace the pages of The Adventures of Alexander von Humboldt, discusses how the explorers of old recorded the botanical specimens they found while fording river rapids and climbing mountain tops!
Then you will experiment with color and layering using a similar, rewarding technique to make extremely detailed impressions of leaves and flowers from the Garden. Go home with an exquisite record of your visit to NYBG.
$95/$105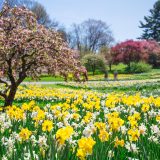 Early Morning Yoga with CorePower Yoga
This event has been cancelled due to weather.
Saturday; 9:30–10:30 a.m.
Daffodil Hill
Gather on the top of Daffodil Hill and forge a deeper connection with nature during an early morning yoga session surrounded by spring blooms with CorePower Yoga and The Sill.