Ebony G. Patterson in Conversation with Thelma Golden
Thursday, May 25, 2023
5:30–6:30 p.m. | At the Garden
This summer NYBG presents a major site-specific exhibition by contemporary artist Ebony G. Patterson. The first artist to embed within the institution for an immersive residency, Patterson is working directly with NYBG's gardens and collections to create spaces that evoke the natural world while simultaneously using beauty as an invitation to confront larger societal questions about race, gender, class, and violence. Her exhibition will provoke questions about what is traditionally considered beautiful and what is often cast aside as unwelcoming or threatening, seducing viewers into acknowledging darker truths lurking ominously beneath lushly planted surfaces.
This event will celebrate the opening of the exhibition, on view beginning May 27, through a dynamic conversation between the artist and Thelma Golden, the world's premier curator of art of the African Diaspora and Director and Chief Curator of The Studio Museum in Harlem.
This event has past and will be posted in the Lecture Library in the coming months.
Ebony G. Patterson is an award-winning visual artist who works in a range of media to use beauty as a tool to address global injustices. Her work is included in the collections of major art institutions including the Los Angeles County Museum of Art, The Studio Museum in Harlem, the Whitney Museum in New York, the Pérez Art Museum Miami, and the National Gallery of Jamaica, among others. Most recently, she was awarded the 2023 David C. Driskell Prize by the High Museum of Art in Atlanta.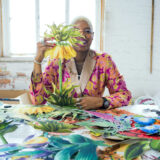 Thelma Golden is Director and Chief Curator of The Studio Museum in Harlem, the world's leading institution devoted to visual art by artists of African descent. Under her leadership, the Studio Museum has gained increased recognition as a global leader in the exhibition of contemporary art, a center for innovative education, and a cultural anchor in the community.
Prior to her tenure at the Studio Museum, Ms. Golden organized numerous groundbreaking exhibitions at the Whitney Museum, including Black Male: Representations of Masculinity in American Art. She has received numerous awards, fellowships, and honorary doctorates, and currently serves on the Board of Directors for the Barack Obama Foundation and the Los Angeles County Museum of Art.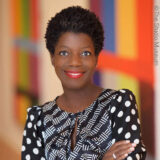 Above:
Lead image: Ebony G. Patterson, …in the waiting…in the weighting…(detail), 2021. Courtesy of the artist and Monique Meloche Gallery, Chicago
Headshot: Courtesy of the artist and Monique Meloche Gallery; Photo: Frank Ishman