For Members
10 a.m.–6 p.m. | At the Garden
Members receive daytime admission to …things come to thrive…in the shedding…in the molting… for free every day! Advanced reservations are recommended, but not required. Reserve online.
Members-Only Preview
Friday, May 26, 2023
10 a.m.–6 p.m.
See the exhibition first and take advantage of free parking; discounts at NYBG Shop, Pine Tree Café, and Hudson Garden Grill; and 4 half-price tickets for guests.
Members-Only Preview Schedule
Roaming Guides
Enid A. Haupt Conservatory
10 a.m.–4 p.m.

Engage with our friendly and knowledgeable guides for an in-depth look at Ebony G. Patterson's provocative contemporary art installations.
Tips and Tricks for iPhone Photography
Native Plant Garden Pavilion
11 a.m.–12 p.m.

With the Native Plant Garden as your subject, expert photographer Jeff Falk will demonstrate essential skills and hidden camera settings that will take your photos to a whole new level. All you'll need to bring is your smart phone!  
Imagine the Plant
Leon Levy Visitor Center
11 a.m.–2 p.m.

Learn about the history of extinct plants that have been preserved in the NYBG Herbarium, and color your own interpretation of what these plants would look like in our landscape today!
Native Plant Garden Tour
Native Plant Garden Pavilion
12–1 p.m.

This 3.5-acre garden celebrates the beauty of plants native to northeastern North America. Enjoy a guided tour to learn more about the plant life, garden design, and stunning water features.
Vanishing Art: A Living Gallery
Throughout Garden Grounds
12–3 p.m.

Engage with the first of a series of artistic pop-ups that focus on ephemeral art, renewal and care for our objects, and art that leaves minimal traces on the environment.
Hidden Life of the Forest Tour
Meet at Reflecting Pool
2:15–3:15 p.m.

The Thain Family Forest is alive with rich and complex relationships between critters, fungi, and plants interacting with one another in hidden ways. Unearth these connections on this walking tour with an NYBG guide.
Things to Be Remembered: Interactive Art Project
4th Floor Rotunda​ of LuEsther T. Mertz Library 
Garden hours, 10 a.m.–6 p.m.

What have you witnessed, felt, needed, or loved during your visit to the Garden today? Add your reflections to our ongoing collective work of art for you to return to throughout the run of the exhibition.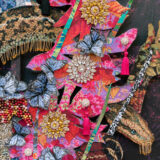 Helpful Exhibition Tips
Share

…things come to thrive…in the shedding…in the molting…

by Ebony G. Patterson

 

with friends and family by redeeming a guest pass, accepted at any ticketing booth every day!

Members can visit the exhibition

 

multiple times to see Patterson's breathtaking and provocative art displays,

 

along with seasonal collections across our 250 acres.
Don't miss out on additional tours, programs, and ephemeral art pop-ups throughout the exhibition's run! Check our "What's On" page for the full calendar.