Ebony G. Patterson
Saturday, May 27, 2023 – Sunday, September 17, 2023
Breaking news! We're announcing our all-new Spring/Summer exhibition for 2023—and this is one you're not going to want to miss!
Read The New York Times' exclusive announcement about this upcoming Garden-wide exhibition, and learn more.
This summer NYBG presents a major site-specific exhibition of sculptural and horticultural installations by visual artist Ebony G. Patterson. The first visual artist ever to embed within the institution for an immersive residency, Patterson is working directly with NYBG's gardens and collections to form a new body of work that brings her unique perspective on formal gardens to life within the 250-acre National Historic Landmark landscape. The exhibition will reflect a deep engagement with the concept of gardens as human-made interventions in nature, shedding new light on the Botanical Garden while providing new pathways for engagement with the natural world.
Marking the first solo exhibition for Patterson at a major New York institution since 2016, the show at NYBG will provide unique insight into the artist's work, which has long examined and experimented with the concept of the garden: depicting, realizing, and creating spaces that evoke the natural world, flowers, and landscape through a practice that uses beauty as an invitation to confront larger societal questions and concerns. Patterson's dynamic, colorful, and immersive work across media images gardens that grow out of a complex entanglement of race, gender, class, and violence, seducing viewers into acknowledging a darker truth lurking ominously beneath the lushly planted surface. 
Image courtesy of the artist and Monique Meloche Gallery
Photo: Frank Ishman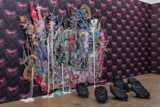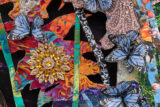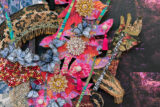 Coming in May 2023, artist Ebony G. Patterson will transform the Garden grounds and glasshouses with an immersive exhibition that examines and experiments with the idea of gardens, creating work that uses beauty as an invitation to confront larger societal questions and concerns. Her work will provoke questions about what is traditionally considered beautiful and what is often cast aside as unwelcome, and even threatening.
Ebony G. Patterson
…in the waiting…in the weighting…, 2021
Hand-cut jacquard woven photo tapestry with glitter, appliqués, pins, brooches, embellishments,
fabric, tassels, acrylic beads, 7 hand-embellished resin-based vultures, on artist-designed vinyl wallpaper
106 x 132 x 84 in.
269.2 x 335.3 x 213.4 cm
Courtesy of the artist and Monique Meloche Gallery, Chicago