…things come to thrive…in the shedding…in the molting…
Now Extended Through October 22, 2023
10 a.m.–6 p.m. | At the Garden
This summer, experience the seductive beauty of gardens through the eyes of celebrated contemporary artist Ebony G. Patterson. Known for her lavishly detailed mixed media installations, Patterson brings her signature style to the Enid A. Haupt Conservatory, and NYBG's landscape and galleries, in a major site-specific exhibition featuring breathtaking and provocative displays of art and nature.
Patterson's work will captivate Garden visitors with the beauty of exotic flora and garden-inspired installations—from a monumental peacock sculpture to swarms of glitter-encrusted vultures. Inspired by her immersion in NYBG's collections, Patterson's work explores entanglements of race, gender and colonialism while inviting visitors to contemplate their own relationships with gardens and the natural world.
Don't miss this opportunity to see one of the most exciting contemporary artists of our time transform one of the most stunning settings in New York City like never before. Ebony G. Patterson's summer exhibition at NYBG is a must-see.
Image courtesy of the artist and Monique Meloche Gallery
Photo: Frank Ishman
Exhibition Guide
Explore the components of Patterson's provocative installations as well as accompanying programs to experience during the exhibition.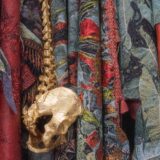 Ebony G. Patterson
Ebony G. Patterson received her BFA in painting from Edna Manley College of Visual and Performing Arts in Kingston, Jamaica in 2004. She received an MFA degree in 2006 in printmaking and drawing from the Sam Fox School of Design & Visual Arts at Washington University in St. Louis.
Patterson has taught at the University of Virginia; Edna Manley College School of Visual and Performing Arts; has served as Associate Professor in Painting and Mixed Media at the University of Kentucky; and was the Bill and Stephanie Sick Distinguished Visiting Professor at the School of the Art Institute of Chicago. She has been featured in biennials worldwide including Liverpool (2021), Athens (2021), São Paulo (2016), and Havana (2015). Her work is in the collections of institutions including 21c Museum and Foundation, Louisville, Kentucky; Art Gallery of Ontario, Toronto; Los Angeles County Museum of Art, Los Angeles, CA; Museum of Art and Design, New York; Nasher Museum, Duke University, Durham, NC; the National Gallery of Jamaica, Kingston; the Pérez Art Museum Miami; San Francisco Museum of Modern Art; Speed Art Museum, Louisville, Kentucky; Studio Museum in Harlem; the Virginia Museum of Fine Art; and the Whitney Museum of American Art. Patterson is Co-Artistic Director, along with curator Miranda Lash, of Prospect.6 New Orleans, slated to open in Fall 2024.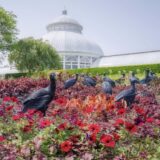 Wine & Water Lilies
Saturdays, July 15 & 29; Thursday, August 17; 3–6 p.m.
Launching during …things come to thrive…in the shedding…in the molting…, the all-new Wine & Water Lilies will entice visitors to take in the stunning lotuses and water lilies in the Haupt Conservatory Courtyards with a drink in hand.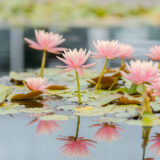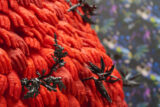 Ebony G. Patterson
...fester… (detail), 2023
Hand-cut jacquard woven photo tapestry with glitter, trim, tassels, lace, metal, plastic and glass beaded pins on foam and wood armature. White blown-glass plants, black flame-worked glass plants, gold leaf on found plastic spine, glittered resin vultures and artist-designed vinyl wallpaper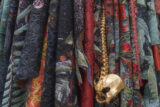 Ebony G. Patterson
...fester… (detail), 2023
Hand-cut jacquard woven photo tapestry with glitter, trim, tassels, lace, metal, plastic and glass beaded pins on foam and wood armature. White blown-glass plants, black flame-worked glass plants, gold leaf on found plastic spine, glittered resin vultures and artist-designed vinyl wallpaper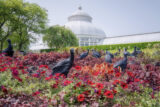 Ebony G. Patterson
…things come to thrive…in the shedding…in the molting…, 2023
Glittered foam vultures, cast glass-and-hydrostone peacock on shellacked wood and Plexiglas armature with metal c-clamps, cast-glass limbs, blown-glass vertebrae, flame-worked glass plants, and living plants with sound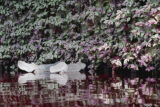 Ebony G. Patterson
…things come to thrive…in the shedding…in the molting…, 2023
Glittered foam vultures, cast glass-and-hydrostone peacock on shellacked wood and Plexiglass armature with metal c-clamps, cast-glass limbs, blown-glass vertebrae, flame-worked glass plants, and living plants with sound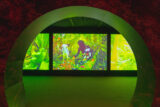 Ebony G. Patterson
Study for The Observation: The Bush Cockerel Project, A Fictitious Historical Narrative, 2012
Three-channel digital color video projection, with sound; artificial flowers, and glass orbs
19 min, 27 sec
Courtesy of Monique Meloche Gallery, Chicago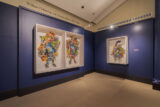 Mixed media artworks in the William D. Rondina and Giovanni Foroni LoFaro Gallery