Ebony G. Patterson
Saturday, May 27, 2023 – Sunday, September 17, 2023
This summer, experience the seductive beauty of gardens through the eyes of celebrated contemporary artist Ebony G. Patterson. Known for her lavishly detailed mixed media installations, Patterson brings her signature style to the Enid A. Haupt Conservatory, and NYBG's landscape and galleries, in a major site-specific exhibition featuring breathtaking and provocative displays of art and nature.
Patterson's work will captivate Garden visitors with the beauty of exotic flora and garden-inspired installations – from a monumental peacock sculpture to swarms of glitter-encrusted vultures. Inspired by her immersion in NYBG's collections, Patterson's work will explore entanglements of race, gender and colonialism while inviting visitors to contemplate their own relationships with gardens and the natural world.
Don't miss this opportunity to see one of the most exciting contemporary artists of our time transform one of the most stunning settings in New York City like never before. Ebony G. Patterson's summer exhibition at NYBG is a must-see.
Image courtesy of the artist and Monique Meloche Gallery
Photo: Frank Ishman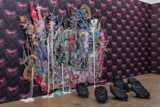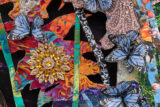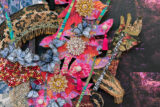 Ebony G. Patterson
…in the waiting…in the weighting…, 2021
Hand-cut jacquard woven photo tapestry with glitter, appliqués, pins, brooches, embellishments,
fabric, tassels, acrylic beads, 7 hand-embellished resin-based vultures, on artist-designed vinyl wallpaper
106 x 132 x 84 in.
269.2 x 335.3 x 213.4 cm
Courtesy of the artist and Monique Meloche Gallery, Chicago