Exhibition Guide
Now Extended Through October 22, 2023
10 a.m.–6 p.m. | At the Garden
Explore the components of Patterson's deceptively beautiful installations across the grounds and galleries, composed of major landscape interventions, large-scale installations indoors and outdoors, and an exhibition of the artist's new and recent work across media.
On the Enid A. Haupt Conservatory lawn, hundreds of glittering vultures descend like shadows to gather among wound-like ruptures in the landscape. The artist embraces the lush, colorful, and enticing elements of gardens—floral displays rich with color and fragrance that embrace the life cycle of plants through the seasons—while offering bold and provocative disruptions.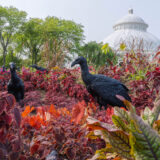 Inside the Conservatory, colorful plantings and ghostly cast glass plants representing extinct species that now exist only as specimens in NYBG's Herbarium lay beneath an inspirational cast-glass-and-hydrostone white peacock perched high above.
Under the initially lush and colorful appearance of the installation, the full cycles of decay, regeneration, and regrowth lurks. Stretching through the Conservatory as a red path, the peacock's tail ends in the pool at the center of the palm dome, where visitors can peek beneath to see the secrets revealed underneath the decaying garden's surface.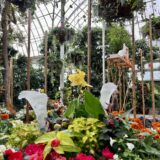 Throughout the LuEsther T. Mertz Library Building galleries on the 2nd and 6th floors, Patterson's latest works on paper and mixed media will be presented along with an immersive video installation exploring both gardens and uncultivated, wild nature.
Patterson's garden installations in the Conservatory explore what it means to lose plants to extinction. On the Library's 4th floor, see the herbarium specimens that inspired her—objects that in many ways are the only remaining evidence we have for dozens of recently extinct plant species. In the last several hundred years, extinction rates have skyrocketed thanks to human mistreatment of the natural world. Hear what NYBG scientists are doing about it.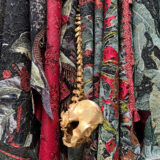 Programs and Interactive Activities
Engage with the exhibition and installations on any day of your visit.
Exclusive Content and Tours
Check out the schedule for various on-site tours lead by our excellent volunteers and wonderful partners. And go deeper into the exhibition by downloading the Bloomberg Connects App and listening to exclusive audio from the artist.