Pumpkin Carving Face-Off Weekend
October 15 & 16, 2022
10 a.m.–6 p.m. | At the Garden
Three master pumpkin carvers battle in a round of intense pumpkin carving challenges. The competition will be hosted by NYBG Master Carver Adam Bierton.
Top Carver: A Master Pumpkin Carving Face-Off
Saturday; 12–4 p.m.
Reflecting Pool

Master carvers Alan Silva, Lenny Calvin, and Lincoln Bias battle in rounds of intense pumpkin carving challenges hosted by Adam Bierton.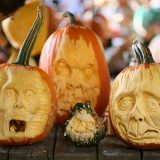 Pumpkin Carving with Adam Bierton
Sunday; 12–4 p.m.
Visitor Center
Watch as amazing pumpkin faces and designs emerge from pumpkins of all shapes and sizes.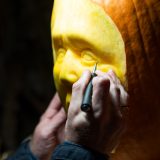 Design Your Own Pumpkin
11 a.m.–2 p.m.
Clay Family Picnic Pavilion

Come on by and design your own mini pumpkin using paints, markers, and more!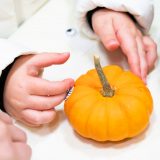 WICKED Pumpkin Carving and Textile Drive
12–4 p.m.
Visitor Center
Join NYBG and WICKED for Pumpkin Carving Face-Off Weekend featuring scenes inspired by the Broadway show WICKED! Plus, Broadway Green Alliance and WICKED will host a textile drive during the weekend.
Bring any unwanted clean and dry clothing, paired shoes, linens, handbags, and other reusable textiles. We cannot accept carpeting, rugs, bath mats, comforters, pillows, large luggage, or scraps of any kind.
Look for the WICKED/BGA table in the Visitor Center to drop off your textile donations and enter to win 4 tickets to WICKED on Broadway!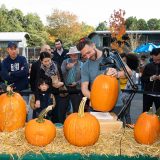 Adam Bierton is a professional sculptor and pumpkin carver based in New York. Most famously known for his 3D style pumpkin carvings and his season five win of the popular Food Network series Halloween Wars in 2015. Bierton has competed in several other network series and has successfully carved some of the largest pumpkins from all over the country. To learn more, visit his website here.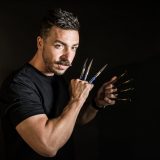 Lincoln Bias is a self-taught international carver, and his love of pumpkin carving and artistry has awarded him nationwide recognition and television appearances. Lincoln is an exceptional artist trained in the ancient Thai art of Ka Sa Lak. Lincoln's work has taken him all over the world, and he is known for his fruit and vegetable carving lessons. Photo by Rockford Register Star.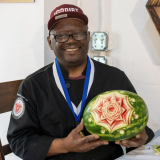 Alan Silva studied illustration and computer animation at the Academy of Art in San Francisco. Silva's murals can be seen in local businesses and homes from San Diego to Sacramento. He has also appeared on CBS, KCRA and CW's live morning shows doing art demonstrations from carving pumpkins to body painting. In 2022, he joined the cast of Season 3 Outrageous Pumpkins on the Food Network.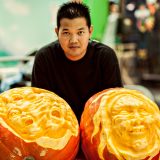 Lenny Calvin describes himself as a "self-taught artist." His artistic eye found its way into his designing, carpentry, furniture making, and pumpkin carving. Calvin has competed on Food Network's Halloween Wars Seasons 6 & 8 and Outrageous Pumpkins Season 2, and he's been featured on many local & national news stations. His fans can see his work on Instagram, Facebook, and YouTube at LennyCalvinCreations. He claims his favorite time of the year is when there are an abundance of pumpkins to carve, calling it "temporary art"—so many pumpkins, so little time.